Dh50m tourism push for Dubai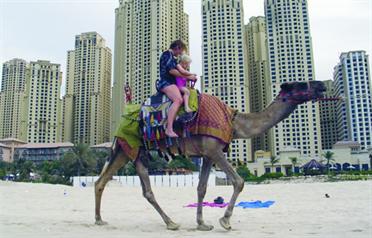 Dubai has launched a Dh50 million campaign to promote its tourism facilities internationally.

In an effort to boost touristic appeal of the emirate this international campaign has various segments with layered action plan, explained officials behind this unique campaign. The three-month long campaign will invite and educate more than 2,000 industry professionals to Dubai and introduce to them the touristic appeal of the emirate.

Taking the lead to promote Dubai as a destination, Emirates airline and Group joined hands with the Dubai Department of Tourism and Commerce Marketing (DTCM), Dubai hoteliers and Destination Management Companies (DMCs). The campaign's estimated cost of around Dh50m will cover the costs of flights, accommodation, meals and tours for industry professionals

Starting today, more than 2,000 frontline travel staff from around the world including travel agents, tour operators and MICE agents will be invited to visit Dubai throughout March, April and May for an exciting and eye-opening three-day familiarisation trip, under the banner 'Keep discovering Dubai' campaign.

Keep Discovering Dubai initiative will host the 2,000 plus visitors from more than 50 countries, and showcase Dubai's accessibility, infrastructure and range of amenities – from flights and choice of accommodation, to tours, dining and a spectrum of leisure options.

"Emirates has been always Dubai's ambassador to the world," said Sheikh Ahmed bin Saeed Al Maktoum, Chairman of Emirates Group. "Since the inception of Emirates in 1985, we have invested millions of dollars promoting the destination and creating packages and products, which have resulted in making Dubai and the UAE one of the most preferred and popular tourist destinations in the world.

"Dubai is an exhilarating, dynamic and constantly evolving destination. The city's rise to international prominence in a mere 40 years is staggering and Emirates is proud to be a part of Dubai's achievements. The emirate is the home and heart of Emirates and we are committed to further extending our global reach to connect ever more travellers to our city, " he added.

During the hosted three-day visit, guests will be treated to a unique experience combining Arabian hospitality with spectacular scenery and world-class entertainment. From desert safaris and gourmet dining to meandering through the traditional Bastakiya, the trip will provide tour and travel operators with an unforgettable experience, designed to showcase Dubai's diverse culture and options for every traveller segment.

"A visit to Dubai is never the same. The city offers unparalleled entertainment and leisure options with new developments unveiled almost every month. It is critical that we maintain a constant dialogue with international travel agents, tour operators and MICE agents, to ensure they are aware of the new attractions that may be of interest to their clients. This campaign is a major highlight of our joint efforts with the key players of the tourism industry in the emirate," said Mohammed Khamis bin Hareb, DTCM Executive Director Marketing and Operations.

"As Dubai increases its offering of world-class hospitality, the emirate is the preferred holiday destination for tourists from around the world. Dubai's tourism product offering is going from strength to strength thanks to the diversity of activities and hospitality offerings. The future is looking equally exciting.

"Keep Discovering Dubai will provide global representatives from the travel trade with a distinctive first-hand experience of Dubai. Tourism is an integral part of Dubai's economy and we are committed to maintaining the strong visitor figures we have witnessed throughout the last several years. With so many of Dubai's key travel companies and operators dedicating their services to this initiative we are confident in its success."

Keep Discovering Dubai is a great example of key stakeholders working together to promote Dubai as an exciting, safe and world-class destination. As part of their welcome package each guest of Keep Discovering Dubai will receive a complimentary silver vice versa card.

Valid for one month, users will receive up to 20 per cent of the amount spent back on their card as a reward, when booking leisure activities, shopping and dining at vice versa partner outlets across Dubai.
Follow Emirates 24|7 on Google News.