Digital feedback gains marketing currency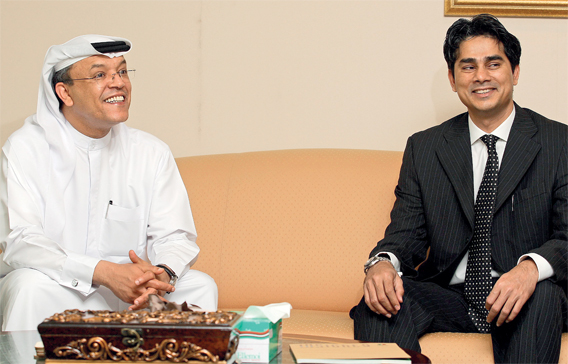 The feedback of consumers and their consumption patterns are of prime concern for marketing experts and their dependence on this tool has resulted in catapulting this industry into fast growth, say industry representatives.
Javed Farooqui, Executive Director of Zarca Interactive, one of the pioneers of this industry in the region, is counting on this platform and expects that his company will grow 90 per cent in this year.
"Our company has been growing at a steady pace of almost 30-35 per cent year on year and its usage has gone up in the past year or so," said Farooqui, adding that his company's growth is an indication of the growth and dependence on this platform.
"In times of crisis, business owners need feedback from their consumers, their target audience and even their employees. This exercise enables them to measure the impact of their efforts and capital invested. This is enhanced when you do this exercise digitally as it generates instant, real time results," said Farooqui, in support of the industry that is expected to grow to an annual sales figure of $2 billion (Dh7.34bn) globally. The total feedback business all over the world is worth more than $32bn, according to industry reports by Esomar.
Government departments are taking a lead in this platform and are encouragingly indulging in technically updated tools to streamline their operations and decide on their future plans.
"In fact, more than 80 per cent of our business is from government agencies, which clearly indicates the technological superiority of government operations," he said.
Emirates Petroleum and Products Company was one of the first establishments to actively use this tool for gathering instant feedback from its clients as well as its staff.
"We have always been investing a lot in technology and feel that such investments are essential for the growth of business and to sustain it in times of crisis," said Zaid Al Qufaidi, CEO of Emirates Petroleum Products Company.
"In line with the directives of His Highness Sheikh Mohammed bin Rashid Al Maktoum, Vice-President and Prime Minister of the UAE and Ruler of Dubai, to digitise all the functions of office operations and use technology to the best for improving efficiency and operations, our establishment has been investing in latest technology and is always prepared to try out innovations.
"We have been using this tool for three to four years and have, in fact, increased the usage of this highly cost-effective tool with our direct and indirect clients. The advantage of digital feedback is the instant availability of data," said Qufaidi.
"The system self-generates reports and is made available for marketing or other departments of the establishment for analysis and they can embark on a suitable action plan," said Farooqui.
The industry has taken large strides in the recent past with more than 30 per cent regional growth. Farooqui highlighted the growth of Zarca Interactive as a yardstick of this industry in the region.
Zarca Interactive has been around for more than seven years. "We have understood the requirements of the market and worked hard to fill the gap which existed between a small boutique research agency and a large one. The biggest USP of Zarca Interactive is its technology," said Farooqui.
"Zarca started working with government departments and slowly moved to the private sector and while working in the private sector carved a niche for itself."
GCC survey
Zarca Interactive has recently embarked on its first independent health and fitness survey in six GCC countries. It is being conducted online using Zarca Interactive's patent technology platform and results of the study shall soon be out.
Zarca is planning to conduct a quarterly health and fitness survey in the region for better understanding of people's lifestyles. Also in 2010, Zarca is planning to launch generic studies in education, media and shopping.
Keep up with the latest business news from the region with the Emirates Business 24|7 daily newsletter. To subscribe to the newsletter, please click here.
Follow Emirates 24|7 on Google News.