DreamWorks, Universal end distribution deal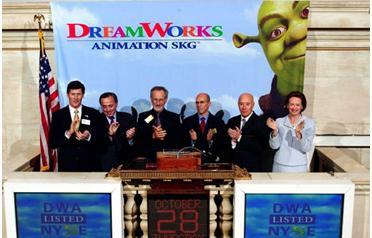 DreamWorks has produced movies such as classic Saving Private Ryan and action hit Transformers, but has been looking for cash since splitting off from Paramount Pictures last year and taking itself private with the backing of Indian media conglomerate Reliance ADA.
Universal, a unit of the NBC Universal media division of General Electric Co, said it broke off ``several weeks'' of talks on a distribution deal after the smaller DreamWorks ''demanded material changes to previously agreed upon terms.''
In October, the studios reached a deal for Universal to take an 8 per cent fee for releasing a slate of about six films a year over seven years beginning in 2009.
But sources familiar with the matter said the slumping economy caused DreamWorks to ask for better terms, including more money up front and access to Universal's TV distribution pact with HBO, from which DreamWorks would derive fees.
Universal balked and DreamWorks turned to the Walt Disney Co studio restarting talks that began late last year.
A Universal spokeswoman declined to comment beyond their statement. DreamWorks also declined to talk, and a Disney representative could not be reached to discuss reports that a Disney/DreamWorks tie-up could come as soon as Friday.
LUCRATIVE DEALS
Distribution deals can be lucrative with the distributor taking a percentage of a film's box office for sending movies to theaters and mounting a promotion and marketing campaign.
For a smash hit like ``Transformers,'' which had worldwide ticket sales of $708 million (Dh2.6 billion), the distribution fee easily runs into the tens of millions of dollars.
In the past, Disney showed its marketing and distribution prowess with campaigns for films such as Finding Nemo by Pixar Animation Studios before it acquired Pixar in 2006.
Moreover, Disney sharply cut its film slate in 2006 to concentrate on big-budget, family oriented fare, so a deal with DreamWorks would boost its overall film release slate.
DreamWorks also makes a range of movies that include adult dramas such as Memoirs of a Geisha, so they should compliment, rather than conflict, with Disney's family slate.
Sources said there was concern at Universal, which has 19 films set for 2009, that DreamWorks would add too many titles to its slate and might conflict with adult-targeted movies from Universal producers including Ron Howard and Brian Grazer.
Still, Spielberg and Universal had widely been expected to cement their agreement because Spielberg had long career on the Universal studio lot until he formed DreamWorks with media moguls David Geffen and Jeffrey Katzenberg in 1994.
In 2004, the trio split the animated film operation into a separate company, DreamWorks Animation SKG Inc, that was taken public with Katzenberg as CEO.
Spielberg and Geffen sold DreamWorks to Paramount Pictures, a unit of Viacom Inc, in 2006 but that relationship soured, causing the DreamWorks tie-up with Reliance.
Reliance has agreed to match up to $550 million in funding for DreamWorks, which recently won lending commitments for $150 million. Still, that $150 million is just under half the $325 million DreamWorks expects to raise stage one financing.
Disney shares ended Friday up nearly 4 per cent, or 74 cents, at $19.45 on the New York Stock Exchange. 
Follow Emirates 24|7 on Google News.
DreamWorks SKG, the movie company controlled by Steven Spielberg, and Universal Pictures on Friday severed their film distribution pact, sending DreamWorks into advanced talks with Disney where it expects to get more funds to spur production.