Dubai defies global crisis in diverse ways: Lubna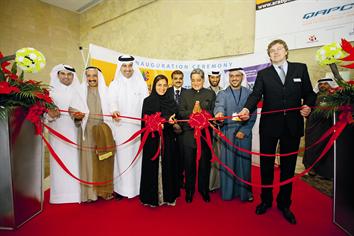 Many global players are now looking towards the Middle East, particularly Dubai, for expanding their business operations, said Shiekha Lubna Al Qasimi, the UAE Minister of Foreign Trade.

She said Dubai was defying the global crisis in diverse ways and the increasing international presence was proof of this.

Sheikha Lubna inaugurated the ninth edition of ArabPlast and Tekno/Tube Arabia trade exhibitions at Dubai International Convention and Exhibition Centre, Dubai World Trade Centre, yesterday.

"Plastic and rubber sectors have been continuously showing upward trend and these sectors are significant to the national economy. These industry verticals are accelerating the pace of the UAE towards more diversified economy. GCC investments in plastics crossed $5 billion (Dh18.6bn) and more than 1,253 industrial units are operating in the region," said Shiekha Lubna.

Registering 25 per cent growth over the previous edition, more than 900 exhibitors from 34 countries are taking part in the ArabPlast and Tekno/Tube Arabia exhibitions with total floor area of 35,000 sqm, being held from January 10-13 .

"This is clear evidence that the UAE is the ideal platform to target the Middle East market. It also shows that these sectors in the Gulf are not seriously affected by the crisis," said Sheikha Lubna.

Al Fajer Information & Services, in association with Messe Dusseldorf, a leading trade fair organiser in Germany, is organising the trade exhibitions. Messe Dusseldorf has teamed up with Al Faer for ArabPlast for the third time and second time for Tekno/Tube Arabia.

Satish Khanna, General Manager of Al Fajer Information & Services, underscored the significance of the plastics sector which attracted significant investments in the Gulf.

"A series of global players are eager to make an entry into the Middle East market despite the credit crunch and will present the dynamics of plastics and rubber development to visiting trade professionals mainly from all across the Middle East, North Africa and the Indian sub-continent," he said.

Arabplast and Tekno/Tube Arabia trade exhibitions offer visitors access to a wide spectrum of technological innovations in the plastics, packaging, rubber, chemical and polymer and petrochemical, tubes and pipes, industrial machinery & machine tools, metal working machinery and welding machinery industries. Tube Arabia serve as a convergence point for entrepreneurs, technocrats, experts, manufacturers, suppliers, agents, distributors, etc.
Follow Emirates 24|7 on Google News.