E-vision gets interactive for viewers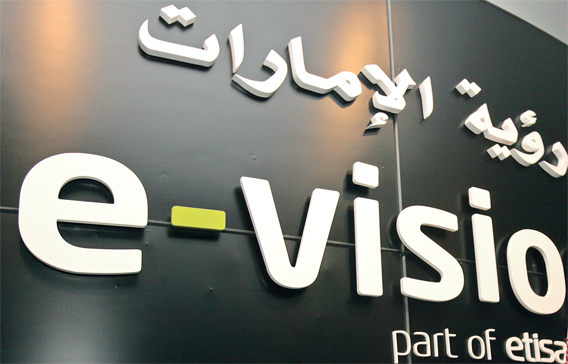 E-vision strengthened its services platform with new offerings to customers at the Cabsat Mena 2010 exhibition in Dubai yesterday.
These new services, which are available at no additional cost, enhance the "viewing pleasure and maintain a constant interactivity with our customers", said a top executive from E-vision, explaining the intentions and emphasis of these services.
Customers can now experience the new Interactive Electronic Programme Guide (EPG) and the new user-friendly TV menu to enjoy a great television experience. The Targeted Messaging service, on the other hand, will provide a powerful and precise customer communication tool.
Humaid Rashid Sahoo, CEO, E-vision, said: "We want to improve the television viewing experience by providing our customers flexible navigation through the enormous amount of choice and diversity of programming they enjoy today. We plan to expand our high definition service and also explore the development in the 3D world. Our customers will surely benefit from the Interactive EPG, which is a powerful tool that will make it easier for them to find what they're looking for and discover new content in the process. The Video-on-Demand service with catch-up TV features will give customers complete control. Moreover, the Targeted Messaging service will give the customer a regular update on the new channels updated, updates on services and new promotions/offers."
E-vision is also planning to expand its services with its HDTV channels growing from the current nine channels to about 20 by the end of 2010. In addition, E-vision is also exploring the new 3D TV technology to offer UAE residents the latest in TV viewing experience. E-vision, jointly with LG, is showcasing the 3D TV experience at Cabsat 2010.
E-vision's Videoclub – the Video-on-Demand(VoD) service – will offer customers more than 500 hours of premium content categories spread across movies, TV series, children's shows and various other content from around the world in order to cater to a varied audience. E-vision will also provide its customers with five catch-up TV channels that will offer them the opportunity to enjoy their favourite TV programmes that they might have missed. Customers can thus watch these programmes conveniently anytime they want with all the VoD features such as fast-forward, fast-rewind, pause and play.
The Interactive EPG will provide a view into programme highlights and timings across more than 200 channels for the first time in the UAE. It will provide information on schedules for a period ranging from three days to one week. It will thus provide a convenient planning mechanism for customers who have busy lifestyles so that they can decide on their entertainment options and do not miss their favourite programmes.
E-vision also unveiled its Targeted Messaging service to offer a direct messaging mechanism for customer communication. The service is highly versatile and can be used to send messages to groups down to one individual and across any segment in terms of population, ethnicity or geographical area.
Keep up with the latest business news from the region with the Emirates Business 24|7 daily newsletter. To subscribe to the newsletter, please click here.
Follow Emirates 24|7 on Google News.