Etisalat's Barca deal worth €12m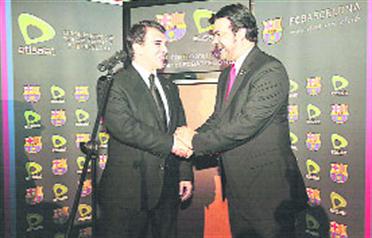 Announcing this at a press conference in Barcelona, Essa Al Haddad, Chief Marketing Officer, etisalat, and Joan Laporta Estruch, President of FC Barcelona, hailed the beginning of the official partnership between the two leaders by inaugurating a spectacular light show at the FCB football pitch.
Commenting on this historic deal, Al Haddad said: "Etisalat's association with FC Barcelona will help build etisalat's international profile in key markets. This is a unique partnership and has great strategic value as it will provide benefits for each of our 18 subsidiaries. This is a clear example of the synergies that we are creating across our group."
Under the historic deal, etisalat UAE and its subsidiaries, Mobily, etisalat Misr, etisalat Afghanistan, etisalat Nigeria, Swan Telecom, Canar, Zantel, PTCL, Excelcomindo and Atlantic Telecom (Moov) and etisalat subsidiary in Iran, will be named Official Telecoms Partner of FC Barcelona (Barça) in their respective countries. FC Barcelona will also play a match in two of the countries in etisalat's Middle East and Africa network before 2013.
The deal will also give etisalat and its subsidiaries the rights to co-brand merchandise, use content from the FCB online portal and broadcast exclusive mobile TV content in markets where 3G networks are available.
Estruch said, "The aim of FC Barcelona is worldwide presence and this agreement will allow us to strengthen out image and presence in the Middle East, Africa and Asia. That is why a global brand such as ours has tied up with etisalat, one of the biggest and leading telecom companies in the world today. Etisalat is a strong partner for us and we look forward to a mutually beneficial association with them."
Through this unique partnership, Etisalat will bring football action to its 80 million customers in 18 countries, while providing an extended worldwide fan base to the FC Barcelona in relatively newer territories.
"Football is an important sport in many of our key markets in the Middle East and Africa with a large and passionate fan base. Partnering with one of the world's premier football teams is an excellent fit for our brand, and will open many new avenues to help us to delight our customers," said Haddad.
The IFFHS (International Federation of Football History and Statistics) ranks Barça first in its list of the greatest football clubs of the last 18 years. Twice European Cup winners and holders of 18 La Liga titles, FC Barcelona currently lead the Primera Division by 10 points from arch rivals Real Madrid.
Earlier this year, the club set a new record for the highest number of points won in the first half of a season in La Liga. They have also won Spain's national cup competition, Copa del Rey, a staggering 24 times, more than any other side.
FC Barcelona was founded in 1899 and has become the symbol of the Catalonia region of Spain, which is distinguished by its own language and proud history. Many football legends have worn the famous Barça shirt, including Johann Cruyff, Diego Maradona, Ronaldo and Ronaldinho.
Led by manager and former player Josep Guardiola, FC Barcelona are in contention for all the main league and cup competitions this season, including the UEFA Champions League.
Famously FC Barcelona never wore a branded jersey until a landmark agreement with the children's charity Unicef in 2006. The club donates a percentage of its revenues through the FC Barcelona Foundation to support football development, and is donating €1.5m over the next five years to Unicef's humanitarian aid programmes.
Both FC Barcelona and etisalat will work together to develop joint actions related corporate social responsibility (CSR) in key areas. With a corporate philosophy of widening its scope, etisalat strongly believes in strengthening the "human connection", bringing the world closer through technology.
With an intense agenda of CSR, etisalat believes in using its considerable resources to improving society in general. Etisalat initiatives regarding CSR are based on its core values of optimism and care for people and the environment.
Etisalat has a long association with football, having sponsored the UAE football league since 2005. Etisalat has also initiated a variety of original campaigns for football fans over the years, such as the Etisalat Fantasy Football League, which gave away an all-expenses-paid trip to watch the Euro 2008 final in Vienna, and the Etisalat Football Fan Club.
Also present at the ceremony were Ahmed Abdul Karim Julfar, Chief Operating Officer, etisalat, and FC Barcelona Vice-Presidents, Joan Boix Sans and Jaume Ferrer Graupera.
Follow Emirates 24|7 on Google News.
Etisalat takes an international route to its marketing objectives signing with world famous football club FC Barcelona in a €12 million (Dh57m) partnership for a four-year period.