Etisalat signs deal with FC Barcelona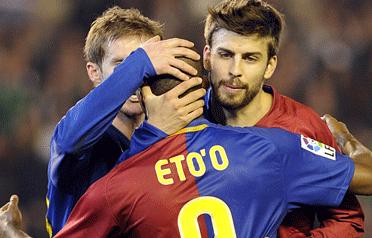 Etisalat has signed a four-year partnership agreement with FC Barcelona to become the official international partner in the field of club telecommunications.
 
The deal also involves privileges including the right to organise two international football matches between Barcelona and any team named by etisalat - in the UAE or any other country where etisalat operates.
 
The duration of the agreement gives etisalat subscribers an opportunity to watch Barcelona - classified number one in the list of the best football clubs of the world over the past 18 years.
 
Etisalat Board Chairman Mohammed Hassan Omran, who announced the deal on Wednesday night said: "Football represents the values of ambition, group performance, team spirit, solidarity and leadership, which are the same values embodied by etisalat in all of its international markets."
 
FC Barcelona President Juan Laporta said he was happy with the partnership, especially that etisalat represented a strong partner for its expansion plans and for adopting several effective social initiatives. "Barcelona's aim is to expand worldwide, and this agreement would widen the area of its presence in the world. That is why we have struck partnership with etisalat since it is one of the largest telecommunications providers of the world".
Full details, including the size of the sponsorship agreement, have not yet been released.
Follow Emirates 24|7 on Google News.