Four in five believe web access is a fundamental right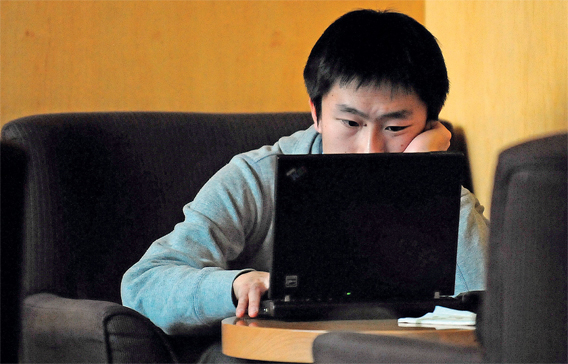 Four in five adults believe access to the internet is a fundamental right – with those feelings particularly strong in South Korea and China – and half believe it should never be regulated, according to a global survey.
A poll of 27,000 adults in 26 countries for the BBC World Service showed 78 per cent of net users believe the web gave them greater freedom, while nine in 10 said it was a good place to learn.
Respondents in the US were above the average in believing the internet was a source for greater freedom and they were also more confident than most in expressing their opinions online.
However, others felt concern about spending time online, with 65 per cent of respondents in Japan saying they did not feel they could express their opinions safely online, a sentiment that was also felt in South Korea, France, Germany and China.
The issue of internet freedom hit the headlines earlier this year after the world's largest search engine Google threatened to quit China, the world's biggest internet market, over censorship rules.
Of the 27,000 surveyed, more than half agreed that the "internet should never be regulated by any level of government anywhere".
That belief was particularly strong in South Korea, Nigeria and Mexico, while residents in Pakistan, Turkey and China were the least likely to agree, with only 12 per cent, 13 per cent and 16 per cent respectively strongly agreeing.
Google launched its China search site in 2006, and complies with local laws requiring censorship of certain content such as pornography and sensitive subjects such as the banned Fulun Gong spiritual movement and Tibetan independence.
Other international groups such as Microsoft and local players including China's search leader Baidu must also comply with those laws.
"Despite worries about privacy and fraud, people around the world see access to the internet as their fundamental right," said Doug Miller, the Chairman of GlobeScan which conducted the survey.
"They think the web is a force for good, and most don't want governments to regulate it."
More than 70 per cent of respondents in Japan, Mexico and Russia said they could not live without the internet.
Almost 50 per cent of those who used the internet said they most valued the ability to find information.
More than 30 per cent valued the ability to interact and communicate with others, while 12 per cent saw it as a source for entertainment.
Of the areas of concern, the poll found that fraud was the greatest worry, ahead of violent and explicit content and threats to privacy.
Keep up with the latest business news from the region with the Emirates Business 24|7 daily newsletter. To subscribe to the newsletter, please click here.
Follow Emirates 24|7 on Google News.