GCC online advertising to sustain 50% growth rate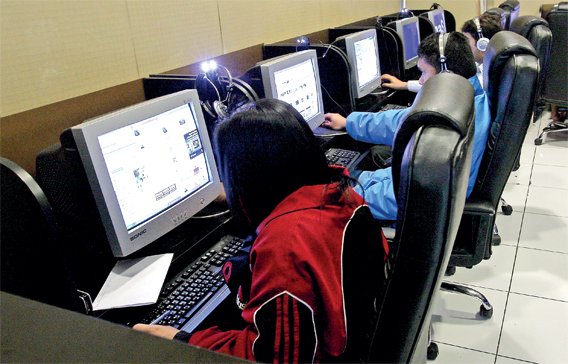 Online advertising in the Gulf Co-operation Council (GCC) states is increasing at a 50 per cent growth rate every year and will continue to do so at the same pace for the next few years, according to an official from ikoo, one of the largest online ad networks in the region. In an interview with Emirates Business, Isam Bayazidi, CEO of ikoo, charts the growth of online marketing and advertising and shares insights on the virtual reality of the industry. Ikoo was recently acquired by Jabbar Internet Group, which is the new name of Maktoob Group since the sale of its Maktoob.com portal to Yahoo.
You are one of the biggest online advertising networks in the Middle East and North Africa (Mena). Can you quantify this in numbers and tell us how this was achieved?
Ikoo operates the largest online advertising network in the Mena region with a portfolio that comprises more than 120 websites, attracting more than 35 million visitors a month and serving more than 1.4 billion monthly pageviews. As an advertising network in the region, this is unmatched and beyond the reach or capacity of any single portal.
The online advertising industry has been booming and generating money. What more do you foresee?
I expect media planners and marketers to continue tapping the power and reach of online advertising to complete and balance their overall media plans. With increased internet penetration in Egypt and North Africa, the next wave of growth could be expected there. Nevertheless, the GCC still has high growth potential that exceeds 50 per cent growth year-on-year.
What are your expansion plans? How much budget have you allocated for it?
There are dimensions that we are expanding on:
Geographical: We are working on building our network and on-ground presence in more major cities and countries. Saudi Arabia, Kuwait, Oman, Qatar and Egypt are among countries we are planning to have a stronger presence and build a deeper and high quality network in.
Vertical: We are always looking at expanding our network by building partnerships with site owners and publishers who offer unique content and reach niche audiences.
Are you planning any acquisitions?
Nothing is planned at the moment. We will announce any future acquisitions promptly.
How has been the challenge of creating a new brand identity for ikoo?
Although ikoo is new as a brand, the company has been known in the market for the past five years, during which it enjoyed a good reputation and relations with clients. We want our clients to identify with the values we stand for when our name is mentioned. We consider ourselves 'Strategic Reach Partners' with our clients and always work towards building and maintaining long-term relationships with publishers, designed to help and support them in their entrepreneurial projects.
Tell us about the premium partnerships ikoo has entered into?
We have partnership deals with leading daily newspapers in Saudi Arabia – Al Riyadh and Okaz. We are renewing our commitments with leading sites on women and finance. But we pride ourselves on having a large number of small and medium sites, run and operated by young entrepreneurs who we believe are the future of the Arab internet.
Are there more partnerships in the pipeline?
We signed one last month with a leading traffic measurement company. And we are planning to run a certification for our network in the coming few months, which provides very high transparency to advertisers regarding the true reach and size of our network.
How has ikoo's revenue/profit grown?
With the expansion of our sales in new countries and regions as well as the introduction of higher visibility and advanced technology for advertisers, we are expecting higher revenues this year. Still, online advertising is still small in size when compared with other advertising media. Increasing awareness and spreading awareness about the advantages of online advertising and how it complements other media and completing advertisers' media plans is key.
What is the projection for this year and the next?
We believe that growth in our sales will continue over the coming years. Several studies and reports have pointed out that online advertising spend will increase to reach four per cent of the total advertising spend by end of next year. This will be met with the network expansion that we are focusing on now.
The recent economic slowdown has impacted one and all. But for some sectors, it is a boon. Do you see the crisis as a challenge or an opportunity?
The online advertising sector witnessed growth during the economic slowdown. Advertisers started to adopt more cost-effective, more measurable advertising methods to make the most of their budgets. To us, the crisis wasn't a challenge but an opportunity.
Maktoob was bought by Yahoo Arabia, then renamed Jabbar Group which also acquired ikoo. Was the ikoo brand value affected by this?
Jabbar Internet Group is the new name for the holding company that owns Souq.com, Cashu.com, Tahadi.com and ikoo.com and new companies and ventures that are to be announced soon. Being part of such a group and having leading sister companies in their own markets and verticals creates great opportunities for growth and synergies between us.
How has the takeover of ikoo by Jabbar Group helped? What was the major restructuring?
Jabbar's acquisition offered ikoo the capacity to grow and expand at many levels. Jabbar Group enjoys long experience, credibility and an established track record throughout the years. Last year, we expanded our offices in Dubai Media City to embrace growth in the team and operations. We are in the process of expanding in North Africa, which is a great opportunity for ikoo to grow.
How has your merger with Kalimat been? How important is the contextual platform?
Kalimat is a self-service text advertising platform. The synergies between the existing display icon offering and the Kalimat technology and platform are great. ikoo is providing Kalimat the ability to reach a larger set of publishers and sites. The Kalimat product allowed publishers and site-owners to generate more revenue from advertising. Kalimat's automated campaign management system enables client to create a campaign, define targeted keywords and categories, control the daily budget, and monitor the performance of their campaigns. This is very valued and needed by advertisers who are focusing on their return-on-investment and highest performance possible.
How much is your funding requirement and how do you meet them?
Ikoo is fully owned by Jabbar Internet Group and Jabbar is committed to fund its business growth and expansion if needed. Jabbar was established with a capital of $20 million (Dh73.46m) which is used for the existing company capital, for new ventures and investments.
Can you tell us about the return on investment, when and how much you expect?
In a high growth market, the focus is on expansion and growth. Online advertising is expected to continue to grow by no less than 50 per cent every year in the next three years. Maintaining such growth and building capacity and technology for it is our main focus at this stage.
Follow Emirates 24|7 on Google News.