General secretariat on ethical journalism to be set up by April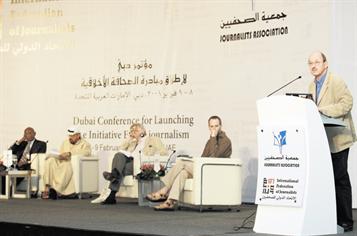 Journalists seeking modern media laws in various countries of the region highlighted their responsibilities in reciprocation by launching the Ethical Journalism Initiative.

The initiative was announced yesterday at an event, organised by the UAE Journalists Association and the International Federation of Journalists (IFJ).

The IFJ also announced the launch of its new regional office in Bahrain mid-April, which will offer advice and consultancy to the newly-formed initiative.

And a permanent committee dedicated to journalism ethics in the Middle East was launched as part of a programme to encourage higher standards within the region's media.

Mounir Zarour, IFJ Middle East Co-ordinator, said at the launch that the initiative highlights the region's journalists' commitment to their professional ethics, responsibilities and values, in addition to their strife for retaining their basic rights.

He said the conference did not intend to issue a final statement, but rather announce a practical development that will put words to actions in terms of promoting ethical qualitative journalism.

Zaarour called upon all journalists' groups and associations to join the initiative and be part of the council to be formed to develop its training strategy for journalists in the region.

Head of UAE Journalists Association, Mohammad Yousuf said the next stage will be the formation of the general secretariat by April, which will call for an assembly to determine an annual training programme for all member associations across different countries.

He said each country will host a training course throughout the year targeting journalists around the region.

"The UAE Journalists' Association's new premises will include a training academy that will host courses on ethics in line with the Ethical Journalism Initiative," he added.

The initiative will have the mandate to promote the message of journalistic ethics, support journalists' rights, advocate qualitative journalism, stress the role of independent journalism in aligning media strategies and remove all restrictions on journalists' operations based on the principles of press freedom and the public right to know.

Yousuf said: "We are hoping to establish a journalist council that will monitor unethical journalists operations, similar to councils existent in many European countries such as Belgium."

Journalists' associations from 16 countries have adopted the initiative.
Follow Emirates 24|7 on Google News.