Google rides out the financial storm with strong search advertising sales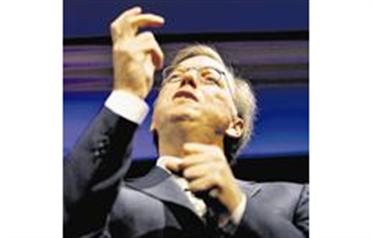 Search-advertising business is helping Google weather the recession better than other internet players.

Google said its advertising sales are strong despite the worsening economy – giving advertisers a ray of hope as they saw other online search engines and internet corporations being hit hard – and despite a 68 per cent drop in its profit in fourth quarter of 2008. Google's revenue rose 18 per cent to $5.7 billion (Dh20.93bn), considered by analysts to be a robust performance given the weak economy and corporate cutbacks in advertising spend.

Google's revenue comes via searches on its branded sites such as google.com and google.co.uk, as well as through partnerships that license its search advertising platform. Paid clicks rose 18 per cent.

Previously, Google used to enjoy 50 per cent growth levels. A little above a year ago, its stock hit an all-time high of $747 as investors bet moves into new advertising formats such as mobile phones and YouTube would bring in huge returns.

Earlier, Google feared that paid search business would face keyword pricing deflationary pressures due to the worsening economy, but the company said search query growth was strong with revenues up in most verticals.

Google's stock has fallen by more than half in the past year as investors expected its pay-per-click advertising format to be hit by the wider advertising market slump.

"It tells me that Google is very focused on its franchise and execution as a marketing, advertising and media company. It speaks highly of its business focus," said Keith Wirtz, President and Chief Investment Officer of Fifth Third Asset Management, which manages $22bn.

Google Chief Executive Eric Schmidt struck a cautious note, saying the last quarter had benefited from the holiday season.

Yahoo's results are not expected to be as relatively bright. In June last year Yahoo announced a nonexclusive partnership under which rival Google will supply it with some search ads.
Follow Emirates 24|7 on Google News.