High-end retail brands maintain market position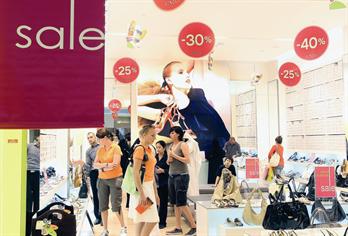 Retail top brands have not been impacted by the crisis, said a report exclusively handed to Emirates Business by Nielsen.

The most recent results from the Nielsen Retail Data, updated regularly, showed despite people cutting down on their spend, the top consumer brands had not been affected.

Meanwhile, brands that were targeted at the middle- and lower-income categories of consumers were impacted severely, according to Shubhagato Bhattacharjee, Head of Retail Measurement Services in the UAE at Nielsen.

The major research company had released a report earlier showing a return of confidence to the UAE market.

Based on the 2009 third quarter confidence report, fewer consumers in UAE are considering moving to more cost-efficient brands and private labels, said Himanshu Vashishtha, Director of Consumer Research, Middle East, north Africa and Pakistan, Nielsen.

His comment was in support of the 13-point growth in consumer confidence in the UAE in the third quarter of 2009, compared to results by the end of April.

In that report, the UAE ranked the eighth most optimistic nation among 54 countries surveyed, recovering from 10th position six months ago, having seen a plunge of 21 per cent in the first half of 2009.

However, the Retail Data report in August 2009 found that almost 50 per cent of the growth in retail sales volumes was driven by inflation.

Sevil Ermin, Manager of Consumer Research in the UAE, said: "Growth had slowed down in last quarter of 2008 and then in first quarter of 2009 but now its picking up again."

The top categories driving the growth were rice, salty snacks, sports drinks, fresh milk, cooking oil, skin cleansing, chocolates, detergents, ice cream, soft drinks and skin care brands.

Ermin said: "We have taken into analysis 90 categories of retail products and brands. Food accounts for around 70 per cent of the total turnover, while personal care accounts for 20 per cent and home care products comprise 10 per cent.

"Obviously growth cut pace in 2009. We looked at top 12 growth categories that account for 50 per cent of the growth. Nine out of 12 growth categories were growing with price increase only. Real volumes have either declined or were stable in the first half of the year.

"We started seeing some volume recovery in some categories in the last couple of months. This is in line with our consumer confidence survey findings where we do see a positive increasing score in consumers' confidence in the UAE."

Bhattacharjee said: "People who consume the top end of retail brands have not changed their spending habits. However, the lower income categories have switched to less expensive brands. With rice and cooking oil brands, for example, people have moved either to larger packs with cheaper price per unit, or for smaller packs as a result of cutting down their expenses.

"There has been a trend of moving from one top brand to another. This happened when consumers started comparing the increases in prices. The brands that have seen a less increase and are more affordable than others have witnessed more sales."
Keep up with the latest business news from the region with the Emirates Business 24|7 daily newsletter. To subscribe to the newsletter, please click here.
Follow Emirates 24|7 on Google News.