Hydra's TV success spurs competition in recession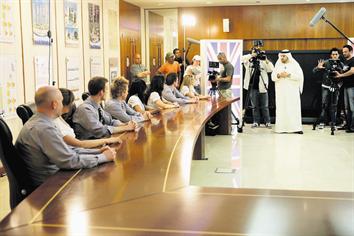 Locally-produced reality show Hydra Executives has been so successful and popular with TV audience that producers have already started work on the second season of the show. The currently running show pitches a team of eight American contenders against a group of eight British rivals, and season two will have a team of Indians against their arch rival Pakistanis.

"Our venture into the entertainment world has proven to be a worthy investment on our part, which does not only underline the resilience of Hydra Properties in terms of diversifying into a wide range of industries, but more importantly our commitment to boost the reputation of Abu Dhabi in the global market," said Dr Sulaiman Al Fahim, CEO, Hydra Properties.

"My pride as a part of this breakthrough project is matched only by my excitement with the airing of the show's pilot episode. As the host of the show, I am confident of the strong entertainment value of Hydra Executives and that it will draw in a considerable number of audiences within the region and across the globe," he added.

Supporting the notion, Ziad Batal, Executive Producer and creator of Hydra Executives, said: "The show has truly opened up a new path for growth for Hydra Properties, as the organisation is now as deeply involved with this new venture as they are with any of their property developments. Hydra Properties has certainly made a distinguishable mark as a pioneering developer whose aim is to build a stronger global recognition for Abu Dhabi as an ideal real estate investment destination by sending a powerful message via an equally powerful medium, television.

"This will be the most exciting reality series and we are sure that people are going to be hooked on its action-packed drama."

The show has raked in top ratings with channel operators and critics have been lauding the show for introducing the concept of reality TV in the region. The show, which debuted on January 7, features a team of eight Americans and a group of eight Britons and the challenges they undertake to win a business grant worth $1 million (Dh3.6m).

With a total of four contestants eliminated – one from the UK team and three from the US team – the Britons are trying to keep the momentum of their early success, while the Americans are working harder to beat their opponents despite the disadvantage of being two team members short.

All the tasks so far have presented the contenders with daunting challenges, which make it all the more exciting to see who will emerge as the first-ever Hydra Executive in the season's 23 remaining episodes.

The show is being aired on two different timeslots – every Wednesday at 7pm and at 11pm on Showtime and Infinity TV. A delayed telecast of the show's latest episodes airs every Tuesday on Hollywood.TV and Emirates TV.

"The real estate market in the UAE has one major advantage – it's so new! There is so much enthusiasm for new technology, and I believe there's an amazing opportunity, especially here in Abu Dhabi, to place an emphasis on green buildings and renewable energy," said Hannah Dodkin, a Business Development Executive and part of the UK team. "When I first met Dr Sulaiman, I knew instinctively that this opportunity was the right one for me. I had never interacted with an Arab businessman and I was excited about the prospect of working with him. I did not hesitate to be on the show, I was given the chance to improve myself and my life."

"I have to say it's a pleasure to be part of the British team. If I were in US team, I would be pulling my hair out, they are not particularly serious and they don't work well together. It's been interesting to see how different the UK and the US teams are in a variety of business situations – of course we Brits are far more professional! The Americans can talk the talk but we can walk the walk," said Sara Millinder, a TV presenter and property investor, and part of the UK team.

"I believe in giving people opportunities – a chance to fulfil their dreams. Hydra Executives is not just another reality TV show, it is about how the UAE is a land filled with opportunities and how people from two different cultures can best utilise this opportunity of a lifetime.

I am very proud of the accomplishment of this show in terms of providing a new dimension to Arab entertainment, and I am looking forward to its continued success as I expect more intense drama to unfold in the coming episodes," said Sulaiman.

Hydra Executives is telecast with complete Arabic subtitles, and is being supported by a list of high profile sponsors, including Range Rover, General Motors, Blackberry, etisalat, ASUS, Panasonic and Debenhams.
Follow Emirates 24|7 on Google News.