Innovation key to winning the brand war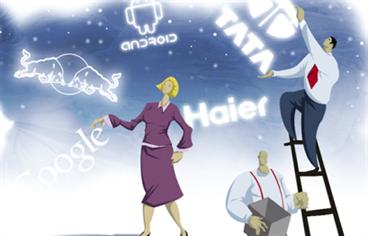 Ten years ago, many of today's hot brands were not even on the radar – and some like Facebook and Twitter had not even been launched. The same will be true over the next decade.

Experts say the brands that will be on top in the next decade will be those that reach critical mass, anticipate and lead market trends or innovate.

"We often debate whether consumers' needs are discovered or created," Hermann Behrens, Chief Executive Officer, The Brand Union Middle East, told Emirates Business. "The fact is they are both discovered and created. The leading brands of the next decade will be incredibly connected with consumers and curious to uncover consumer insights.

"Additionally, these brands will be bold in their approach and will innovate to create and meet new needs. The brands of the next decade will have curiosity, innovation and boldness."

Aneesh Sharma, Brand Strategist at Landor Associates, said: "The brandscape of 2020 will definitely be different from that of today. While many brands that have withstood the pressures of innumerable business cycles will remain a decade from now, many will falter. And many will appear in categories that we haven't even dreamt of yet."

Asked what brands had to do in order to succeed, Sharma said: "Brands need to make sure that they constantly add value for their consumers. What are their consumers' unmet needs? What are they demanding? Consumers are more connected than ever before, and this connectivity will keep increasing with the internet and the access it provides.

"Brands that don't accept the status quo and constantly strive to discover new opportunities will be the ones that rise up the ranks of the most powerful brands of the new decade. Brands that want to grow and thrive must recognise that consumers are primed to want more from there and will not accept the same old stuff."

This paper asked the experts to list the top 10 brands to look out for between now and 2020, and these are the ones they chose:

1 Tesla Motors

Tesla's electric cars are economical and environment-friendly, which is the trend of the future as consumers become more environment-conscious than ever. There is already a waiting list and the cars have not even been launched yet. These cars, as well as other hybrid makers such as Fisker Automobiles, are definitely brands to watch. There are bound to be many followers of Tesla, but it will still have the first mover advantage compared to the competitors.

2 Android

Backed by Google, many are already touting this brand as the next big thing in technology. An open source, the potential for this brand to grow is almost limitless.

3 Tata

The diversification and financial strength of this Indian brand means that Tata will go from strength to strength in the coming decade.

4 Africa

Increasing sophistication in destination branding on the continent that houses one billion people means there is a lot of inherent power here. This will be the destination of the decade.

5 Muji

Muji is one Japanese brand that is already a prominent player in the United States and the European Union. The next step will be a broader expansion strategy. The novelty, quality and style of the Muji offer will definitely be a global hit. This is the designer version of Ikea that is affordable.

6 Uniqlo

Uniqlo is that successful combination of fashion and value, much like H&M and Forever 21 before it. Having opened stores in New York and being from Japan, it already has the cool factor. Entrenchment in India, China and other populous and young nations will ensure it remains on the winning side of the brand wars.

7 Lenovo

Computer brand Lenovo has great potential for going international. Lenovo may already have a relatively high awareness and the scope for this Chinese brand to grow is considerable.

8 Red Bull

The Red Bull brand has the opportunity through its strong consumer franchise to move from niche to mass. There is an opportunity for Red Bull to stretch and innovate over the next few years into things such as extreme sports clothing and extreme sports trips.

9 Google

Google is the perfect example of a brand that is constantly innovating. It gives consumers what they are demanding – connectivity and access to the world. Google is introducing an operating system in 2010 and is basing it on what it believes an operating system should do, unrestrained by the limitations of the past.

10 Haier

This brand has the greatest potential for going global. In white goods the price proposition that comes out of China will be hard to beat. Combine that with sophisticated branding and the right distribution channels of Haier and you have a powerhouse brand of 2020.


Brands to look out for in the UAE

The UAE has grown by leaps and bounds during its 38 years and now its business world has come into its own. Apart from hosting international brands, it has seen the emergence of homegrown ones that are set to burst on the global business scene in the next decade.

Emirates Business asked Olivier Auroy, Managing Director of gsFITCH Dubai, to name the top 10 brands in the UAE to watch out for in the coming decade.

"There is something that all these brands have in common and which sets them apart from the others," he said. "They all focus on their core businesses in a very consistent way. They have a very distinctive and differentiated offer and very precise focus. They are authentic and they answer needs and demand that will grow over time. This is what makes them the brands to watch out for in the coming decade."

- Abu Dhabi: Brand Abu Dhabi possesses many of the characteristics consumers will probably be demanding over the next decade – sustainability, diversity and innovation.

- Jumeirah: They own the "true Arabian hospitality" promise in the hotel business – a strength they will continue to build upon. Plus they have a global presence that can only grow.

- Magrabi: It has a distinctive name and a feeling of luxury and credibility that has been built up over the years.

- Al Bateel: They have built their reputation on a strong concept and range of products.

- Freej: This product has the potential to become Disney/Marvel. They can become big if they focus on their core business and expand their appeal to the whole Gulf – as Emirates Business said last week.

- Al Motahajiba: Embodies the essence of femininity, class and style and is truly Arabic. Meets a major need of Arab women to appear stylish while keeping their religion and culture in mind. 

- Flydubai: Once the crisis is over, they will be the ideal partner for Dubai's tourism strategy.

- Aswaaq: A true differentiated brand proposition that gives the feel of a friendly Arabian market.

- MAF Shopping Malls: They have high credibility in the region. Great concepts like the Mall of the Emirates and Ski Dubai showed the rest of the retail sector in the UAE the way to get ahead.

- Noon: Muslim with a fresh, young and hip twist, this Saudi clothing brand is one to watch.
Keep up with the latest business news from the region with the Emirates Business 24|7 daily newsletter. To subscribe to the newsletter, please click here.
Follow Emirates 24|7 on Google News.