Interactive iPhone applications 'a good marketing tool'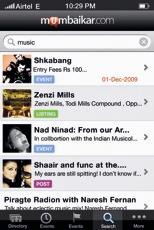 Interactive map applications for iPhone could be a good marketing tool for restaurants, retail, art galleries as well as government and municipalities, said Yousef Tuqan, CEO of Flip Media.

"This is an example of what social media can do, but unfortunately, there are very few companies in the region that are willing to invest in this type of applications," said Touqan.

Flip Media had announced the release of the Mumbaikar application for the iPhone and iPod Touch in Mumbai.

The free Mumbaikar application offered residents and visitors of Mumbai an interactive map with everything they need to know about the city, from geotagged restaurants, store listings, events and blogs to neighbourhood crime alerts.

Dinesh Lalvani, Managing Partner at Flip Media, said Mumbaikar will give users access to unbiased user-generated reviews and information in the palm of their hands. "We hope this tool will encourage people in Mumbai to explore and discover the hidden gems of their city as well as connect and share information with fellow Mumbaikars," he said.

Tuqan said the application was developed in Mumbai based on the website, which the company had launched as a tribute to the city in the aftermath of the Mumbai attacks. "All the content is volunteer content so far, it includes reviews and comments from people, and it enables them to locate places as well as report theft and other crimes or disease areas."

He said the application was a demonstration of what new technology can do for companies to directly reach the palm of a user.

The application, which uses location-based technology, enables users to find the nearest 24-hour pharmacy, pizza place or hospital based on where they are located. Each listing includes reviews, comments and ratings.

Tuqan estimated the cost of developing such an application to be as low as $20,000 (Dh73,440). "Yet, we still can't seem to find clients who would want to pay for it at the moment in the region. True, everybody is talking about utilising technology for marketing, but none is being transformed into action. Meanwhile, we believe that mobile phones will be critical in 2010 and afterwards with iPhone and Google Android, and there is a great need to consider such options as future marketing investment opportunities."

The Mumbaikar application, on the other hand, is said to have received 250 downloads from the Apple Store even before its official marketing launch, according to Flip Media.

The application, which took three months to develop, is the first mobile application designed and developed by Flip Media. "We went through many phases of development and testing to enhance the speed and usability of the application," said Imthiaz Rafique, Senior Developer at Flip Media.

"This is the first version of the product. We already have additional features under development that further maximise capabilities of iPhone."

Being the first agency in the Middle East to design and develop a branded iPhone application demonstrates the company's commitment to providing users with innovative digital experiences, said Tuqan. "The fact is that more and more people are accessing information on the go through mobile applications. Digital is not just about building websites, but providing an overall experience, anticipating consumers' needs and giving them access to the right information at the right time. This is only the start of what I am sure will be exciting times ahead."
Keep up with the latest business news from the region with the Emirates Business 24|7 daily newsletter. To subscribe to the newsletter, please click here.
Follow Emirates 24|7 on Google News.