Mideast to boost branded watch sales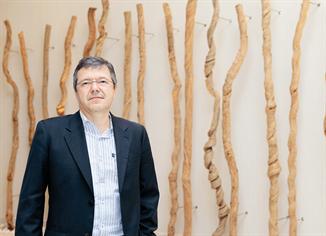 The Middle East, India and China are expected to boost sales of luxury watches in the next couple of years.

As part of its plan to develop its image in the region, Saint Honore, a luxury brand, has opened a boutique outlet in Saudi Arabia, with a Dubai outlet planned in 2012.

Thierry Fresard, President, Saint Honore International, told Emirates Business that the company was planning to expand into new markets and develop its profile as part of a comprehensive strategy to keep in touch with preferences and needs of consumers in the region.

This strategy has been noticed across various sectors, who regard the Middle East as one of the few remaining growth markets.

You have opened a boutique outlet in Riyadh. Does this indicate a move for luxury bands to the Middle East?

We have been in the Middle East for 25 years and in Dubai for the past 20 years.

In fact, this region comprises around 37 per cent of our total turnover.

However, we decided five years ago to boost our presence in the UAE and since then we have had our own office in Dubai.

Meanwhile, the Riyadh boutique is a new concept, which was launched in Paris and is expected to roll out in various other locations. Our aim is to build and further enhance our brand image as a luxurious selective product – an image we are now hoping to start building in this region. In line with this plan, our boutique in Riyadh has been designed to reflect an exclusive atmosphere while located on a street the way our shops are in Paris unlike the usual mall outlets.

We chose to start from Saudi Arabia with plans to launch more boutiques in Kuwait and Qatar and later in the UAE. However, our plans have been interrupted and delayed by the global economic crisis. Consequently those have been pushed towards the end of 2010 and the beginning of 2011. The plan also includes Dubai, but that will be further delayed until 2012.

Why did you choose to rebrand at this point?

We want to appeal to the new generation. This effort is part of our plan to communicate with our audience, especially those who are willing to spend more not only on quality but also on luxury, and by that I mean special editions designs and high-end jewellery and diamond watches. Unlike other brands that aim at the more international audience in this region, we continue to look at nationals as our most potential customers.

We are now planning to reveal a more prestigious image of the brand and this will be reflected in our boutique corners, luxuriously designed to signify the extravagance of our watches. In general, our products range between €800 (Dh4,226) and €3000 per piece, although we also have the tourbillion line, where each piece is worth €60,000. In 2009 alone, we sold eight of those pieces in Dubai. The newly designed boutiques will be able to attract the right clientele for such line.

Luxury brands have been affected by the crisis, and many high-end brands have reported huge losses. What were your results in 2009?

Our sales have been affected in certain markets, with a global decline of around 20 per cent. Our Dubai operations have seen an almost similar decline with a little less than 20 per cent. However, we have seen an increase in certain markets, especially in our new markets such as India.

I believe that the Gulf has been less affected than other countries, such as Japan, the US and Europe where the growth has been flat.

What are the marketing challenges facing luxury watches and jewellery at the moment?

It is very important to continue to communicate through advertising. We did not reduce our marketing budget in 2009 because we believe that maintaining our relations with the customers are crucial. In addition, we have realised the need to be well represented at the points of sale, therefore we have been looking at investing in points of sale as well as supporting our distributors.

In the meantime, we have been driven by various factors to alter the finishing touches on some of our designs. We have recently come back to steel case instead of gold due to increases in global gold prices. On the other hand, our designs have remained the same, keeping in mind that Saint Honor is a watchmaker brand that is trendy, as a distinction from fashionable.

What are your future plans and strategies?

We do not expect our growth to shoot through the coming year, especially with the difficult economic situation around us. The year 2010 is going to see an almost flat growth period, but we believe that growth will start picking up slowly by 2011. We expect growth to take place gradually through the next three years with a target of 30 per cent growth by 2013.

Having said that, our plans are basically focused on developing our image through boutique corners, and to further grow our business through introducing a line of jewellery and accessories for men. Last year, we went through a testing period for our jewellery line, and we are planning to develop that aspect, in addition to accessories such as cufflinks. Currently, this side of our business constitutes 30 per cent of our turnover.

We have had a brand ambassador for the jewellery line who is well-known in France, but we are currently aiming at assigning an international brand ambassador who would also appeal to the audiences in this region.
Keep up with the latest business news from the region with the Emirates Business 24|7 daily newsletter. To subscribe to the newsletter, please click here.
Follow Emirates 24|7 on Google News.