Mini movie-makers await finale of MBC competition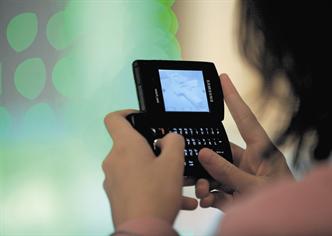 Mobile users are calling film critics to impress them with their film-making skills as they await their fate at the grand finale of the MBC2 Two-Minute Movies Competition.

The winners will be announced today and the winner will drive away with a Cadillac CTS.

The competition, in its second year, offers students at schools and universities across the Middle East the chance to make their own two-minute movie from concept to final cut.

Taking advantage of new technologies, students from more than 30 schools and universities across six countries in the region, sent their movies to be viewed and judged by a panel including experts at the MBC Group creative services.

An enthusiastic MBC employee said he would have also participated if the competition allowed. "Talent and a mobile phone could make me a film-maker. I believe this is not just movies in motion. It is our local cultural scene, our perception of art shifting to a different level', said the employee.

The winners of the competition stand to win some amazing prizes such as Apple laptops, Digital Video Production Training courses, MBC2 internships and the opportunity to participate in the 2009 Middle East International Film Festival, among others.

In addition, MBC2 will showcase the winning movies to 40 million viewers across the region via its network. The competition will also offer aspiring film-makers the opportunity to develop their talent at a leading film academy in Dubai.

Roadshows in the UAE and Saudi Arabia were held earlier in search of talented film-makers in the region and provide them with relevant expertise by assisting them in making their very own Two-Minute Movie.

Along with the MBC2 competition, recent initiatives show mobile phone film-making is becoming increasingly popular.

Last year, Egypt held its first Mobile Film Festival 2008, receiving 900 entries from schools and universities across the country.
Follow Emirates 24|7 on Google News.