Most UAE netizens want online content free of cost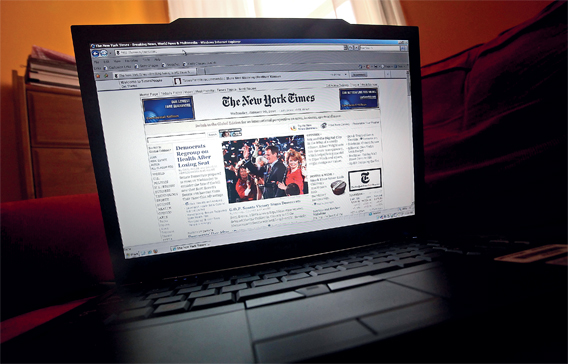 As global efforts, spearheaded by News Corps head Rupert Murdoch, to convince users to pay for online content pick up momentum, UAE consumers believe that content should be available free of cost.
According to a global survey by the Nielsen Company, 66 per cent of the respondents from the UAE believe that the quality of online information needs to improve significantly before providers can realistically charge for it.
An online survey of 27,000 consumers, carried out across 54 countries, showed 88 per cent of UAE respondents want the content to be available free of cost.
Globally more than 40 per cent of internet users are willing to pay for news content online and close to eight per cent are already paying for it, the survey showed.
The survey revealed that UAE consumers will consider paying for online content in specific categories, especially film, books, music and games. And they are prepared to accept more advertising on the web to support the cost of improved online material.
Respondents elsewhere in the Middle East share a similar view to internet users in the UAE; 85 per cent of web users in Saudi Arabia said content should stay free, and just above half (51 per cent) believe that the quality of content needs to be significantly enhanced before it can be paid for.
In Egypt, 87 per cent of those interviewed want online material to remain freely available, and 54 per cent expect an improvement in its quality before parting with their money.
Sevil Ermin, Managing Director of Nielsen, UAE, said: "Nielsen's latest global internet study provides valuable insights into how people's relationship with the web is evolving, and the results will certainly influence the thinking of Middle East-based content providers."
Ermin said: "Compared to many of their peers around the world, UAE consumers are more willing to buy professionally produced online content. But content that has been generated by fellow users, such as blogs and video, has far less appeal."
The survey found that a fifth of UAE net users had already paid for books online, 14 per cent had bought music and 13 per cent purchased movies via the web.
Asked what online content they would consider paying for in the future, more than half of UAE consumers said they were prepared to pay for books (56 per cent), movies (46 per cent) and professionally produced video, including current television shows (47 per cent). Many consumers also indicated they would consider paying for magazines (40 per cent), games (39 per cent) and music (38 per cent).
Noticeably fewer consumers were prepared to pay for consumer-generated content such as blogs (13 per cent), video (21 per cent), and content on social communities or forums (27 per cent). Radio and podcasts also fared poorly in the study, with 18 per cent of consumers indicating they would consider paying for music radio, and only 17 per cent for news and talk radio.
More than four in five UAE respondents believe that a subscription to a newspaper, magazine, radio or TV channel should allow them free access to content on corresponding online services.
In the survey, 80 per cent said they would rather search the web for free content than pay for what they need online.
Effective monetisation of content on all platforms in the Arab region is not only impacted by demand, but also require several actions to be taken by both industry and government players on the supply side too.
For the print sector, the lack of auditing in most Arab countries has led to a market, which is not fully transparent and, in turn, is hindering the potential for advertising revenues, according to this year's Arab Media Outlook report released by the Dubai Press Club.
The report said it has been seen from other markets that the websites which have adapted their content to the online platform are able to monetise online content most effectively.
Besides, successful online news content is generally more concise and more targeted than print content, said the report.
From the market research, it is apparent that current affairs, sport and politics are the most preferred newspaper topics among men, while arts and culture, celebrity and personal/self-improvement are more popular among women.
Therefore, effective exploitation of a news website could involve ensuring that advertising is targeted around the key segment at which the content is aimed.
UAE consumers are undecided about whether the quality of online content will suffer if it remains free; 40 per cent of respondents think it will, 27 per cent disagree, and more than a third do not know. But more than two-thirds concur that once bought, online content should be theirs to copy and share as they choose.
Meanwhile, how to buy online content would perhaps be a debate in itself, with a number of options being put forward by internet companies. Nearly two-thirds of respondents in the UAE would prefer to pay for specific items than subscribe to an entire website, according to the Nielsen survey. Half of those interviewed said more convenient payment methods would also make them more likely to buy online.
Ermin said: "Consumers appear to be stressing value and convenience in their attitudes towards commercial transactions online, and preferences are still quite fragmented. Online content providers clearly need to focus on offering more choice in their pursuit of internet users willing to pay for their services."
Defining the challenges of converting online users into paid consumers, the Arab Media Outlook report said key factor to hinder the monetisation of online content is the lack of credit and debit cards as a popular method of payment in the Arab region.
"This makes the concept of charging for content online particularly challenging and will require significant developments in banking penetration and a move away from the 'cash culture' in the region," said the report.
Therefore, enabling improved monetisation of local content on all media platforms will take time and requires significant effort by both industry players and governments.
Follow Emirates 24|7 on Google News.