Outdoor media unwilling to take risks this year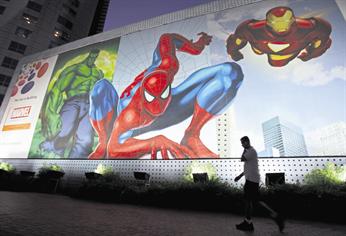 The outlook for outdoor advertising in 2010 is full of speculations and uncertainty, many industry players say.

The industry, hit hard by the global crisis due to the real estate developers pulling out of the advertising market and sending outdoor to around 70 per cent decline, is struggling to keep an optimistic view for this year.

The outdoor analysts refused to give any figures for fear that it would be no more than fortune-telling.

Hassan Kaddouha, Head of Operations, Shoof, said his company was expecting a positive year in terms of occupancy, but it did not necessarily mean that would translate into profits.

He said: "Our occupancy rate for the first quarter is 60 per cent. We have received lot of enquiries, especially for the Dubai Shopping Festival period, including from the festival organisers and sponsors. Overall, I believe 2010 will achieve an occupancy rate between 65 per cent and 80 per cent, but that does not mean profit.

"Media companies have suffered a lot in 2009. They are already leasing out spaces for prices much lower than those projected in 2008. Based on the fact that the spaces are still run according to the contracts made in 2008 and before, the occupied spaces are currently sold for prices that hardly cover the operational costs. Any unoccupied space will be considered a loss."

Meanwhile, other companies had a different view on the situation. Mahmoud Abou Al Haj, Managing Director, Trinet Outdoor, said: "I do not expect the occupancy rate to go above 50 per cent. So far, we have not seen any solid bookings for the first quarter of 2010, but we hope to see property back to the market, though slowly, in addition to FMCG."

A leader of a major media firm, who wished to remain anonymous, said the bookings were only expected from February and depended on the start and end of the fiscal year for each company.

He added that his company has not yet closed the accounts for 2009, but it has been a very difficult year. It might be worse in 2010, he said.

Ahmad Lizzaik, Managing Director and owner of Reach Outdoor, said: "We are tired of pessimism. We are trying to look at the brighter side, although any indication we might provide would be described as wishful thinking. We have not received any requests yet.

"The media buyers are currently planning the advertising vehicles for their clients. We do not know what the share of outdoor would be in such plans.

"We have done restructuring of our rate cards, of course, but that is an individual effort. Currently, the outdoor market is not syndicated rather subject to supply and demand and to individual negotiations."

He added: "At a point, breaking even this year will seem to be an achievement."

Lizzaik said the prices for big boards have been reduced from Dh3 million to Dh800,000, while lamp posts, which were once sold between Dh6,000 and Dh7,000 are now being sold for Dh3,000 and Dh2,000.

Kaddouha said the situation was similar to that in the 2000 and 2001. "A decent recovery will need three more years. The levels of 2008 are very hard to achieve at any time in the near future. I don't expect those levels to return, because the market is at a point where everybody is afraid to take on an uncalculated step."

He added: "We are waiting for February. It would be a major concern if advertisers did not assign sufficient budgets, although, I believe that the limitations of the advertising budgets have been a result of a wait-and-see mood rather than real losses in their businesses."

Firms had admitted throughout 2009 that prices of outdoor media were out of control due to the higher bids from the then booming real estate companies.

Before 2007, the market was based on the relation between the clients, the buying agencies and the media companies. According to Kaddouha, the year 2008 saw direct dealing with clients who competed on outdoor spaces, mainly the larger formats. "In 2009, we went back to dealing with agencies, and media companies became subject to pressures of negotiations for lower prices."

A number of media companies have scaled down their rates by 25 to 30 per cent. Yet, the market prices are seemingly much less, with experts saying that spaces have been leased out for 60 to 70 per cent less.

According to market figures, prices of two-face spaces on bridges have gone down from the range of Dh1.6m-Dh2m, to less than Dh800,000.

Unipoles are being sold for Dh50,000 to Dh60,000; almost a 70 per cent drop from the pre-crisis Dh200,000-Dh250,000 range.

Muppis, however, is still holding up with prices ranging from Dh20,000 to Dh35,000.

Many industry players interviewed by Emirates Business expected help from the Roads and Transport Authority.

According to the outdoor analysts, the reason for such a drastic decline was most of the contracts were made based on the unrealistic prices of 2008. "Everyone was making profit and companies kept offering higher fees to media owners," said Kaddouha.

Based on that the high prices offered at RTA tenders were affordable. However, the situation has changed and outdoor companies are still running the old contracts and are forced to sell the spaces to clients at much lower prices for two reasons.

Firstly, the newcomers to the outdoor advertising such as FMCG could not afford the same prices as real estate, and secondly, agencies started filling in their terms and threatening to go to competitors for lower prices. Consequently, those who wished to retain their clients had to accept those terms.

Kaddouha said: "We call on RTA to discuss the alternative solutions with outdoor media companies to support the industry."

Abou Al Haj said: "The Dubai Municipality has negotiated with us and offered facilities, including the extension of contract period for two to three years at the same prices. They allowed a grace period until the boards were installed. The RTA has not taken any step yet towards a similar resolution."

Kaddouha said: "The smaller hit-and-run companies in the market have already gone out of business, leaving out the big outdoor companies who still hold contracts with RTA. I believe, that most of these companies who are suffering at the moment will either choose to go to Abu Dhabi, where the market is showing positive signs, or refuse to renew their Dubai contracts."

Lizzaik concurred. "Our company is currently working on a couple of clients in Dubai and we are focusing on Ras Al Khaimah and Fujairah. A part of our operation has moved to Lebanon despite that this market is still immature."

An outdoor source said the RTA had granted new contracts for lower prices closer to matching the current market price. He said: "Six months ago, the RTA granted a bridge contract for Dh800,000 instead of Dh2m. A month ago, one bridge was even given for Dh100,000."

Lizzaik said: "I think RTA are being more realistic now, but I will still think twice about buying a bridge for that low price, depending on the market demand."

Outdoor companies are currently hoping the RTA would be willing to extend contracts for two-three years.

According to analysts, RTA had expressed its willingness but no new developments have been announced. However, various sources confirmed that RTA was negotiating with outdoor companies on an individual basis to reach comfortable terms.


Positive outlook from Kassabmedia

Despite uncertainties in the outdoor outlook, Kassabmedia expressed a much brighter view.

Having launched a new subsidiary, Kassab Transmedia, the company is currently running the exclusive contract for the metro advertising in addition to busses and malls across the UAE.

Mohammad Awad, Director, UAE, said: "We hope 2010 will be much better than last year.

"We are confident because we have a large market share.

"We are expecting big projects such as the metro to see growth in 2010. Especially, after all the systems for the metro are in place by February."

Awad also expected that the occupancy rate for the first quarter would be no less than 65 to 70 per cent of the current inventory.

He noted that many stations of the Metro's Red Line have seen 100 per cent occupancy, namely the Mall of the Emirates, Rashidiya and Deira City Centre. "In total, we have an occupancy rate of 80 per cent at the moment, which indicates that the Metro advertising is extremely successful."

Advertisers in the Metro are mainly contain local telecom firms with annual deals, FMCG, electronics, cosmetics, luxury goods such as watches, automobiles, TV stations – especially from Abu Dhabi, and banks, which according to Awad have started to offer personal loans and car loans again.

Awad said the company also benefited from the Fifa Club World Cup that was held in Abu Dhabi recently.

He said: "We are one of the companies that weathered through 2009, and we hope this year show better results."

Kassab has benefited from a partnership with Majid Al Futtaim, capitalising on the several malls and retail outlets that fall under the group's umbrella.
Keep up with the latest business news from the region with the Emirates Business 24|7 daily newsletter. To subscribe to the newsletter, please click here.
Follow Emirates 24|7 on Google News.