Portal for UAE NGOs launched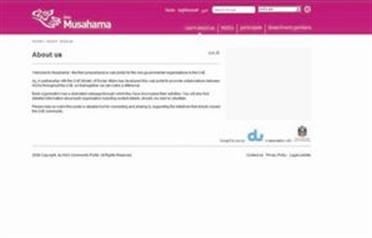 du, the integrated telecom operator in the UAE, and the Ministry of Social Affairs have jointly launched Musahama, a comprehensive web portal for non-governmental organisations (NGOs).

The portal will act as an interface among the UAE-based NGOs and the people and further encourage voluntary participation.

In the presence of Mariam Khalfan Al Roomi, Minister of Social Affairs, the portal was jointly launched yesterday by Osman Sultan, the du CEO, and Naji Al Haj, Executive Manager for social development at the ministry. It follows the signing of an MoU between du and the ministry in 2008. The web portal will be accessible at www.musahama.com.

Besides acting as a comprehensive source of factual information on all the NGOs in the UAE, Musahama will showcase the work of each organisation. It will also facilitate volunteering in the country by presenting all the available opportunities on one platform.

Outlining du's use of technology and business expertise in its Corporate Social Responsibility projects, Sultan said: "du's corporate responsibility programme focuses on creating sustainable and economically empowering initiatives thro-ughout the UAE. Musahama is one such novel online initiative achieved as a result of the strong partnership between du and the Ministry of Social Affairs."

Naji Al Haj said: "Musahama will be the one reference point for all active non-governmental organisations. We expect this initiative to further the cause of social development in the UAE and enable closer co-ordination between various organisations. We sincerely thank du for taking the lead in ensuring the success of the initiative."
Follow Emirates 24|7 on Google News.