Print media can use tech to its advantage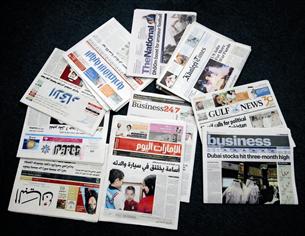 The print media, including newspapers and magazines, will continue to record growth by employing new measures and tools to increase revenue and save costs, said experts at the conference organised by the World Association of Newspapers and News Publishers (WAN-Ifra) in Dubai.

With new technologies revolutionising the way people consume media, theories about the demise of the print media will be proved wrong, suggested professionals participating in the conference.

Titled "Changing to Succeed: Editorial and Commercial Strategies for the Future", the conference explored the possibilities of utilising new technologies and business models to lure advertising, subscription revenue and additionally be innovatively cost-effective.

Dr Azzam Al Dakhil, CEO of the Saudi Research and Marketing Group, said publications need to be open to the idea of collaboration with other publications.

"Co-operation does not necessarily involve content, but the challenge of reducing the costs of our products must bring us together in terms of supply material, printing costs or distribution. I think newspapers should be more united now, and make use of the Middle East Publishing Association (Mepa), which was established in 2005 to come under one roof and discuss the pressing issues," he said.

Reiner Mittelbach, CEO of WAN-Ifra Germany, said the media today is based on consumer-centric communications, which is a core element that news publishing would have to respect.

Countering all emotional predictions from technology fanatics who see the decline of print media as an inevitable result of the rise of web and social networking, Mittelbach proposed a realistic argument on how traditional print media could optimise their business and survive healthily. The condition to that, he suggested, is for newspapers and magazines to seize the opportunities that they have missed and which have been captured by the business world earlier.

He said: "There is plenty of missed opportunities that print will have to catch up on." Those form trends that have been applied by the business world in various advanced levels in the past 20 years, he said.

He said: "The gaps can be closed if organisations are fast enough to face challenges."

Despite that technologies such as e-readers have still not reached this region, with the current four million devices sold in more advanced markets, Mittelbach saw his arguments relevant to regional media, which will need to be prepared for the future era of technology.

To elaborate, Mittelbach listed a number of trends that could be introduced to the print media industry to increase advertising revenue and engage the audience, thus avoiding it slipping away to other media.

The first trend includes looking at the new pricing trends such as the pay per click (CPC), Pay per action or performance (CPA) and cost per order also known as cost per engagement (CPO); exploring contextual ads; and utilising social networks also known as e-sentiments.

A second trend involves cross-media advertising, based on customer relationship management systems (CRM) that businesses have been using for the past 20 years, although with less technology and more paperwork.

A third trend is e-publishing with e-readers, said Mittelbach. He cited a research done by Microsoft for the New York Times, which showed that the cost to print copies for its 838,000 readers was higher than being on e-reader for $300 per reader.

Mittelbach called for the revival of the paid for model, saying that it will ensure that the right audience is accessing the publication, and thus providing an effective tool for advertisers to promote their products to a focused group of consumers.

He said print still needs to have a model that could provide more information about potential customers. On one hand, there is a missing link in selling advertising, and that is training, said Mittelbach. What is the struggle in luring advertising? A lot of print media organisations do have the focus, but consumers now have a bigger choice, with audio, video, smartphones and e-readers.

On the other hand, he added, print media still work through agencies which act as middle mae between the advertising customer and the media organisation. Meanwhile, media buying agencies when surveyed tend to regard newspapers as old-fashioned, expensive and have no proof of effectiveness. Their audience, they say, belongs to a very old age category.

"Of course, it would sound quite provocative to say that newspapers will have to stop dealing with media buying agencies. That might not be needed. What is needed is for the newspaper or the magazine to get back into contact with the advertising customer again. Whether it is through a media buying agency, it should be on the newspaper's side rather than assuming a role of a middle man," Mittelbach said.

Summarising the challenge, Mittelbach said the print media industry was facing a persistent need to change its mindset. "This industry is one of the most difficult to change. It needs to undergo many transformations in terms of embracing innovation, and by that I mean brining inventions that can benefit the public and fit with the environment and context."

"There is a need for segmentation similar to what has been done in FMCG, in automotive and in other industries. Products are now more diversified based on the needs of different segments of the consumers.

"There is also a need for outsourcing. Newspapers should clearly define what their core business is. Everything that is not their core business can be outsourced", he added.

Mittelbach pointed out that there was no contradiction between the call for innovation and outsourcing. "A lot of the technology does not need to be owned by the newspaper. It could be more cost-effective being outsourced, thus allowing the newspaper to invest more into its core business.

The conference continues today with speakers who will further build on the first day in terms of developing new business models, gathering market insights, responding to the changes in the consumers' habit and the employment of new technologies.
Keep up with the latest business news from the region with the Emirates Business 24|7 daily newsletter. To subscribe to the newsletter, please click here.
Follow Emirates 24|7 on Google News.