Retail, FMCG and media replacing real estate as top outdoor advertisers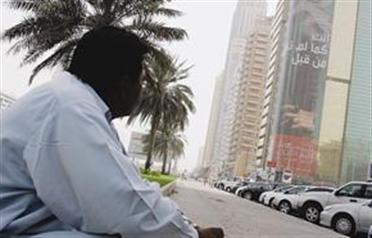 Outdoor advertising will see a drop of 10 to 15 per cent in Dubai this year while retail, FMCG and media are gradually replacing real estate as the top outdoor advertisers for 2009, agree many industry experts.

Although the first three months of 2009 are expected to remain a cautious "wait and see" period for most advertisers, people still have to eat, buy and travel, only a little less than before, as several tend to phrase it.

Refusing to surrender to a gloomy outlook, a few spot some opportunity for the outdoor market. Street furniture is not only the larger formats; it also includes muppis, lamp posts, transport, retail and roadside advertising. These, mostly sought by sectors other than real estate, will remain intact.

International customers have not released their budgets yet. Many look at advertising budgets as the first to go down the drain when it comes to tightening the belt.

One senior outdoor media expert complained that Dubai's Roads and Transport Authority (RTA) was also contributing to price inflation in outdoor advertising.

Peymen Younes, Director of Marketing and Corporate Communication Department at RTA Corporate Support Services Sector, said in response: "I would be lying if I say we are not going to be affected. However, this is the time to utilise the best creativity and indepth knowledge and experience to weather the negative implications of the global financial crisis. Every player in the market realises there are risks and will definitely have ways to manage them."

From RTA's perspective, said Younes, "our plans will not be changed. Media tend to show that there are many adverse effects on the market, but we are not aware of any changes".

Commenting on the possibility of reducing tender threshold prices, he said these were all assumptions.

Meanwhile, RTA continues to construct new sites. Two dozen projects will be completed as scheduled, which will offer additional spaces during the year.

Emirates Business spoke to outdoor media companies to seek their opinion on the 2009 outdoor advertising landscape challenges and turning points.

Aldrin Fernandes, Chairman and Group CEO, Stroer Concept Shoof, maintains that all recessions are a combination of "low liquidity" and the resulting "market sentiment". "And it is mostly the latter that determines the ability of each economy to bounce back. Considering the existing UAE market sentiment, one can expect the beginning of a slow growth by the third quarter," he said.

Fernandes said just like all other media, outdoor advertising will be affected during 2009. "It will be challenging as clients will look for tangible results and measurement for their marketing investment. And companies that will be able to offer cost effective solutions to their customers will take the lead. Volumes will experience a drop, but the outdoor industry on the whole will experience growth in terms of its total share of ad spend.

"I still believe that real estate will remain one of the major spenders, with retail, FMCG and telecoms in a close chase. The prices of outdoor will come down due to the real estate downturn, which will enable other sectors such as retail and FMCG to utilise outdoor to their benefit at better prices.

"We are close to 100 per cent occupancy in our existing inventory, but foresee a 10 to 15 per cent drop during the next year."

Fernandes said considering the expanse of Dubai Metro and the Abu Dhabi, Al Ain and Dubai bus shelters, outdoor furniture will collectively be as much as 40 to 50 per cent of the total market space. "It is especially so as the municipality has become very selective in the approval of rooftop sites and is mainly focusing on street furniture," he said.

"At Stroer Concept Shoof our strength lies in our nationwide network through our recently acquired Abu Dhabi and Al Ain bus shelters, the 100 plus Emirates Post locations across all seven emirates offering more than 3,400 advertising faces and of course our Dubai locations. Our focus will be on other industries and to capitalise on our spread and reach and offer cost-effective, campaign-able nationwide solutions."

Players will need to consolidate and be innovative to maximise their potential to grow, or even sustain these times, Fernandes said.

"I believe we set the trend of worldwide mergers two years back with our alliance with Stroer Group. And our recent merger with Shoof is a part of our long-term strategy in the region. Other companies have followed suit, which is a positive sign for the industry's development."

Selim Barkett, Director, Kassab Media, is also of the opinion that it is a "wait and see" situation.

"Nobody in the outdoor advertising sector can deny the effects of the global crisis on the market, however, this does not mean we are doomed. Frankly speaking, we will definitely witness a drop compared to 2008. I believe we might be at the level of 2007. That year the market witnessed a slow debut, which accelerated in the following quarters. I see we are very close to 2007.

"At Kassab, we base our business plans on a solid long-term strategy. Being in the market for 25 years we have come up with media products that offer good value to our clients. We will definitely face some counter effects but I believe we will still do well in 2009."

Barkett said real estate developers have been hit and many of those advertisers will not spend in the same way as they did before. "However, we still have clients who have committed to us. Their budgets may not be as huge as the past year. Certainly they will be revisiing their plans every quarter. But that is only fair."

He said serious clients will go on investing in media. Some advertisers will even find it more attractive to utilise outdoor media because it will always be able to deliver an unparalleled exposure. Thus, outdoor, in certain instances, will benefit in a recession.

In the past few years, real estate became a large contributor to the outdoor advertising business. However, it might have made up to 30 per cent of our business in some markets. The rest, a majority, included other categories such as telecoms, FMCG – mainly fast food and beverages – healthcare and personal care products.

In terms of ad spend, FMCG is considered the backbone of certain product lines such as muppis. Telecoms remains in a very good shape as well. This segment will continue to grow in Saudi Arabia, the UAE and across the region.

Retail, mainly mall advertising, will also keep up a good pace, along with roadside advertising and transport, which is now witnessing a huge leap forward with the new transportation master plan in Dubai.

Barkett said media, a fairly new category of advertisers in the region, will also emerge as major players in outdoor ad spend. Televisions and newspapers will seek more visibility.

"We are currently witnessing such a trend based on requests from certain media in the UAE for outdoor campaigns. I strongly believe that outdoor plays a big role in our markets. It has proved its validity, and despite the lack of accountability and research, outdoor is regarded much more accountable than most media in this region."

According to Scott Rowe, Director of Sales, Marketing and Business Development, Right Angle, "the biggest issue we are facing is budgets being cut, reshaped or put on hold. Many advertisers now have to relook at their objectives".

"We have recently completed the first phase of our research project and are expecting to launch the second phase soon. By providing accountable information about the market, we are able to provide some comfort to advertisers on the expected ROI. The reason we did that is that we felt we did not want emotional purchases. In fact, 2009 will see no more emotional purchases," he said.

"Will we achieve high occupancy rates? I hope so. I can't guarantee it, however, because I don't know how the market is going to react. Advertising budgets haven't been released yet, and there is a lot of contingency planning going on. but until people actually start signing no one will know how they are going to perform.

"Last month we have had 55 per cent occupancy, down from 70 per cent the month before. Considering that we have new bus shelters being installed constantly, with the aim to reach 1,000 shelters by early 2009, I don't see this as a decline in occupancy rates. Meanwhile, there is a worst case scenario, and that is to have zero spaces sold.

"One of the challenges is that Dubai, having had a good period of time where it has been able to have some long-term plans, will see such plans change rapidly. People will be less likely to commit on long-term basis because they wish to wait and see the results. Secondly because they may not be able to utilise all of their original budgets, being constantly under review during the next 12 months.

"Positively speaking, there will be a better chance for advertisers who normally wouldn't have sought the real estate dominated out-of-home, to return as key clients in outdoor media. With the decline of real estate advertising, I expect sectors such as FMCG, media, retail, automotive, government services and banking and finance to come back to the market. The banking sector, in particular, will need an increased visibility as it strives to restore confidence. I assume that property will at some point come back as well."
Follow Emirates 24|7 on Google News.