Slumdog to rake in the moolah after Oscar sweep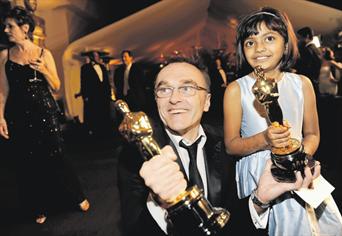 Slumdog Millionaire, the feel-good tale of Mumbai orphans who escape poverty, won eight Oscars including best picture.

Honours for Slumdog included best director for Danny Boyle and best adapted screenplay for Simon Beaufoy at the 81st Annual Academy Awards in Los Angeles.

Slumdog's success mirrors its protagonists' rags-to-riches story. Made for about $15 million (Dh55m) with a cast of unknowns, the movie from Fox Searchlight Pictures prevailed over the bigger budget and star power of The Curious Case of Benjamin Button, a $150m production starring Brad Pitt. The film resonates with audiences facing economic hardships from the deepening US recession, Beaufoy said backstage.

"There are more important things than money," Beaufoy said. "There's faith and love and family. In this era, this money thing has been shown to be a false idol."

Kate Winslet won the best-actress Oscar for her portrayal of a former guard at a Nazi concentration camp in Weinstein Co.'s The Reader. Sean Penn won for best actor in a leading role, for his portrayal of Harvey Milk, the gay San Francisco supervisor who was murdered in 1978 by a political rival.

Milk was released by NBC Universal's Focus Features.

"It's a good time for those who voted for the ban on gay marriage to sit and reflect," Penn said in accepting the statuette, referring to a California ballot measure that passed last year. "We have got to have equal rights for everyone."

Winslet's Win

Winslet had been nominated five times without winning. In The Reader, she plays Hanna Schmitz, a German who has a love affair with a younger man, then disappears. A decade later, she turns up in a courtroom, accused of the Second World War crimes.

The late Heath Ledger won the supporting-actor Oscar for his role as the Joker in The Dark Knight, becoming the second actor to win the prize posthumously.

Ledger, born in Perth, Australia, died last year of an accidental drug overdose at the age of 28. His diabolical turn as the Joker focused attention on the Batman film, released six months after his death.

Dark Knight, the second-highest grossing movie at the US box office after Titanic in 1997, has taken in more than $1 billion worldwide for Warner Bros.

Quietly Pleased

"He would have been quietly pleased," his sister Angela Ledger told reporters backstage. "He would have enjoyed being recognised by his peers in the industry."

Peter Finch was the first actor to win a posthumous Oscar, capturing the award for Network two months after he died in 1977.

Actor Hugh Jackman opened the show with a song-and-dance medley that drew in actress Anne Hathaway from the audience to stand in as Richard Nixon in a spoof of the best picture- nominated Frost/Nixon.

Comedian Jerry Lewis received the Jean Hersholt Humanitarian Award for his telecasts raising money to improve infants' health. Penelope Cruz won the supporting-actress Oscar for her role as a jealous ex-wife in Vicky Cristina Barcelona.

Disney's Wall-E was recogniSed as best animated feature, while best animated short went to La Maison et Petits Cubes, from Japan's A Robot Communications. Filmmaker Kunio Kato got an audience laugh by ending his acceptance speech with, Domo arigato, Mr Roboto, a line from the 1980s pop tune by the band Styx.

Oscar for Departures

Another Japanese movie, Departures, won the Oscar for best foreign-language film, beating entries from France, Germany, Austria and Israel.

An Oscar can add millions of dollars to studio coffers from higher box-office and DVD sales. It also brings prestige to studios that back winners, said Bill Mechanic, head of Pandemonium Productions, an independent production company and former chairman of News Corp's Fox studios.

Slumdog almost did not get distributed.

Fox Searchlight picked up the movie after Time Warner Inc closed its small-picture division. The themes in Slumdog assumed greater importance as the film's release in the US coincided with the stock market crash, screenwriter Beaufoy said.

"The world is not in the best of shape," Mechanic said in an interview. "Slumdog was one of the films that was most optimistic in the face of great struggles. It's a picture that lifted people."
Follow Emirates 24|7 on Google News.