SMEs most affected by ad slump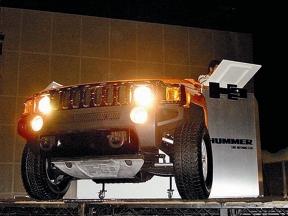 The advertising slump has affected majority of industries, mainly affecting small- and medium-sized production companies, thus making them look for alternatives.

Until 2007, creations such as building LeoBurnett's award-winning life-size Hummer hanging on a roof in Ski Dubai at the Mall of the Emirates by Mint Creative Productions, which emerged as a 3D-structure solution provider for big agency ideas, were in demand.

The global economic crisis, however, restricted those big ideas to thin budgets. Yet, the 22-staff employing company continued on a parallel track, recently completing the construction of KidZania.
According to Zafer Shakhshir, Partner, Mint Creative Productions, the global economic crisis turned around the share of advertising operations from a range of 60 per cent to 70 per cent of their revenues to less than 20 per cent last year.

"Before the crisis, we executed ideas for advertising agencies mainly on lamposts and other outdoor media. With the outdoor receiving the biggest hit, we were also affected. Similarly, we had been expecting a number of projects in Dubai to kick off, including waterparks, zoos and theme parks. Those were put on hold when the crisis unfolded."

Shakhshir said KidZania ensured the continuity of the company during the downturn. "It has opened new horizons for the company in addition to advertising and branding productions. We are now geared towards productions for theme parks and entertainment cities."

Since 2005, Shakhshir along with his partner Wassim Shaya, strived to grow through offering a specialised advertising and branding structures and executions using styrofoam.

"The Hummer everyone saw at Mall of the Emirates was completely made of styrofoam treated with special material to harden its surface. The representative of General Motors, who came down here, to oversee the production could not distinguish it from the real one," said Shaya. "We are proud of what we did."

Shaya said: "Dubai has been the showcase for creative advertising ideas. With the budget cuts especially in the real estate sector, everybody was hit and it resonated across the line to our end. We still work for exhibitions, conferences and movie launches and themed urban decorations around the cities".

KidZania has helped the company survive during the tough economic times.

Shakhshir said: "We are optimistic about next year. We have worked on a very challenging project that will add to our of milestones."

KidZania, which was recently launched, is also completely built of styrofoam. The 80,000 square feet children zone at Dubai Mall is to become on of the major attractions of the biggest shopping mall in the Middle East.

It has already attracted advertisers and sponsors including several corporate organisations in Dubai such as Emirates airline, HSBC, Enoc, Waitrose, AC Delco, Procter & Gamble, Lacnor, Emaar Education, Sony Gulf, Sony Professional Solutions, Jotun, Swiss Arabian, ARY Jewellery & DMCC, Dewa, Jenan (Al Ghurair Foods), Du, McDonald's, General Motors, Emirates Driving Institute, Naffco, Dunkin' Donuts, Britannia, Pizza Express, HP, Baskin Robbins, Coca Cola and Swatch.

The venue spread over two levels is scaled down two-thirds in size and, combined with the immaculate layout, makes a strong imprint in the minds of visitors.

"Our staff included artists and sculptors to help created the fine details of the structure, mostly designed by our team," said Shaya.

Shakhshir said: "It was our best project so far. Now with the economy seeing signs of recovery, we are hoping that both advertising and theme park projects are resumed, offering us a chance to grow further.

Shaya said: "We believe that 2010 will show better signs than 2009. We are targeting projects in which we have the advantage as suppliers and we are aiming to develop a comprehensive marketing plan of our own."

Shahkshir said: "Despite the adversities, the year 2009 has been an opportunity to take a breath. We are certain that this period is not going to continue for long, and we are doing our best to remain prepared for times of recovery. It is our belief that investing during the downturn, will pay in the booming times."

The two partners said they had started receiving more inquiries in the past month. The industry is moving forward again, they said.

"If the market starts picking up again, this year, then we are looking at a full recovery in the next two years," said Shaya. "In the meantime, we are upgrading our staff's skills, focusing on training and on attracting artistic talent. We already have plans to increase the staff soon."

Mint had also worked on restoring the dome of The Atlantis Hotel which caught fire less than a month prior to its official opening more than a year ago. "We used the styrofoam material to carve huge leafs for the dome. This material does not catch fire easily and that was its major advantage," said Shaya.
Keep up with the latest business news from the region with the Emirates Business 24|7 daily newsletter. To subscribe to the newsletter, please click here.
Follow Emirates 24|7 on Google News.