SMS, emails dominate Valentine promotions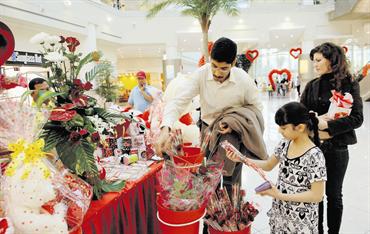 SMS and email marketing dominates this year's St Valentine Day promotions, mainly from restaurants and hotels.

Airline operators in addition are offering special travel and leisure packages.

Valentine print ads among other traditional media have been reduced this year compared to last, said Glen Nato, Associate Vice-President at BPG Media, making way for below the line marketing and other cheaper options.

"Flower shops, boutiques and retail stores are now advertising in a different manner. While traditional advertising targets the masses, online and mobile marketing is targeted and less expensive. Therefore, traditional advertising remains for those advertisers who have got larger business and bigger funds."

Azhar Siddiqi, General Manager, Magna, said: "Online and radio advertising are the trend for this year's Valentine's promotions."

"Those channels are response oriented, cost efficient and secure a good return on investment."

Siddiqi said his clients have been increasingly inquiring on SMS and online campaigns. "Last year, we did not do much, but this year, we have a lot of SMS campaigns to be launched, utilising a specialised database that we have developed."

"Clients are looking for relatively less expensive tactics and SMS is one", he said. "For such a tactial campaign running for 10 days to two weeks, instant response media are more sought after."

Nato said Valentine promotions are not as enthusiastic this year, partly because of the crisis, and also due to DSF promotions.

"Jewellery and luxury items still do advertising. For Asians, in particular, gold remains an investment. They will always buy jewellery as a means of security against turmoils," said Siddiqi. "I think last year we had more Valentine's specific ads from confectionery, retail and restaurants."

Ahmad Bashour, Group Sales Manager at ITP said online and email marketing have increased up to 200 per cent for some of their websites such as Arabian Business.

"New media are cost effective, becoming more mature and have more products to cater to a wider audience," said Bashour.

The high demand has set ITP to increase its email marketing rates, from 27 cents per mail shot to 35 cents.

Karim Merchant, CEO and GM, Pure Gold, said the giant gold retailer had a special promotion for Valentine's. However, he pointed that based on daily comparison with last year's promotions, they are only expecting to finish neck-to-neck with 2008. "We still advertise in print and outdoor, but we have not made any increases on our marketing and advertising budget this year. The usual annual increase on budgets touched 30 per cent to 35 per cent in previous years," he said.
Follow Emirates 24|7 on Google News.