Star power: Celebrity endorsements surge at Grammys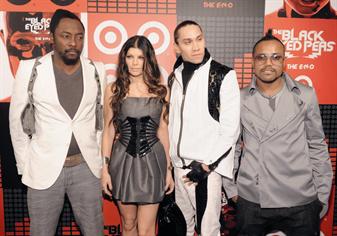 Would the Black Eyed Peas persuade you to shop at Target or Eric Clapton lure you to switch to T-Mobile?

Marketers seem to think so, with celebrity endorsements soaring 150 per cent in television advertisements screened during the 2010 Grammy Awards and reversing a move away from celebrity collaborations last year, figures showed. An annual study of Grammy ads by media licensing consultancy GreenLight found the Black Eyed Peas, Clapton, Drew Barrymore and Luke Wilson were just a few of the celebrities pitching Target, T-Mobile, Olay, and other brands during the year's biggest TV music show.

"Our Grammy ad research suggests that a definite rebound in celebrity endorsements is under way," GreenLight Vice-President David Reeder said in a statement.

"Last year, we saw brands cut costs by focusing mostly on the licensing of pop music to maintain some celebrity presence in their ads. This year, we're seeing brands again use music to connect with consumers, but they're also signing music acts and other stars to maximise the reach and impact of their message."

GreenLight said its annual report is a barometer to identify trends in how brands are using celebrities and pop music in their TV commercials.

Reeder said the analysis showed that brands are once again partnering with celebrities and using pop music to maximise brand awareness and forge emotional connections with consumers.

In total about 15 per cent of the 2010 Grammy ads featured celebrity endorsements, a 150 per cent spike from last year, while 22 per cent of ads featured pop music, which was about the same as the past two years but down from a peak of 38 percent in 2007.

Only three per cent of ads featured brand jingles.

US carmakers dominated Grammy ads, with 16 per cent of the total.


TV audience

The Grammys drew the biggest TV audience in six years for the telecast on CBS Corp's CBS, according to preliminary ratings on Monday, with 25.8 million Americans watching the show, which was a 35 per cent increase from last year. Grammy TV audience biggest in six years.

A popular and eye-popping mix of stars such as Beyonce, Taylor Swift and Lady Gaga drew a TV audience of 25.8 million Americans to the Grammy Awards -- the biggest TV audience for the telecast in six years.
Keep up with the latest business news from the region with the Emirates Business 24|7 daily newsletter. To subscribe to the newsletter, please click here.
Follow Emirates 24|7 on Google News.