Talkin' about the Net Generation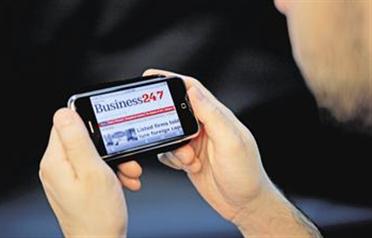 The Arab media industry will continue to post gradual growth despite the current economic climate, according to research and analysis conducted for The Arab Media Outlook 2008-2012.

This growth will be driven by the delivery of content to mobile internet-connected devices used by an emerging generation of media consumers – the so-called Net Generation – who have grown up using the internet and mobile phones.

The Net Generation, whose members lie in the 15 to 25 age group, is particularly important because of the high proportion of young people in the region, the research said.

"You will see that the new technologies have unlocked immense value for new and traditional media, in ways that were unthinkable a decade before. The fact that a majority of citizens in the Arab countries are young makes the adoption of digital technologies a natural development for the region," said Mona Al Marri, Chairwoman of Dubai Press Club.

The outlook, published earlier this week by Dubai Press Club, in conjunction with PricewaterhouseCoopers (PwC), covers twelve Arabic-speaking countries – the UAE, Bahrain, Egypt, Jordan, Kuwait, Lebanon, Morocco, Oman, Qatar, Saudi Arabia, Tunisia and Yemen. It found that the youth contributed a very high percentage of the population.

In particular, more than 50 per cent of the population in Yemen, Oman, Saudi Arabia, Jordan, Morocco and Egypt are estimated to be currently younger than 25, while in the remaining countries the under-25 Net Generation makes up between 35 per cent to 47 per cent of total population.

A surprising find from the research was that members of the Net Generation, regardless of their geographic location or cultural background, tend to behave in a very similar way when they are online.

New technologies are often second nature to them, and content delivery via online and mobile channels are probably their preferred methods given that the appropriate infrastructure is in place. Younger media consumers are also likely to spend a higher proportion of their income on media consumption than their older counterparts, the Outlook observed.

Commenting on this development, Marcel Fenez, Global Managing Partner, Entertainment and Media Practice for PwC, said: "Digital media will thrive in the Arab market because the market has a large, technologically accomplished demographic group — its youth — who are comfortable with it and will customise it to their own requirements. The digital future is now clearly the digital reality, and its impact is being seen across many industry sectors.

"The media is dealing with a range of emerging business models that are affecting participants across the content production and distribution value chain.

"These developments reflect the emergence of a new type of consumer who wants 'anytime, anywhere, anyhow' access to media. Notwithstanding such trends, traditional and physical media formats are still growing strongly and continue to form the backbone of most of the industry segments covered in the Arab Media Outlook."

However, literacy will be a key enabler for meaningful access to many kinds of media, especially print, and there are wide differences in literacy across the twelve countries covered in the outlook. These range from about 50 per cent in Yemen and Morocco to more than 90 per cent in Kuwait.

While significant progress is being made in some countries, the overall pattern of literacy levels in the region is predicted to improve slowly. Therefore, the literacy level of a country continues to be an important indicator of the level of print media adoption, including circulation and print-advertising revenues in each market, the Outlook said. In those markets, where print media have limited reach due to the low literacy levels and where oral traditions are strong, television is likely to be the main source of information and entertainment.

Dr Amina Al Rustamani, Executive Director of Media at Dubai's TECOM Investments, said: "It is clear that the media consumer in our region is as sophisticated as those anywhere in the world, and it is essential that Arab media companies respond to the needs of the new media consumer as well as continue to satisfy the large segment that receives their news and entertainment through traditional media."

As telecom and media converge, consumers have the option of accessing news, current affairs and entertainment content over televisions (free or pay), personal computers or their mobile phones. Pay TV adoption in most of the region is still at an early stage and penetration of households ranges from 0.4 per cent in Morocco to 6.7 per cent in Saudi Arabia. This illuminates the dominant position of free-to-air television in most of these markets and the high level of consumer satisfaction with the current free-to-air channels available via satellite.

In some of the wealthier GCC countries such as Qatar, the UAE and Kuwait, Pay TV has started to gain traction and is being accessed by more sophisticated television viewers with household penetration of 41 per cent, 24 per cent and 10 per cent respectively, research showed.

On the other hand, broadband subscriptions as a percentage of households remains extremely low throughout the region, at below 10 per cent in seven of the 12 countries.

For many developing countries with a large and sparsely distributed population, broadband delivered via fixed infrastructure is not an efficient way to increase broadband penetration as the amount of capital investment required is significant and may not be justifiable given the large geographic area. For this reason, mobile technology and mobile phones are rapidly emerging as rival means of broadband access to internet content.

An important feature of the region is the very high market penetration of mobile phones, particularly in the higher income GCC countries where 2007 penetration levels exceeded 100 per cent, such as the UAE (169 per cent), Bahrain (146 per cent), Qatar (118 per cent) and Saudi Arabia (116 per cent).

While penetration data should be interpreted with some caution because of differences in the way in which the numbers of prepaid mobile customers are recorded, the overall trend of growth is clear and represents a great opportunity for the sector.

"In this outlook, we have also looked at the emergence of user-generated content in the region. The surge of citizen journalism that we see today will complement 'mainstream journalism' and add to the depth and breadth of media content. We have seen many prominent examples of citizen journalism recently, both locally and internationally, that confirm that digital technology is transforming large sections of people from passive consumers into active creators of media content," Marri said.


The UAE – What the report said

The UAE has a population of around five million and an estimated GDP of $191 billion (Dh701bn), based on 2007 figures. Total advertising revenues are projected to grow at a rate of around 16 per cent between 2008 and 2012.

The UAE has a complex media-planning environment, which has arisen because of the country's diverse population – it is home to around 160 different nationalities. As more than 78 per cent of the UAE population is literate, and the local television industry has historically been less compelling than its regional satellite counterpart, print is the country's dominant advertising media, accounting for 88 per cent of total advertising spend in 2007. Within print media, newspapers still account for the largest slice of the advertising pie at 73 per cent of the total spend.

In terms of magazine advertising, the increasingly fragmented magazine market with its many new launches is likely to reduce the average media price of magazines and increase the difficulty in planning for magazine media buying. However, the availability of niche magazine titles still provides advertisers with specially targeted platforms.

Radio is projected to experience particularly strong growth of 61 per cent growth rate between 2007 and 2012 as most media agencies see radio as an important supplementary channel. It is considered particularly effective during traffic-jam hours in Dubai.

Out-of-home and the internet are also on the rise. Despite the fragmented nature of the outdoor media segment, which makes it more difficult to buy, outdoor advertising revenue is projected to continue to grow at a rate of 22 per cent. This growth will be boosted by new business opportunities such as the Dubai Metro network.

This opportunity led to a number of collaborative ventures between local and international firms to complement their capabilities: AMG's Shoof with Ströer Concept Outdoor; Kassab Media with Wellmark and SMRT from Singapore; and Right Angle Media with Singapore's SBS Transit Ltd and JCDecaux Middle East.

Recent investments by media companies in the UAE have focused on investments in internet and mobile technologies that are expected to continue to fuel advertising spending on the internet. The launch of 3G mobile-TV by mobile operators, etisalat and du have also offered advertising potential for advertisers via the 3G networks.
Follow Emirates 24|7 on Google News.