The sun never sets on the Armani empire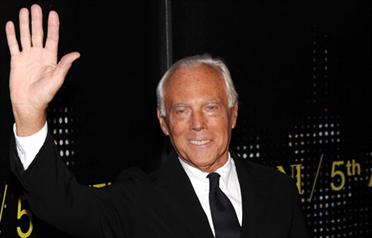 Part fashion designer, part businessman, all brand – Giorgio Armani long ago stepped off the couture catwalk to become a household name around the world.

And, in his latest venture, he intends to take that status to a literal level. After spending decades clothing discerning men and women, he is now dressing the home.

Armani/Casa has opened in The Dubai Mall, offering everything from candles to vast sofas.

It is the latest store in the growing Armani empire that stretches from beautiful clothing to sportswear, sunglasses, fragrances and even residences.

Speaking exclusively to Emirates Business, the 74-year-old Italian icon said: "Clothing is, of course, still the core business, but accessories, Armani/Casa and the Armani Hotels and Resorts are significantly growing."

Armani, worth an estimated $5 billion (Dh18.35bn) according to Forbes, has his long-term sights set on Dubai, where he is also set to launch the aforementioned Armani Hotel Dubai, in Burj Dubai, later this year.

He said Armani/Casa complemented his company's holistic philosophy that reflects his taste but allows everyone to buy further into the "way of life".

"When I launched Armani/Casa in Milan, my aim was to bring my style philosophy to the world of home interiors and create the concept of a complete Armani lifestyle," he said.

"I present my ideal for living, my dream of the perfect environment – an intimate and sophisticated space in which to relax, unwind and entertain guests, surrounded by beauty manifested through furniture and objects for the home. It has the same style and philosophy as the hotel but is different in that there are more practical materials in the latter."

In a country where homes are often rented, some residents of the UAE are unwilling to spend thousands on a villa they will only call home for a couple of years.

Yet, despite this, the designer said people can still transform a blank canvas into a cosy living space with only a few key pieces.

"Don't be ostentatious and fill your interiors with too many objects, when you could just add a vase or a simple sculpture," he said.

"Don't 'add' to make your home elegant. Less is more but it must be a sophisticated 'less' and avoid strong lighting if you want a soft, warm, intimate environment."

Now well into retirement age, Armani refuses to hand over the reins of his empire. As the sole shareholder of Giorgio Armani SpA, he is in charge of 5,000 employees in 13 factories and 500 stores in 46 countries.

Armani/Casa was launched in Milan in 2000 and now boasts 80 stores in 45 countries, with more due to open in Bahrain and Indonesia this year. Although Armani is today ranked a little outside the top 200 billionaires in the world – it is a world away from his middle-class upbringing.

Giorgio Armani grew up in the city of Piacenza, northern Italy. His father was an accountant for a transport company, his mother a traditional Italian homemaker.

Following school, he spent two years studying medicine at the University of Piacenza, interrupted by two years' compulsory military service, after which he did not return to medicine. When he was in his mid-twenties, the family moved to Milan, where Armani began work at the department store La Rinascente. In 1961 he was spotted by Nino Cerruti and hired as the designer for his new menswear line, Hitman. He went freelance in 1970, starting his own label with friend Sergio Galeottiin 1974.

The brand that started small now encompasses almost a dozen arms, including Armani Junior, Armani Exchange – the most affordable line – and the haute couture collection, Armani Privé. Together, they have a combined annual turnover of $1.69bn, which the Milan resident said remains stable in the tough economic climate due to their diversity.

"The credit crisis has naturally affected everybody. However, we are lucky in that Armani is a brand with many lines and diverse price points. Therefore, we can offer the consumer cost-effective alternatives staying true to the same aesthetic," he said.

With the 160-room Armani Hotel opening in Burj Dubai towards the end of the year, the designer is establishing himself – and the brand – as a force in luxury living in the emirate. Hotels are also in the pipeline for Milan, Paris, London, New York and Shanghai, as part of Emaar's $3bn 30-hotel project.

Although products in the store are different to those customers should expect to find in the hotel – there will also be 144 residences – everything is still quintessentially Armani.

"There's never a gap among my creations. I have one philosophy that can be expressed in different forms according to the people it is addressed to," said the man who takes inspiration from travelling, reading, watching a good film or simply looking at people in the street.

Despite being best known for his tailoring, Armani also has a successful fragrance and accessories line. It is due to his phenomenal success in mens wear, however, that he has been able to combine his work with one of his other passions – sport.

He has twice designed suits for the England football team and has been responsible for English Premier League team Chelsea's suits since August 2007. His sporting link does not end with football for the President of the Olimpia Milano basketball team also designed the Italian flag-bearers outfits for the 2006 Winter Olympics in Turin.

But it is not all about business for the man who has run the company alone since 1985 when his business partner, Galeotti, died of a suspected heart attack. He has also been very active philanthropically over the years, serving as a Goodwill Ambassador for the United Nations High Commission for Refugees – the same organisation as Angelina Jolie – and just this month announced a $1 million donation to arts programmes in New York as he opened his flagship store there.

With all his brands now in Dubai, everyone can have a piece of Armani's Italian chic, but although some fashions come and go, he believes in style that will never age.

"For me timeless style is much more appealing than transient trends. So I don't generally dictate trends for the upcoming seasons.

"If you follow these you can end up getting lost and not standing for anything. Having said that, of course I will introduce new products."
Follow Emirates 24|7 on Google News.