Three leading trade exhibitions to be launched in Dubai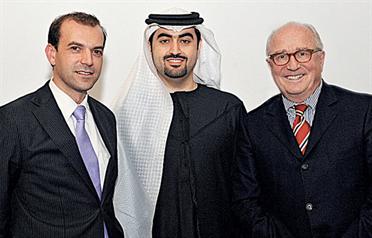 Dubai continues to draw the attention of international exhibitors with three additional exhibitions announced by one of the leading Europe-based companies to be held at Dubai International Convention and Exhibition Centre in the first quarter of this year.

Epoc Messe Frankfurt is investing in Dubai with the launch of three new shows – Paperworld, Festivalworld and Playworld Middle East – to take place at Dubai International Convention and Exhibition Centre from March 7 to 11, 2011.

Details of the three new shows were announced yesterday at a press conference in Frankfurt, Germany, on the sidelines of Paperworld, the leading international trade fair for paper, office supplies and stationery.

Dr Michael Peters, Member of the Board of Management at Messe Frankfurt, and Ahmed Pauwels, Chief Executive Officer, Epoc Messe Frankfurt, were joined by Khalid Al Fahim, Director, Business Development, Dubai World Trade Centre, at the press conference.

Ahmed Pauwels said: "We are very excited to be expanding and launching our mother brand's signature shows in the Middle East for the very first time. These shows are well established brand names for the Messe Frankfurt Group.

The launch of the new shows in Dubai will further strengthen the brand name and its reach. Playworld Middle East is an excellent concept developed to run parallel to the Festivalworld and Paperworld shows, with a similar feel and style to the 'world' concept."

Khalid Al Fahim said: "I have received a warm welcome at Messe Frankfurt's headquarters and it is a great pleasure to be here today. Messe Frankfurt is a valued customer of ours and we are delighted that they are investing to further grow what is already a burgeoning trade fair market in Dubai. I look forward to enjoying a long and successful partnership with Messe Frankfurt with the launch of these exciting new shows."

Paperworld Middle East will bring the world of office and paper supplies to the Middle East.

Festivalworld Middle East is a development of the well established brand in Frankfurt, which is the world's leading trade fair for event decoration.

It has been adapted to suit regional needs, with a new international name. A re-branding of the Middle East Toy Fair which Epoc Messe Frankfurt has run since 2002 in Dubai, Playworld Middle East is a new image and unique name in the trade exhibition's industry.

The three interconnected exhibitions will run concurrently with the first editions to take place in March 2011.

Ahmed Pauwels said: "We have done a lot of research into these industries and feel that Dubai is the ideal venue for this investment. With the launch of the three new shows we will now have 11 trade fairs under our umbrella in Dubai. We look forward to working closely with the team at the trade centre to ensure thorough and well executed exhibitions."

On the sidelines of the exhibitions, John Mathews, of one of the leading suppliers in Dubai, said that such high-profile exhibitions also complement the supporting industry and suppliers of infrastructure and logistics for such events are also to gain.

"Such international exhibitors add activity to the calendar of events and boosts the confidence of the industry, which is very encouraging and responsive under the circumstances," Mathews said.

Exhibitors and participants have conveyed better confidence in such events for marketing exposure in such testing times.

During the press conference, Peters explained Messe Frankfurt Group's global brand strategy, focusing on new shows and Pauwels gave further details about show concepts and product profiles. Al Fahim gave an overview of Dubai International Convention and Exhibition Centre and its facilities, as well as Dubai and its offerings as a key destination for business and exhibitions in the Middle East.
Keep up with the latest business news from the region with the Emirates Business 24|7 daily newsletter. To subscribe to the newsletter, please click here.
Follow Emirates 24|7 on Google News.