Work smarter, not harder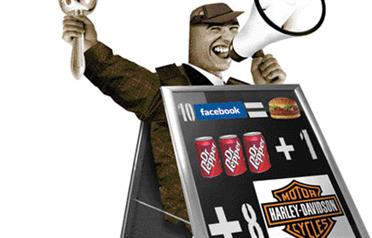 Fast-food giant Burger King caused a stir when it offered customers a free Whopper if they ditched 10 friends on Facebook. The stunt attracted more newspaper column inches than new customers.

But UAE businesses will have to adopt similar headline-grabbing creative strategies if they are to offset a decline in advertising budgets but maintain their market presence, experts said.

The economic crisis has slashed budgets, meaning the internet and mobile phones will dominate marketing agencies' modus operandi in the coming years.

Agencies are being squeezed to produce results with greater creativity, said Michael Walters, Managing Director at True Integrated Marketing, based in Dubai Media City.

"We are in a transition period, where we don't have big budgets to spend on ads for things such as newspapers and television. But then what do you replace this with, because you still need to get business and new customers?" he said.

"I'm hearing that marketing budget cuts are close to 30 to 40 per cent in the next 12 months."

As a result, Walters said more companies should look to harness the web to connect with customers as they search for cheaper means of operating.

"They're going to have to find more cost-effective mediums to communicate with customers. So I can see an increase in the use of the web, in terms sponsored searches and e-mail marketing," he said.

"There's going to be recognition that if you can sell products and services to existing customers it's cheaper than finding new ones.

"The internet is a crucial tool in this. People say we would like to do more on the web but there are not many users. I don't believe this for a second. Internet penetration in the Middle East is rocketing," he said.

Walters said approaches like the Burger King stunt would work in the UAE as part of a carefully thought-out marketing campaign.

"If you can understand the medium then you can [do it]. You have to make the campaign memorable to have a high recall. It's the idea of engagement," he said.

"This kind of thing would work here because one of the fundamental demographics is that most of the population is under 18, and that means the web and mobile phones are the way to go. These are your customers of tomorrow."

In March last year, drinks firm Dr Pepper announced a plan to give everyone in the United States a free can if rock band Guns 'n' Roses released their long-awaited album, Chinese Democracy, before the end of 2008.

In the end, the company had to pay up when the long-player was released in November. "We never thought this day would come," said Tony Jacobs, Dr Pepper's Vice-President of Marketing. "But now that it's here, all we can say is: 'The Dr Pepper's on us'."

Nick Leighton, head of Dubai-based agency NettResults, said the undersupply of local talent in recent years has led to a persistence of "frivolous" marketing campaigns, implemented by people with too little experience.

"The job cuts recently have cut out the pretenders and left the sector with true professionals," he said. "A number of our multi-million-dollar clients are cutting their ad budgets drastically but keeping their PR spend. You have to be creative to have a message."

Leighton said motorbike-maker Harley Davidson recently conducted a successful campaign where it claimed it would patent the sound its bikes made. The creativity of the campaign generated a huge amount of media interest. "There will be more messaging strategies, targeting what people on the street are talking about. Online advertising can be a cost-cutter," said Leighton.

"The cut in marketing budgets across the UAE could be down 15 per cent this year."

He said the industry was expecting a major dip in June, but after which there will be positive news.

"The 'U' effect will bottom out in June. Clients are asking us to drop budgets for the next few months but towards the end of the year increase them. This way the income from the client is the same for us but we've simply spread it around differently," said Leighton.

"The economic environment will change the marketing mix for companies, so less advertising and less extravagant exhibitions."

Walters added that the marketing industry in the UAE was still in the early stage of growth, and had a lot to learn from established markets such as London and New York. "There are very few organisations in the UAE that can produce what would be recognised as a marketing plan," he said.

"There's very little understanding or research of existing customers' behaviour and how their needs should be best met. But there's been a huge wake-up call and we're experiencing a new type of questions that are being asked by companies. The issue now is where to go to for the answers.

"Companies have relied heavily on advertising agencies to be their marketing departments and have been slow to explore the potential for e-mail, mail and call centre marketing. The ability is just not there in the local agencies, whereas in London you would get these services," said Walters.

"This also goes for multi-national firm operating in the UAE because they often go through a local dealer who determines the focus of the marketing."


AD spend slumps

Advertising took the biggest hit from the real estate industry as the sector slashed more than 69 per cent of its advertising budget in the last quarter of 2008.

The total real estate advertising spend in the UAE fell from $81 million (Dh297.2m) in October 2008 to $46m in November and $25m in December, according data from Pan Arab Research Centre in Dubai (Parc).

The real estate sector used the growth in the first three quarters to balance books.

Insurance and real estate sectors were the top spenders with a significant 102 per cent growth in spending in 2007.

Elie Al Jichi, Production Manager at Parc, said that real estate advert spend during the first three months of 2009 is expected almost to come to a halt.
Follow Emirates 24|7 on Google News.