Yahoo expects Q1 revenue growth as ads recover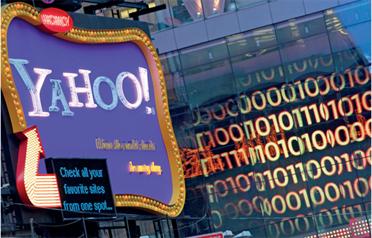 "For Yahoo, they're going to rise with the tide if the tide rises in terms of spending online. I think Q4 was probably a decent quarter for them," said Laxmi Poruri, analyst at Primary Global Research.
"The larger advertisers are starting to spend more money on display, and then also their time horizon for planning has grown, which is a good thing."
Yahoo's fourth-quarter results marked just over a year since Chief Executive Officer Carol Bartz took the helm. The former Autodesk chief has led a turnaround effort that included shedding non-core assets, laying off employees and striking a landmark search deal with Microsoft Corporation.
"For us, 2010 is about acquisitions and investments to make Yahoo even stronger," Bartz said on a conference call.
She cited social media, mobile internet and fast-growing international markets such as India and Brazil as key areas of focus for Yahoo going forward.
While Yahoo's network of websites are among the internet's most popular destinations, the company is facing increasing competition from the new breed of social networking sites such as Facebook and Twitter.
It has also seen its share of the US internet search market erode in past months as Google solidified its top ranking and Microsoft gradually narrowed the gap with Yahoo for the second spot.
Yahoo said it expected its deal to let Microsoft provide its back-end search technology to remain on track for regulatory approval early this year. And the company pointed to recent improvements to its search advertising technology as helping it boost revenue-per-search about eight per cent sequentially in the fourth quarter.
However, search revenue on Yahoo sites grew only four per cent from the third quarter, which RBC Capital Markets analyst Ross Sandler said was below seasonal norms, as well as lagging the 12 per cent growth logged by Google during the period.
Yahoo's performance in display advertising, which grew 26 per cent sequentially, was the clear stand-out for the fourth quarter, said Sandler. With hints of a turn-around, Yahoo said that several of its premium online properties sold out during the quarter, including its home page. "We're seeing really strong recovery right there," he said.
Yahoo said revenue in the current quarter would range from $1.575 billion (Dh5.785bn) to $1.675bn. That compared with $1.58bn in the first quarter of 2009.
Yahoo Finance Chief Tim Morse pegged traffic acquisition costs in the first quarter at 28 per cent to 29 per cent of revenue, which would suggest net revenue of $1.12bn to $1.21bn. While Yahoo did not provide an outlook for the full year, Morse said the company expected higher revenue and profit margins in 2010.
A recovery in advertising is "definitely under way", Morse said in an interview yesterday. "We feel good about where the business is heading and our growth prospects for the year."
Yahoo reported net income of $153 million in the fourth quarter of 2009. In the year-ago period, Yahoo posted a net loss of $303m.
Fourth-quarter revenue fell four per cent from a year earlier to $1.73bn.
Excluding traffic acquisition costs, Yahoo said revenue was $1.26bn.
Follow Emirates 24|7 on Google News.
Yahoo said its revenue could grow for the first time in six quarters in the first three months of this year, noting that demand for premium display advertising had improved significantly.