Yet another social network adds to the virtual Buzz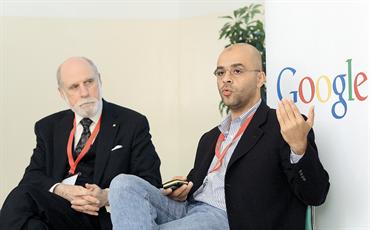 Social networks are expected to stir a similar noise to that caused by search engines 10 years ago, with Google Buzz announcing its launch in the region.

The launch took place yesterday at a day-long activity, branded the Google-Day, with demos of the new social networking g-mail feature presented by Hugo Barra, Google's Product Management Director and Global Product Lead for mobile-showcasing, under the "latest and the greatest".

Buzz's main features include auto-following; a rich and quick sharing experience; public and private sharing; inbox integration and good stuff.

It integrates directly into Google Mail inbox using all Google Mail shortcuts, while allowing users to share links, photos and content from around the web including data from Twitter and Google Reader among others. Unveiling the new feature, Google aimed to draw comparisons between Buzz and other social networks, exploiting the shortcomings of others to appeal to their customers.

Commenting on the new addition to social networking, the g-mail blog said: "Five years ago, g-mail was just an e-mail. Later we added chat and then video chat, both built right in, so people could choose how to communicate from a single browser window. Today, communication on the web has evolved beyond e-mail and chat – people are sharing photos with friends and family, commenting on news happening around them, and telling the world what they're up to in real time".

An expertreviews.com post said Buzz "would allow to import links to web pages, as well as data from those pages, such as images or photos making it very similar to what Facebook does, but with more power and functionality". It is also built to filter out the clutter normally associated with social networks, especially Twitter, and will allow users to filter out content that isn't interesting to them.

Experts wonder whether the late comer to social networking would be able to outdo the other more established networks to achieve a similar share to that which it has established in search, eventually resulting in the introduction of the verb 'Google' to the Merriam-Webster dictionary.

Meanwhile, Yahoo is not taking the announcement well, especially because it already has a Buzz Yahoo service. Although not related to social networking, the service is a user-generated rating of news on the web, allowing readers to vote or 'buzz up' stories, comment and e-mail friends. Yahoo tweeted yesterday: "Two years after Yahoo launched Buzz, Google follows suit."

In a separate communiqué, Yahoo also sent information about its Yahoo Updates, a service more similar to the Google Buzz. It said: "It's been almost a year-and-a-half since we first launched Yahoo Updates – a social feature that lets people share content and online activities and stay connected to what their friends and family are doing on Yahoo and across the web – and we wanted to share the latest on what's happening with Updates". Meanwhile, observers said Google Buzz is an addition to the not-yet-monetised social networks, researching ways to generate revenues.


Buzz not for competition

Hugo Barra told Emirates Business that unlike other social networks, Google Buzz is already being monetised through the same platform as g-mail.

"We have a fairly successful experience in monetising g-mail, and Google Buzz is already being monetised through the same platform," he explained.

Barra said: "We are not launching Buzz for competition, but rather as an enhancement to g-mail. Buzz is not another social network that will add to the multi-virtual social lives that users lead on social networks.

"This enhancement will benefit frequent g-mail users, but may seem less relevant to non-frequent users."

Barra said he was not an expert on the legal implications that might arise from the clash between Yahoo and Google regarding the name 'Buzz'. He said: "The naming goes through a long process, and people decided that they loved Buzz the most. It is called Google Buzz, after all, just as Google Maps and 'maps' can be used in any other context."
Keep up with the latest business news from the region with the Emirates Business 24|7 daily newsletter. To subscribe to the newsletter, please click here.
Follow Emirates 24|7 on Google News.