YouTube, Universal talk on music video site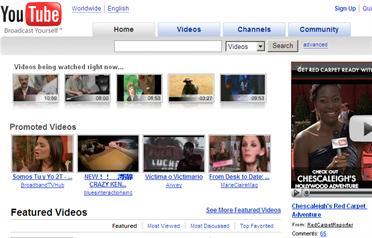 Google Inc's YouTube and Universal Music Group are in talks to create a premium online music video service, sources familiar with the situation said Wednesday. If they reach a deal, the service could mark a significant step forward in Google's attempt to generate revenue from YouTube, which it acquired for $1.65 billion in 2006.
A deal would also represent a broadening of the sometimes fractious ties between YouTube and the media industry, which has on occasion ordered the popular video-sharing site to pull down clips of TV shows or music videos uploaded by users without the media companies' permission.
Universal, the world's largest music label, and YouTube, the No. 1 US video website, are in talks to create a stand-alone site to showcase music videos by Universal artists, according to three sources who were not authorized to speak publicly about the matter. The deal would ideally be broadened out to include videos by artists at the other major music labels - Sony Music , EMI Group and Warner Music Group - in a concept similar to the TV shows available on NBC Universal and News Corp's Hulu.com.
Many of the details, such as financial terms and whether the service would be run as a joint venture, are still being worked out, the sources said. ``UMG CEO Doug Morris came up with this idea to do a Hulu for music but only with premium music content,'' said one of the persons familiar with the matter, adding that other music companies have expressed interest. ``We literally just started negotiations.''
VEVO
Referred to by the placeholder name of `Vevo', the site would carry premium music videos and music-related content designed to garner higher advertising rates than now available through YouTube. Music companies typically get paid a share of any advertising revenue associated with a video on YouTube as well as a per-play payment for every video viewed.
YouTube, which also offers a treasure trove of user-generated home videos along with professionally produced content, is the No. 1 video site in the United States with more than 100 million viewers in January, according to market research firm comScore. Hulu has also rapidly become popular, ranking sixth in the United States in January with 24.4 million viewers. Vevo could also tap other revenue streams through sales of items like concert tickets and merchandise, the sources said.
The talks between YouTube and Universal Music - whose artists include Kanye West, U2 and Amy Winehouse - for a service backed by all the major labels have been held up by the video site's fallout with Warner Music, one of the sources said. Warner in December ordered YouTube to pull down all music videos on the site featuring Warner artists, after contract negotiations between the two sides broke down.
Universal's current licensing deal with YouTube expires at the end of March, and a new deal is expected for April. EMI is also in contract renewal talks with YouTube. Sony Music renewed its contract with YouTube last month. YouTube said in a statement, ``We are always working with our partners to find creative ways to connect music, musicians, and fans.'' Universal declined to comment.
WHAT DO YOU THINK?  How do you feel about copyrighted material? Have your say by posting a comment below, or emailing us at online@business24-7.ae.
Follow Emirates 24|7 on Google News.