Abu Dhabi rents to continue to soften in short term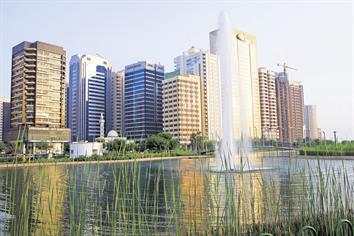 Softening of rents and increasing negotiating power of tenants are expected to continue in Abu Dhabi, at least for the short term, according to a CB Richard Ellis report.

"Notwithstanding the fact that a substantial volume of new product is anticipated to enter the market from 2010 onwards, wider options will be available to investors/end-users. Softening of rents and increasing negotiating power of tenants are thus expected to continue at least in the short term," the global consultancy said in its fourth quarter 2009 market review on Abu Dhabi.

With increased availability, end-users now have greater accommodation options and improved bargaining power to deal with landlords, the report said.

The residential market continued to experience declining rental rates, albeit at a slower rate than in the past four quarters. More affordable rental rates and better quality alternatives in Dubai were among the key factors influencing weaker residential demand levels in Abu Dhabi.

A substantial portion of planned residential stock was "temporarily" put on hold with delays in the delivery of units from Reem Island (specifically Marina Square, Sun Tower and Sky Tower) and the Al Raha Beach Development. These units are intended to cater to the needs of the upper middle and high-income segments and are symptomatic of the imbalance in demand and supply that continues to exist in the low to middle-income markets.

However, imminent completions at both the Khalifa A and Al Reef projects will further assist in easing rents, relieving pressure for both residents and occupiers looking to expand their workforce within the emirate, the report said.

The clamour for more affordable housing units has become increasingly evident within the current pressing economic climate as a number of companies have implemented salary cuts and/or a deduction in housing benefits. Tenants are also now typically more cautious with their spending as concerns remain over job cuts and as value for money becomes a greater concern of everyday life during the downturn, CBRE said.

Annual rents for apartments within the central business district posted the strongest performance with a one-bedroom apartment at Dh90,000 to Dh130,000 per annum, a slight decline of four per cent compared to the previous quarter, although, landlords and agents in general were more open to negotiations with tenants. Landlords of properties situated in central locations continued to enjoy comparative advantages over properties off-island. Residents who prefer close proximity to work, existing facilities and amenities are paying the relevant location premiums.

As for the residential sales market, the sector started to show initial indications of a slight upturn in fortunes during the quarter, with increases in both inquiries and the number of sales transactions.

In contrast to the situation one or two years ago, developments nearing completion now register the strongest rates and demand, as interest in off-plan property has become almost negligible. On average residential apartments on Reem Island and Al Raha Beach ranged between Dh1,200 and 1,400 per square foot in the fourth quarter of 2009.

Continued growth in the Abu Dhabi population could see a further recovery in transactional activity, as financial constraints slowly ease and credit facilities become more readily available. Transactional volumes are anticipated to rise gradually, however, there will be no imminent return to the levels reached during first half 2008.

"The attractiveness of a development is now viewed as strongly correlated to its actual delivery and developers need to ensure timely delivery," CBRE said.

Office sector

The effects of the global economic crisis were still very much evident in the fourth quarter of 2009 with office leasing and sales transactions remaining subdued. Prime rents continued to slide from the third quarter reaching Dh2,600 per square metre per annum, a substantial drop of 45 per cent from peak prices achieved in 2008. However, a number of key commercial developments were still quoting rates of Dh3,000 per square metre per annum. A drop in the overall rental rate was evident with asking rents for newly completed offices in the CBD available from Dh2,000 per square metre. Despite the comparatively low rents, finding tenants remains a challenge for both owners and agents.

Demand remains weighted towards smaller office units, typically ranging from 200 to 600 square metres. The provision of key facilities especially parking spaces remains a key concern for potential occupiers. Vacancy rates for office accommodation during the fourth quarter of 2009 remained low at around two per cent. However, the impact of new upcoming stock and weaker demand for office accommodation could see this rate increase during the course of 2010.

Amendments to commercial law reducing the levels of capital required, encouraged an increase in start-up businesses. This expanded the numbers of potential commercial tenants which, it is hoped, will further fuel the demand for commercial space both in the short and long run.
Keep up with the latest business news from the region with the Emirates Business 24|7 daily newsletter. To subscribe to the newsletter, please click here.
Follow Emirates 24|7 on Google News.