Aqaar has no plans to seek funding for Ajman project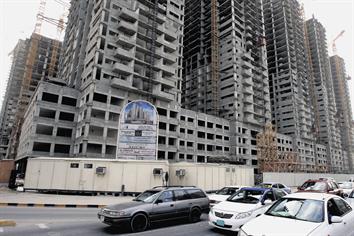 Aqaar Properties, an Ajman-based master developer, has ruled out the need for any government assistance for its Ajman One project, according to the company's CEO.

"We do not need any funds from the government. Our project is financed to a certain extent by Abu Dhabi Commercial Bank while the customer payments help us meet the rest," Rami Dabbas told Emirates Business. He said the developer had not cancelled any sales contracts as of date and has been extending assistance and support to its customers so as to meet their payment obligations.

Ajman One project is a fully integrated complex consisting of residential, business and hotel facilities and is spread across 72,000 square metres.

Asked if Aqaar plans to acquire projects of distressed private developers in Ajman, Dabbas said: "Not for now as we are only concentrating on delivering our Ajman One project."


Excerpts

You have launched one project to date, what are your plans for 2010?

Our plans for the immediate future is to concentrate on completing Ajman One, which is an enormous project consisting of 12 residential towers. Of course, we have to be realistic in terms of the changing market trends before we design any future launch and sales strategies.

Are you looking to increase your land bank size as land prices have come down in the UAE?

We always aim to develop realistic strategies. We are part of the UAE market and we do not sing alone, which means we have to take into consideration the changes and trends occurring. We examine all opportunities before taking any decision with regards to future investments. We believe that positive change will be witnessed when the banking sector starts to kick in again. This doesn't mean we should expect the real estate industry to go back to how it was operating until recently, but rather aim to go back to reality, and that means prices in the realty sector are going back to being logical and reflecting the reality of life.

In 2007, you said you have achieved 95 per cent sales in seven towers of Ajman One. How is the project progressing now?

The project is progressing very well and this will not have been possible without our faithful customers. We believe this has been a result of our transparent policy from day one.

Has there been any cancellations from investors and are you offering any flexible payment options to your investors?

We have no complains until now. Actual cancellations have not occurred yet. We are extending our assistance to all of our customers to support them in meeting their obligations towards their investments, which is proving to be a successful policy.

This means that we want to be more involved with our customers and understand their needs accurately and, thereby develop tailormade solutions.

Are you willing to lower your sales prices as cost of construction has come down?

Not really, because we did not inflate our prices from the start. We tried to be as close as possible to the markets in Ajman.

Has sales been impacted due to banks and financial institutions stopping home mortgages?

Our projects have never used any mortgage facilities, but rather we had designed our own payment plans – three years and six years.

I would like to remind you that our project is financed by Abu Dhabi Commercial Bank and in the past three years we have established a very good relationship with the bank, again as a result of our transparent policies.

Ajman was an emirate offering residence visa to property buyers. The new terms of the proposed six-month visa has put the property price to be at least Dh1 million. How much impact has this had on your business?

None at all. We never promised visas to anyone, and always maintained that the laws of the UAE will be the base and for any subsequent visa applications.

Are you looking to acquire projects of distressed private developers who don't have cash to complete the project?

Not for now as we are only concentrating on delivering what we started with – Ajman One project.

Do you believe there is an urgent need for the UAE to harmonise its property laws?

Yes, I strongly believe that the sooner all the laws across the different emirates are streamlined and unified the better. This should not only occur in the real estate sector, but rather in all sectors, as it will provide investors with a sense of security.

Your peers in Dubai/Abu Dhabi have acquired international companies; do you have any plans to do so?

No, we don't plan any acquisition.

Are you looking at raising any finance or do you believe that pre-sales will help fund your project and meet all operational expenses?

As you know our project is financed to a certain extent by ADCB, and of course, our customers' payments are doing the rest.

Has the government infused any new funds into the company?

We do not need any funds from the government.

How successful has Ajman Real Estate Regulatory Agency (Arra) been in regulating the real estate market in Ajman?

I believe Arra has already had a positive influence on the market and I am certain that it will play a big role in the future of the emirate of Ajman.

Understandably, Arra is still very young but despite this it has been able to achieve a lot in terms of boosting customer confidence and instil a moral trust in investors. In general, I wish Arra the best because it plays a vital role in the property development sector. In order to make Ajman a destination to invest in, I believe Arra must publish all its laws and regulations officially and make everything transparent to all concerned parties.

Aqaar was formed in association with Ajman Development and Investment Authority (Adia). Is it looking to take over/manage any other master developments of the government?

No, we are not planning to do so.

Will Aqaar diversify into other real estate verticals?

This is an area, which we are considering. We are currently undertaking studies in this regard.
Keep up with the latest business news from the region with the Emirates Business 24|7 daily newsletter. To subscribe to the newsletter, please click here.
Follow Emirates 24|7 on Google News.