Banks dropping mortgage rates to meet market needs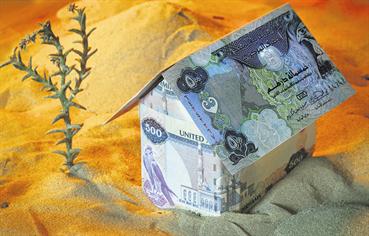 In light of the market situation, some banks are dropping their mortgage interest rates and their settlement charges for this year. Abu Dhabi Commercial Bank (ADCB) dropped its interest rate to range between 7.25 per cent and 8.75 per cent. "In view of the current market situation, our new rates are from 7.25 per cent to 8.75 per cent which is linked to loan-to-value ratios (LTVs), developer type, customer profile and income levels," said Sundar Parthasarathy, Senior Vice-President, Head- Consumer Assets, Consumer Banking Group, Abu Dhabi Commercial Bank (ADCB).

According to Barclays Bank, the bank reviews its interest rates annually and aligns it according to prevailing market conditions. Interest rates for Barclays currently range between 8.5 per cent and 9.5 per cent.

Interest rates

"Our interest rates are reflective of market liquidity, cost of liquidity and the cost of risk in the market. Interest rates are reviewed annually and aligned according to prevailing markets conditions," said Faisal Iqbal, Head of Secured Lending Business, Barclays UAE.

According to Barclays, the bank reduced its early settlement charges on mortgages from a maximum of three per cent to a flat fee of one per cent. "In addition, we also increased the partial payment allowance from 10 per cent to 30 per cent of the loan amount, allowing customers to reduce their monthly mortgage payments without any levies."

ADCB said there has been a trend towards a shift from Eibor to banks' own base rates since it does not necessarily depict the borrowing costs. "For us, we always had adopted the route of retail base rate (RBR) right from day one to protect us from any rising borrowing costs based on the banks liquidity situation," said Parthasarathy. He called for more transparency to be created in the way rates are decided. "There is a need of transparency in the way the rates are decided, resulting in higher borrowing costs for the banks and putting additional pressure on the consumers."

"Central Bank is working towards an official inter- bank rate which will reflect the market conditions in a better way. Once a robust framework is being set by the central bank in deciding the Eibor, this will result in creating stability in the banking system and the benefits will be passed on to the customers," said Parthasarathy.

He added ADCB was not currently revisiting any of its mortgage fees this year. "Our fees are already competitive in the market."

As regards the loan-to-value ratios, ADCB is offering up to 85 per cent LTV on ready properties registered with the Land Department.

Barclays' Iqbal said: "In November 2008, our LTV ratio was a maximum of 60 per cent, by November 2009 our LTV mortgage offerings was 80 per cent for an owner-occupied villa. Meanwhile, the LTV for second home-buyers or non-owner occupied properties remained at 60 per cent during the same period. Current demand and supply dynamics indicate that completed villas could fetch higher LTVs than apartments."

Meanwhile, mortgage lenders in the UAE said they would be willing to restructure loans of their customers and find other solutions to avoid any defaults arising from their customers in light of the market situation.

Speaking to Emirates Business, one bank said it is increasing its provisioning this year for mortgages in order to safeguard its book from bad debts. "In the event of job loss or any other situation, which makes the customer unable to pay the full equated monthly installment (EMI), our collections team meets the customer and tries to restructure the loan by reducing the EMI or offering some payment holidays," said Parthasarathy.

Repayment protection

"Our loan approval criterion takes into consideration customers' other liabilities and we don't offer loan more than 50 per cent of customer's total repayment from the income. We also offer mortgage repayment protection cover which helps the customer protect his mortgage repayments in the event of loss of life due to accident or other situations," he said.

Parthasarathy said: "Yes, provisions are being taken in our balance sheet every year based on the market conditions. This year we will be budgeting a provision of one per cent of our portfolio outstanding which is the end of period net receivables (ENR) in the balance sheet. This is not the first time we are making provisions in our balance sheet. This is being done every year but this year we have increased our provisioning percentage to safeguard from any bad debts."

"In our balance sheet, bad debts are being treated as non performing loans (NPL) and are counted as a loss to the bank," he added.

Iqbal said: "We are willing to listen and to find mutually acceptable solutions within reasonable boundaries as long as our customers' financial situation is well-substantiated. We recommend our customers contact their relationship managers to discuss potential issues."

"As per our financial reporting framework and international financial reporting standards [IFRS], provision is made for all non-performing loans.

ADCB's Parthasarathy said the bank is taking various measures to avoid bad debts arising out of mortgages. "Our credit and collections team does meet up with customers wherein we see a probability of defaults or the incident has happened and find out effective solutions based on the genuine need. This ensures to be beneficial to both parties and prevents anyone from becoming a chronic default."

"Our payments to the developer are linked to the construction status. Our credit team does regular visits the site to check the construction progress. Moreover, in mortgages the collateral acts as a security in case of any default by the customer," said Parthasarathy.

Barclays' Iqbal said: "We follow international financial reporting standards [IFRS] and all entries are posted accordingly. Our mortgage portfolio is well balanced."

Consumer interest

According to ADCB, Central Bank of UAE is working on a set of guidelines for the banks to regulate mortgage loans and to protect consumer's interest. "We believe the Central Bank is working on a set of guidelines for the banks to regulate mortgage loans and to protect consumers' interests. The guidelines will be on classification of loans into various categories and allocation of provisions. However, as of now we have not received any announcements," said Parthasarathy.

Iqbal said: "To the best of our knowledge, there has been no specific directive from the Central Bank pertaining to mortgage lending."

ADCB said the liquidity situation has improved in the country in the last one year after the banks aggressively followed the fixed deposits (FD) drive to increase the deposit base.

"In addition, the government is also augmenting the banking sector to improve liquidity conditions," said Parthasarathy.

"Our expectations are that in 2010 the property prices are likely to correct further as more residential units are expected to get delivered in 2010 and 2011. There is also a significant development after the crisis which is self comforting to the lender. The dynamics have shifted largely to end-users buying completed properties for self- accommodation rather than rent. This has purged the investors to a large extent and is bringing in balance. We are confident that completed properties with a vibrant community will help build the momentum," he added.

ADCB said in the light of the current market situation, the bank has revisited its approved list of developers and their projects.

"In the current market situation, the property prices have corrected by more than 50 per cent resulting in price reduction for both standard and luxury housing. To manage our risk better, we have revisited our approved list of developers and their projects. However, we have not differentiated based on the type of housing such as standard or luxury."

Iqbal said: "Clearly, market dynamics have changed during the last year. In response to the changing economic climate, we have seen lenders and borrowers focus on low risk investments with completed properties remaining the first choice for both lenders and borrowers. We have also seen the profile of borrowers change as more end-users become active in the market."
Keep up with the latest business news from the region with the Emirates Business 24|7 daily newsletter. To subscribe to the newsletter, please click here.
Follow Emirates 24|7 on Google News.