Bargain-hunting investors go West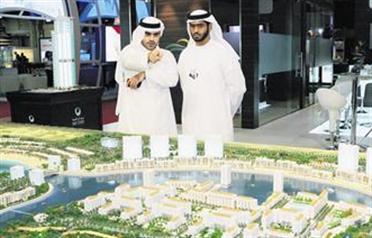 UAE-based property investors are being lured like never before by the charms and attractive pricing of cities such as London and New York, as they look to capitalise on a strong dirham.

Global business centres have witnessed house prices weaken considerably from their pre-financial crisis days, some as much as 20 per cent. This, coupled with the weak pound and a strong dollar-pegged dirham, give the UAE investor renewed spending power.

And despite central London residential prices remaining among the highest in the world, current deals will prove cheap for the UAE's big spenders.

Some will be buying a second home or will look to enter the lucrative buy-to-let market, which is expected to hold firm in the coming years.

Feedback from this week's International Property Show (IPS) – Dubai 2009 proved that local investors were seeking reliable foreign property that was resilient in the tough times.

London, New York and Paris are on the checklist. They are popular for their bounce-back potential after a recession, according to Vincent Easton, Sales Director at Sherwoods Independent Property Consultants, one of many exhibitors at IPS.

"There was much more of an international feel to the show this year," he said. "You had more UAE investors enquiring about areas like London. There was a strong demand for central London, particularly prime residential property. The UK and France in general got a good reaction."

Easton said UK prices were up to 50 per cent cheaper compared to the pre-credit crunch days, when sterling was stronger.

"Investors could get a 30 per cent saving from when the pound was at its highest level. And central London prices have dropped by as much as 20 per cent. So there's a potential for a 50 per cent drop, which is what makes property there very attractive," he said.

"Cities like London have always been resilient during recessions or have been able to bounce back quickly after one. New York has the same dynamics as London. It will feel the effects but things have a habit of recovering."

London residential prices ranked third behind Monte Carlo and Moscow in a recent survey of the most expensive real estate markets in the world, compiled by data firm Global Property Guide.

London is by no means a bargain but the dip in prices, due to the economic climate, and the strong currency decline will spur on investors from the Emirates.

Tokyo ranked fourth, followed by Hong Kong, New York, Paris and Singapore.

Dawood Al Shezawi, Managing Director of Strategic Marketing and Exhibitions (SME), the organiser of the IPS, said the easing of prices of the foreign market had pricked local attention, something he noticed as he walked the floor of Dubai International Convention and Exhibition Centre this week.

"The international exhibitors got a lot of interest because of the financial crisis. A lot of UAE-based investors are interested in overseas markets, especially the UK and US. This is because of the prices at the moment.

"Investors are looking more at residential property rather than commercial in business areas. There's always a market for rental and they do bounce back well after a downturn," he said.

Al Shezawi added that global market conditions had changed the flavour of the show this year. "Whereas last year there were loads of sales and marketing visitors, this week we've seen more actual serious investors attending.

"They know what they want, which improves the standard of the show and gives exhibitors more confidence at a difficult time," he said.

As UAE-based investors increasingly seek solace in proven financial capitals, unfashionable, as well as more developing markets, continue to drop off the radar.

Easton said: "Traditional holiday spots in Europe, such as Marbella, have suffered, as well as emerging cities in China. During tough times people tend to retreat to what they know, which means New York, London and Paris.

But he added: "The economies of Egypt and Morroco seem to be holding up very well. They're attractive for investors as infrastructure is being developed, which means there's opportunities to be in at an early stage, plus prices are still quite low."


A global affair

More of a global affair than its UAE-heavy counterpart Cityscape, the International Property Show (IPS) gave overseas sellers a chance to showcase their developments.

More than 150 exhibitors from around the world descended on the Dubai International Convention and Exhibition Centre this week in search of regional backing.

The delegation at this year's event included high profile companies from the UK, US, Malaysia, Spain, Thailand, South Africa, Bulgaria, Korea and Cyprus.


Cheaper deals

For UAE investors looking for a cheap deal on foreign property, parts of the Middle East, Latin America and Asia have proved prime locations.

In Global Property Guide's top ten least expensive real estate listing, five Latin American cities were featured – Concepcion and Santiago in Chile; Quito, capital of Ecuador; Managua in Ecuador; and Lima, capital of Peru. The same countries also tend to earn good rental yields.

Three Asian cities faired well for potential bargain: Bangalore in India; Chengdu in China; and Jakarta in Indonesia.
Follow Emirates 24|7 on Google News.