Call for ceiling on agents handling listings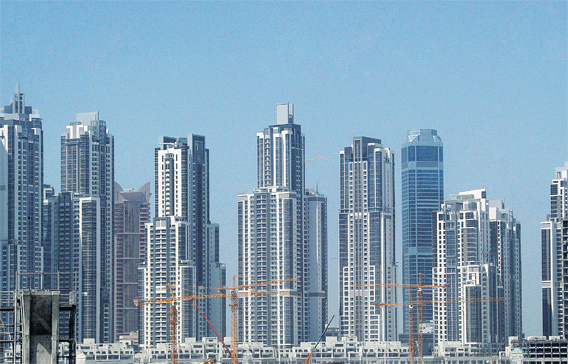 Property buyers or sellers should not be allowed to list their properties with more than three real estate agents, according to a brokerage firm.
Hesham El Far, CEO, Coldwell Banker, said: "While there are some active multi-listing systems in Dubai, the Real Estate Regulatory Agency (Rera) however, must seriously enforce the rule to not allow clients to list their properties with more than three real estate agents." He said clients tend to speak to 10 to 15 other brokers in the market and not go with just one broker. He added that freelancer broker agents continue to practise selling and buying real estate without any registration or office space.
Is it difficult today for broker agents to stay updated with realty prices?
The real estate market is moving faster than normal with prices fluctuating on a month-by-month basis. If agents put a property in the market about a month back, today that may be above the market price. We try to push our agents to keep updated on prices on the internet, but it depends on every agent. In order to keep updated with the data accurately, the agent has to update the data by calling every client individually.
Sometimes the client is not conversant with the going price in the market. For example, if a client puts his property up for sale for a price of about Dh3 million but is not in a hurry to sell it and the price is now Dh2.5 million, then we will keep the price of that property at Dh3 million.
In other cases, some of the clients are not aware of the on-going market price. The bottom line is that we are in a major downturn since August 2008 and we have seen some rebound.
Having said that, prices cannot be very difficult to get. In a particular area it is easy to sell at a particular price because in developments like Arabian Ranches and Emirates Hills there are a lot of standard villas with the same standard of finishing. Setting prices in Dubai is not as difficult as in other parts of the world.
Today, what market challenges does a broker selling properties in Dubai face?
The biggest challenge today in the real estate market is that a big percentage of the people in Dubai are not serious about buying real estate. They enquire about properties but they are not sure if they want to buy. They usually see three or four properties and they say they will come back again.
Rera must seriously enforce the rule to not allow clients to list their properties with more than three agents. Clients tend to speak to 10 to 15 other brokers in the market and not go with just one broker.
The other challenge is that there continues to be freelancers in the market who are trying to sell properties without licences and offices. There are a lot of brokers in the market and there is no rule for all the agents to see how they can help each other and how they can frame rules to protect themselves.
Would you say that this is a good time to have the multi-listing system?
There are some active multi-listing systems available in Dubai.
Can you keep track of your clients to see that they have not listed with other agents?
Sometimes when we list a property for a client and we want to give an offer to the client we find that it is already rented out or the price has been changed.
Are you, as a broker, trying to be creative in your approach to sell/lease your properties? Are you offering any incentives to your clients to sell or lease?
We had some incentive offers that we made out to some clients such as commission discount incentives and some rent incentives.
Do these incentive offers help in concluding a transaction for you?
We try to give the best service to all our clients. We try to reach a fair market price for all and try to secure both of them legally and financially.
Would you look to dropping your commissions?
We only dropped our commission for the incentive. It was only the promotion offer. However, commission rates in Dubai are far lesser than the rest of the world, being at two per cent. Globally, rates are higher at around five per cent to six per cent.
Can you tell us what happens to those projects which were exclusively sold by brokers for developers and which have not taken off the ground?
For the time-being, the off-plan market is totally dead and for the next two to three years one cannot sell any off-plan projects. We continue to sign new developers. As an example, we recently tied up with a developer not for selling a property but only for the purpose of leasing one.
Is there a responsibility from your end to see through this for your clients?
There is no responsibility at our end. Legally we are not bound because we have not received any money from the client.
Do you have outstanding commissions that are due to you from developers?
Yes, we do have outstanding commissions from developers to the tune of around Dh6 million to Dh7m. Also, we owe other brokers since we too have taken their help.
Why don't you push developers for commissions? Do you not follow up with developers to pay up?
We try to follow up with the developers, but most of them are in a bad situation and we cannot do anything about it especially because the brokerage commissions cannot come from their escrow accounts.
By how much have your commission earnings dropped?
Our commission earnings have dropped big time.
What is the pulse of the real estate market?
Lately there has been some good news in the market like the Dubai World restructuring. This is positive for those projects of Nakheel that have been put on hold. Also, the Meydan announcement is good news for the market. There is no doubt about Dubai coming back, the question is when it will do so.
Last year, you got an auction licence. Will you be using auctioning as a means of selling your properties?
It will take some time for that to happen. Right now people are not ready for auctions. So far the property auction market in Dubai has not been working well. Only a few auctions have taken place and they have not been successful. Not all developers have the right tools to successfully auction their properties.
What about your sales activity, has that picked up recently?
In the last two months it has picked up.
Which areas according to you are selling high?
There has been huge demand in areas such as The Old Town and Dubai Marina. The leasing portfolio in Jumeirah Lake Towers (JLT) especially is doing very well because of the availability of apartments there.
Do you have any plans to further develop or extend your service portfolio?
When regulations for strata management come in place, we would like to get into strata management.
Have you cancelled any of your agency agreements with developers?
Some of them have expired and we have not looked to renew them since the agency agreements are for six months to one year.
Did you downsize your staff? If yes, are you looking to re-hire?
Yes, we dropped our staffing by 30 per cent to 40 per cent. However, we have started to hire now. Most of our downsizing was with agents and they were all on commission basis rather than salary basis.
What is the talent in the market currently?
It is very difficult to find a talented agent in the market. The market now is a little bit tough and we need very professional service, good customer service and good real estate agents.
Follow Emirates 24|7 on Google News.