Capitala signs deal with Abu Dhabi Finance on mortgage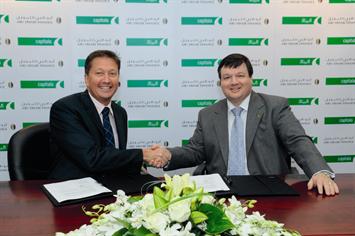 Abu Dhabi-based real estate company Capitala has signed a co-operation agreement with Abu Dhabi Finance to extend mortgage financing services to buyers of its maiden project Arzanah.

The agreement establishes the general framework of a finance agreement to be put in place in the next few weeks.

The finance agreement will provide buyers with up to 85 per cent financing for their new homes in Arzanah.

Arzanah, a $5 billion to $6bn landmark development on Abu Dhabi island, consists of two land parcels, one surrounding Zayed Stadium and a two kilometre beachfront across the Khaleej Al Arabi road, both of which will be connected by several pedestrian bridges.

Deputy Chief Executive Officer of Capitala, Peter Wilding, said: "Capitala is delighted to partner with Abu Dhabi Finance to offer our current and future buyers this new mortgage financing option for their purchases in our development.

"In September last year, we launched and sold 80 per cent of Rihan Heights, the first phase of Arzanah, within the first few weeks. We anticipate that this new source of loans, which will be in place later this month, will be another excellent financing option for our clients due to its flexible repayment methods and long-term repayment schemes".

Phil Ward, Chief Executive Officer, Abu Dhabi Finance, said: "Abu Dhabi Finance was created to bring a refreshing new mortgage experience to people buying property in Abu Dhabi, and forming strategic partnerships is a crucial part of achieving that goal."

"Capitala is developing one of Abu Dhabi's most attractive future residential areas, and we are pleased to be able to offer those buying homes in Arzanah one of the most attractive mortgage options available in the UAE." Established in 2008, Capitala is a strategic joint venture company between Mubadala, a leading business development and investment company in Abu Dhabi with 51 per cent shareholding and CapitaLand, one of Asia's largest real estate companies with 49 per cent shareholding.

Abu Dhabi Finance, formed and launched in 2008 with a capital of Dh500 million, offers mortgages with a wide range of benefits, including loan-to-value ratios of up to 85 per cent, loan terms of between three and 30 years, flexible repayment methods and debt service ratios of up to 55 per cent.
Follow Emirates 24|7 on Google News.