Corporate downsizing puts pressure on office realty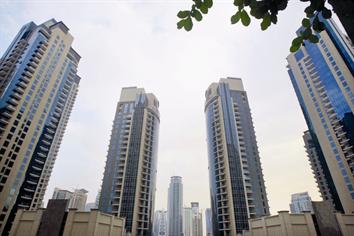 Commercial property prices in Dubai are likely to fall by between 35 and 40 per cent year-on-year in 2009 and commercial rents by 30 to 35 per cent, says a new report.

The declines will result from corporate downsizing and widespread freeze on hiring staff.

Redundant employees will have to leave the country if they are unable to find work. And if other factors remain unchanged, the UAE's population growth should be revised downward to neutral, says the Landmark Advisory Report on the real estate industry for the first quarter of 2009.

Dubai's population could decrease by three to five per cent by 2010 if financing remains scarce and the government offers no new initiatives to boost the sector.

Residential rental rates will decline by up to 25 per cent overall in 2009 after peaking in the third quarter of 2008. Lease rates for apartments will fall by 25 per cent while villa rents will decline by 23 per cent.

The last quarter of 2008 witnessed rapid increases in rental prices while sale prices began to decline. This pattern pushed rental yields up to 12 to 15 per cent. Leasing rates rose by 29 per cent for apartments and 19 per cent for villas in 2008 compared with the previous year. In the fourth quarter of 2008 alone, apartment rents rose by 11 per cent, with three-bedroom units increasing most at 13 per cent.

The reduction of available financing in October 2008 pushed buyers into the leasing market, but by December job losses and worker-exit softened demand and rates began to fall.

As the UAE real estate sector adopts the fundamentals of a demand-driven market, investors, end-users and tenants will benefit not only from lower prices but also from more favourable terms.

Monthly rent payment schedules are now more common and will eventually become standard for both residential and commercial leasing, adds the report.

Apartment rents peaked in the fourth quarter of last year with an increase of 11 per cent over the third quarter of 2008. Villa rents peaked in the third quarter and have since declined by two per cent.

In the fourth quarter of 2008 average apartment and villa prices rose by four per cent year-on-year. Despite these average gains, residential prices peaked in October and consequently fell by seven per cent through November and December. Office prices peaked in the third quarter of 2008 and have since fallen by almost 30 per cent.

Landmark Advisory predicts that apartment prices will fall on an average by 20 per cent in 2009, with individual declines ranging between 10 per cent and 50 per cent depending on the development. Average villa prices are likely to remain relatively stable. Overall, lower quality units will bear the brunt of the declines.

Distress sales will continue throughout the year. It is, therefore, critical to note the importance of a seller's motivation. At the moment, the majority of listings are from motivated sellers, but actual distressed sales are relatively uncommon.

Increasingly divergent motivations among sellers, combined with the price discovery process, have made listing data an unreliable indicator of transactional prices.

This trend is well illustrated by some sample transactions from December 2008. A two-bedroom unit in Olympic Park at Dubai Sports City sold at Dh814 per sq ft. When evaluating this against listing data, using a sample of direct comparables from the same project, the listing price average was Dh1,075 per sq ft.

Thus the indicative bid-ask spread was 24.3 per cent. More interestingly, the listing sample had a wide range of Dh865 to Dh1,350 per sq ft. The upper limit of the listing range is more than 40 per cent higher than the actual transaction price.

Similarly a unit at Gold Crest Views in Jumeirah Lake Towers transacted at Dh1,274, with an indicative bid-ask spread of 14.9 per cent. The listing range was not as wide relative to the previous example – its upper limit was 22.3 per cent above the transaction price.

This year will be characterised by the transition from a supply-driven property market to a demand-driven one, says the report. Consumer preferences, access to capital and income levels will reshape demand patterns and ultimately redefine the real estate market.

As new supply encounters slowing demand, the market will reward developers that deliver on the quality they promise and punish those who do not.

Average income levels in Dubai are likely to stagnate due to redundancies and lower salaries. Faced with economic uncertainty, companies are implementing cost-cutting measures such as right-sizing, salary cuts and extended leave. For companies still hiring, however, international talent is more mobile, readily available, and – more importantly – less expensive.

The net effect of economic and financial contraction is that falling income levels induce a shift away from spending and toward personal savings.

Prices will continue to decline and are likely to fall by an additional 20 per cent to 30 per cent. An analysis of previous financial crises in both developed and emerging markets shows that local housing prices dropped by an average of 35.5 per cent from peak to floor.

Average residential property prices have already peaked at Dh1,556 per sq ft. Assuming that the current downturn will affect prices in line with the historical average, then Dubai's average price floor will be Dh1,000 per sq ft.

"Dubai's property prices are falling and the Dubai Financial Market index fell by 53 per cent over the past three months," adds the study. "Since expatriates form such a large part of Dubai's workforce the unemployment rate is less relevant than the aggregate number of jobs. The most recent UAE GDP growth forecasts are at two per cent to 2.7 per cent even after Dubai announced a 42 per cent public spending increase.

"Stalled growth combined with thousands of job cuts over the last quarter, frozen recruitment and the likely continuation of corporate downsizing elevates the probability of negative job and population growth.

"Fiscal spending is on the rise across the UAE and Dubai is expected to register a budget deficit for the first time on record. The government may be able to mitigate the severity of the financial crisis by implementing fiscal and monetary policies that encourage spending and lending.

"Fiscal stimulus packages have already been approved at the federal and emirate level. Despite the government's provision of liquidity, however, lending occurs only on a selective basis and is not likely to resume fully until the second or third quarter of 2009."

Not all properties are created equal, says Landmark Advisory.

The overall range of average sale price declines will vary between 10 per cent and 50 per cent, with low quality units falling the hardest. For example, at its peak in the second quarter of 2008 International Ciy was priced at around Dh1,100 per sq ft.

"From this peak, we expect year-on-year declines of 50 per cent, with prices falling to an average of Dh500 per sq ft by the third quarter of 2009. The sharp reduction of available financing in October 2008 pushed buyers into the leasing market, but by December job losses and worker-exit softened demand and rates began to fall. We expect this trend to continue and that cumulative rental prices will fall 25 per cent over the coming year."

Owing to limited supply of villas in Dubai, this segment is likely to be relatively stable in 2009, with an expected average decline of 10 per cent. The range of variability is estimated at between nominal growth and a decline of up to 20 per cent.

As quality becomes increasingly important as a distinguishing factor, the lowest quality villas will register the worst declines. In the leasing market, villa rates have already fallen by two per cent in the fourth quarter. This trend is likely to produce an additional 23 per cent decrease to total an overall decline of 25 per cent.

In 2008, average annual prices showed a continual increase, with strong year-on-year growth of 15 per cent for apartments, 23 per cent for villas and 35 per cent for offices.

The fourth quarter of 2008 saw year-on-year growth at 26 per cent for apartments, 31 per cent for villas and a decline of five per cent for offices.

Landmark Advisory's transactional data shows that average residential sale prices rose by over seven per cent between the third and fourth quarters of 2008.

During the same period, average apartment prices increased by three per cent, with demand skewed towards smaller units. One-bedroom apartments constituted 50 per cent of all apartment sales and 35 per cent of all residential transactions. The average four per cent price growth for one-bedroom apartments was marginally higher than larger units.

Fourth-quarter villa sales showed a bias towards higher quality completed units, which drove average prices up by 14 per cent. However, isolating a more representative pool of villas reveals that average prices per sq ft rose by only four per cent.

Since the second quarter to third quarter of 2008, a performance gap has emerged between off-plan and completed properties. As early as the second quarter of 2008 off-plan sales began to experience low absorption rates and sometimes a total inability to sell, with surplus units reverting back to the developer. Inflated land and commodity values caused off-plan prices to surge exponentially.

At the same time, consumers started to realise that there was no secondary market for off-plan sales. This realisation led to a rapid decline in new launches in the third quarter and to a rise in project cancellations in the third and fourth quarters. If Dubai follows history, floor prices could emerge at Dh1,000 per sq ft.

"There is still some liquidity in the market and interest in opportunistic real estate investments, but the majority of capital is waiting for a price floor, which is likely to emerge only once financing has resumed," the report says.

"As the effects of the global financial crisis continue to be absorbed locally, the real housing price could fall an additional 30 per cent.

"Obstructed financing caused by selective lending will worsen the growing local crisis.

"Recovery in the property market will largely be a function of credit availability, lending rates, and overall global and local economic performance."
Follow Emirates 24|7 on Google News.