Days of scary sobering up on New York realty market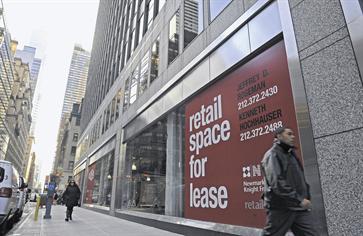 No one knows the giddy highs of New York's property market – and today's groaning lows – better than hot dog vendor Pasang Sherpa.

In mid-2008 he paid the city a staggering $642,000 (Dh2.3 million) for two sidewalk spots outside the Metropolitan Museum of Art, expecting sole control over the best vending turf in New York. But when he set up his carts last week he discovered one location blocked for construction and the other invaded by rival hot dog sellers – military veterans who don't have to pay rent.

Sherpa's huge investment suddenly looked less bright.

"I paid crazy money," the Nepalese immigrant, aged 50, said in halting English. "The economy is down, there are more vendors and the other [location] is closed. My mind is not working now. I'm going crazy too."

For everyone, from hot dog men to millionaires, these are days of scary sobering up on the New York real estate market. Gone is the time when no price seemed too silly, when buyers came begging, and developers made Manhattan's spiky skyline their plaything. Luxury apartments now sit unsold, empty storefronts are appearing in prime zones, and the Wall Street collapse has flooded the commercial market with inventory.

"We have a crisis of hope, because people don't necessarily see their way out of it," said Joseph Harbert, chief operating officer at commercial real estate giant Cushman and Wakefield in the New York region.

Manhattan has been a real estate fortress, protected from wider trends simply by the facts that so many people want to be here and space on the island is finite.

Not any longer.

Cushman this week reported that office leasing in Manhattan is at its lowest level since just after the September 11 attacks in 2001.

Available space in Manhattan totals 31.1 million square feet, which is 43 per cent up on the end of 2007 and the highest level since May 2006, Cushman said.

That is partly because the entire US economy is in recession, but also because September's Wall Street crisis freed vast amounts of office space almost overnight.

"With lightening speed we had people go out of business," Harbert said. "Those things shook our confidence."

Construction, one of the great New York industries, is also stuttering.

Reports said at least $4bn worth of construction projects have been cancelled or delayed.
Follow Emirates 24|7 on Google News.