Decline in Abu Dhabi property prices drives speculators out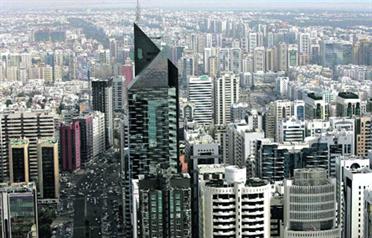 A decline in property prices in Abu Dhabi after two years of rapid increase is forcing out short-term speculators and this will help stabilise the real estate market this year, a property company chief said yesterday.

Wael Al Taweel, CEO of Bani Yas for Investment and Development, said Abu Dhabi's property market has remained strong despite the decline but added that it has entered a "wait-and-see" stage because of the global financial stress.

In an interview with Emirates Business, Taweel said the decline in property prices had prompted his Abu Dhabi-based company to refund some customers and urged other property developers to follow suit.

He said the real estate market in the emirate, which has one of the highest GDP per capita incomes in the world, had been controlled by three main players – the real investor, organised speculators and unorganised speculators.

"The difference is that the organised speculators are involved in healthy activity… they have strong financial adequacy and the capability to engage in large investments… the unorganised speculators lack sufficient adequacy and are interested only in making quick profits, which is not a healthy practice and was one of the main factors for the surge in property prices last year," he said.

"Those unorganised speculators are exiting the market following the decline in prices and this is one of the main reasons that make me believe the real estate market in Abu Dhabi will record relative stability this year… but I think some companies that were involved in malpractices will suffer a fall in their prices."

According to Taweel, the sharp rise in property prices during 2007 and 2008 did not reflect the real demand-supply balance and was mainly caused by speculation. He said a drop of nearly 20 per cent in prices in the last quarter was caused by lower construction costs and global commodity prices.

"Another reason of the decline in prices in the last quarter is that there has been exaggeration property estimation and over-pricing by some companies and investors," he said.

"As for our company, we set a price of Dh850 per square feet in mid-2008, when we launched operations… our prices followed the general trend and increased to Dh1,150 later… today, we are selling at Dh950 but, of course, we have started to compensate the clients who bought our property on the map when prices were very high and prices of cement, wood, steel and other building materials were at their peak… when there was a decline in the fourth quarter, we refunded them… we did so as a moral commitment as we are not bound by the law to do this… I hope other companies in the market will follow suit."

Taweel shrugged off recent comments by real estate experts the property market in Abu Dhabi is weakening because of the global crisis.

"I don't think the market is weakening. On the contrary it is still very strong and the decline in prices is making it more tempting for investors… despite the crisis, I believe there is a lot of liquidity in the market and those who believe prices are now suitable will enter the market."
Follow Emirates 24|7 on Google News.