Developers need to target mid-income housing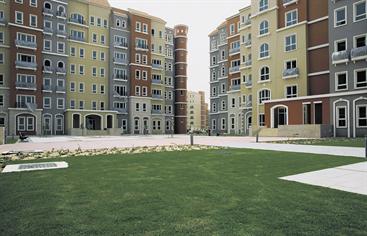 Middle-income housing is all set to become the flavour of the year in the GCC countries, with real estate experts advising developers to start paying more attention to this segment.

In response to questions sent by Emirates Business, Craig Plumb, Head of Research, Jones Lang LaSalle Mena; Andrew Goodwin, Director, DTZ UAE; Billy Rautenbach, Director (Operations), Better Homes; Adel Hamaizia, Sales and Marketing Director, RE/MAX Abu Dhabi and Safeena Rangooni Lakdawala, Senior Manager Research, Investment Boutique, said the bulk of the demand currently is for mid-income housing and developers will try to "match and meet" this demand.

And to succeed in 2010, experts said, developers will have to adopt realistic, transparent and customer-centric methods.


Do developers need to change their strategies to survive this year?

Plumb: This clearly depends upon the position of the individual developer but there are a number of general strategies that developers are likely to increasingly adopt in 2010, these include:

- Focus on asset management rather than asset creation. The market is shifting from a focus on creating more product to one in which more attention will need to be given to the retention of the value of completed assets.

- New sources of funding: shift from the previous 'off plan' sales model to one where funding is sought from the new breed of long- term investors seeking opportunities. This will require a broadening in the consideration of 'exit strategies', with more developers probably choosing to build and retain product to create a long-term cash flow, rather than simply building for sale.

- Increasing focus on working closely with the end-users and tenants. As the market continues to move in favour of the tenant/occupier, developers will need to react with more creative strategies to attract and retain occupiers in the face of increased competition.

Goodwin: The developers committed to schemes need to set out clear deliverables and proceed with realistic pricing. Getting pricing right and reassuring customers is going to be absolutely critical.

Rautenbach: Developers, who have managed their affairs properly, should be as transparent as possible and let their investors know what is going on. Only then will they get the co-operation they need from their clients. Existing payment plans should be made flexible. Discussions with banks should be initiated to assist in arranging end- user financing to help those investors who may have cash-flow problems. The developer should be working with Real Estate Regulatory Agency and the Land Department to ensure their projects are as credible as can be to provide the investors with peace of mind.

The investors will have a tough time contesting their payment obligations if the developer is conducting its affairs properly. Most importantly, developers with projects in the works should respect the time lines of development and where they cannot be met; and provide the investors with credible explanations.

Hamaizia: Newer, realistic, transparent, customer-centric approaches are crucial for all developers alike in 2010. Customer-friendly payment terms, discounts or price reductions alongside re-segmenting and re-shaping one's business model are imperative to maintaining and creating business, and ultimately survival and success. There are fundamental distinctions among GCC realty markets, with differing supply and demand trends paramount to the restructuring and changes developers make. The shift towards asset management rather than asset creation is currently and will continue to be a wise trend to follow, with many developers creating and fostering departments and subsidiaries that are responsible for everything from leasing to facilities management.

Lakdawala: Developers need to devise strong, long-term strategies with sustainable business models as their focus. Brand- building needs to be worked on, especially in case of companies that have been on the receiving end of bad press due to frauds, delays and investor grievances. Detailed and accurate market research is the need of the day and developers should not make any move before understanding the market in depth.

Which market in the GCC will offer the best return to investors in 2010 and why?

Plumb: This depends entirely on what investors are looking for. Once again there is no single "one size fits all" answer. Respondents to Jones Lang LaSalle's latest Real Estate Investor Sentiment survey picked three markets they were most interested in – Saudi Arabia, Abu Dhabi and Dubai. These markets offer very different attractions to potential investors.

Saudi Arabia offers the largest and most stable real estate market in the GCC, with a particular undersupply of affordable residential accommodation.

Abu Dhabi currently faces a shortage across all sectors of the market and therefore offers strong short-term opportunities. Dubai has seen the greatest adjustment in pricing of any market across the region and therefore provides opportunities for investors seeking to buy into an increasingly competitive market.

Dubai also leads the region in terms of its real estate infrastructure and this provides opportunities for those investors seeking to take advantage of the recent re-pricing to buy and hold property.

Goodwin: While it is becoming a somewhat over-used term, the "flight to quality" is the key and well-planned, well-located and well-delivered schemes will be the ones that recover quickest. Those are the schemes to watch.

Rautenbach: The real estate sector is always a good investment anywhere in the world. Many who invested in the Dubai property market in 2007-08 received a better return on investment in a short period of time. As with mature market's around the world, today's Dubai property market is still a good investment but on a long-term basis rather than a short-term.

Hamaizia: The GCC real estate market that currently seems the most promising has to be Saudi Arabia, with the kingdom boasting great demand, a consequence of rapid population growth and the influx of expatriates.

Moreover, many Saudi developers are said to be focusing on the low- and mid-income segments. Real estate finance, somewhat of a taboo, and a bottleneck for many developers is being revisited by banks, with the government currently revising mortgage regulations and ownership laws, making the largest country in the GCC, an attractive destination for investors.

Second placed in the Mena on the aforementioned index was the UAE, with Abu Dhabi leading the way with projects. The investors should now take a non-speculative approach to investing in the Emirates, with rental yields and long-term capital appreciation the most important factors, opposed to the flipping nature of yesteryear.

Lakdawala: According to my analysis of all the GCC markets, Saudi Arabia will continue to be the most active in the property sector. The country's oil wealth, its large population and its religious tourism demand will ensure the kingdom's fundamentals remain strong in the medium and long term.

Most real estate agents, consultancies and developers from the UAE have started giving a serious thought to this market. In 2010, the focus will be on lowering risk and not simply on high returns, which is why Saudi Arabia will prove most attractive to investors.

Should developers now target mid-income housing than luxury segment?

Plumb: The middle-income sector of the market is one that is being targeted by an increasing number of developers and this trend is likely to continue into 2010. Previous research from Jones Lang LaSalle illustrated that 80 per cent of the residential property being offered in Dubai was being targeted at the "luxury sector" which was only affordable to about 20 per cent of the population.

This situation is now changing with much more attention being paid to the "middle income" sector of the market.

Goodwin: In Dubai this market is already fairly well covered. However, in Abu Dhabi, with the first long leases on mid-income villas at Al Reef and the continued expansion of Khalifa City A and B, this market will continue to grow.

Developers need to be aware, however, of falling rents and what is therefore achievable. In Abu Dhabi, mid-range housing was always expected to be behind the luxury waterfront projects, but the near completion of significant stocks on Reem Island, Al Reef, Khalifa A and B will relieve the pressure in those sectors and rents will become increasingly affordable.

Rautenbach: We would definitely advise making room for the middle-income clients in addition to the luxury segment because price is always a key factor in any property lease or sale.

Hamaizia: Undoubtedly, the answer is yes. Developers need to re-segment and understand that it is not feasible for all the projects to consist of waterfront, lakes, a marina, or sophisticated features, with uber-luxury development not for everybody. Financing facilities for this segment should also be welcomed with open arms.

Government incentives for mixed developments that consist of mid-income housing and a smaller percentage allocated to the luxury segment (for developers to gain their margins) have worked well for some countries in North Africa, while GCC developers are to now follow suit.

Lakdawala: Developers should have always focused on mid- and low-income housing. That's where the bulk of the demand has always been. Developers need to think creatively about their next ventures with prefab construction techniques being used to lower costs without compromising on quality. Well thought out projects sold at low price points near completion, will not need huge marketing and selling expenses, helping to ensure costs remain low.
Keep up with the latest business news from the region with the Emirates Business 24|7 daily newsletter. To subscribe to the newsletter, please click here.
Follow Emirates 24|7 on Google News.