Developers to rework pricing packages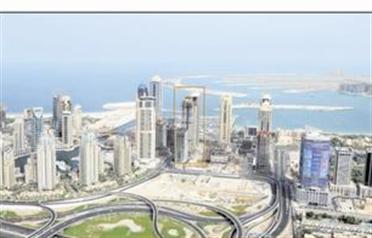 "This year, we will see restructuring from developers, who will rework their pricing package in a way that will establish reasonable prices in the market," said Taha Mohammed, Chief Executive Officer of property developer Tiger Properties.
"The UAE Government has a very intelligent way of structuring the economy and expatriates will continue to find the UAE market an attractive destination to invest in. Remember, there is a lot of trust left in the markets in the UAE. This year many developers will be involved in organisational re-evaluation," Mohammed told
Emirates Business
in an interview.
He said new developers in the current UAE market need to first ask themselves if they are in the business for the short or long-term.
—Secondary market prices have dipped around 20 to 40 per cent in Dubai. As a developer, would you lower your prices in the primary market?

—Secondary market prices do not drive the benchmark prices of a developer. We developers will not fight with the secondary market. The secondary market prices definitely impact the psychology of a buyer but developers are not reactive to them. As a master-developer, we will re-evaluate our pricing strategy.
—But the packaging itself that developers today are working on, will it not reduce the benchmark of real estate prices?

—Part of the real estate pricing by Dubai developers, like developers elsewhere, is based on construction costs. When construction costs were high, the real estate prices charged by developers were also high. With construction costs falling – and we expect them to fall further – developers will be able to launch their ventures at more reasonable prices.
—Developers of repute today are still managing to get some home financing for customers of their projects. Do you think they have to pitch strongly for securing the finance?

—I don't think any developer will be able to secure home finance on his projects today, however strongly he pitches. Banks are not going to lend, no matter what the intent of the developer is. The fact of the matter is that central banks need to provide more regulations and guarantees on mortgages and loans so that people who take loans have a larger guarantee on them. Currently in the UAE, the Central Bank is playing it safe for all sectors of the economy and not just one, such as the real estate sector.
—But the real estate sector contributes 33 per cent of the GDP, so why is it not getting enough support from the Central Bank in the market today?


—The Central Bank here is more cautious than other central banks of the world. If you look at the situation in the US and the depression there, the central bank there was not cautious enough to put a hold on the banking and mortgage financing market. Our central bank is playing it more cautiously given the current circumstances.
—What are developers like you doing to attract buyers today?

—I wish there were some kind of a central system that would understand the real estate market and its various segments. The audience for us developers has changed now. Previously, developers relied on retail investors and bulk buyers, but now we are forced to reach out to individual buyers, whether they are middle-income individuals or high-end investors.
—But is there an audience at all?

—You have to understand when people talk about the crisis, they are talking about a time frame of a year or two. The crash that people are talking about will not last for ever. Smart people in the present time will still find opportunities for assets to invest in. In fact, they are the ones who are taking the opportunity now. This is where we need to reach out to the regulatory authorities in Dubai to regulate the real estate sector in such a way as to favour developers as much as buyers or investors.
—Are you happy with Rera's regulations?

—Yes, as a developer we are definitely happy with what Rera is trying to create for Dubai. What Rera has done over the past year is outstanding. However, I don't think we have the right balance yet. Often developers feel they are caught in the middle and we constantly feel pressure from different sides. Developers are always stuck between the master-developer and the customer.
—Is there something further that Rera needs to look into with respect to regulations in the real estate sector?

—There are pressures on every segment of the real estate sector but it is important to understand from where the economy gets its drive. The first priority should be protection of reasonable interests of customers, because consumers or end-users, or even tenants, should legitimately be able to purchase a unit or units that they want to use. Master developers have to be clear from the start about charges and fees to be levied on developers. Some charges, such as district cooling fees, have been thrust onto sub-developers, which we did not anticipate about three or four years back. There are always new changes coming up from master developers all the time and that can be frustrating for sub-developers.
—Currently, do you have a provision in your contracts for visas to real estate buyers?
—Any developer would be silly in the real estate sector to put a clause that contradicts the laws of the country. Anything related to residential visas is a matter of national interest, not a private sector interest. Even if we have a clause in our sales contracts, we mention that it is subject to the law of the emirate.
Recently, there was clarification from the government on this matter that it will not give out residency visas simply because of the purchase of property. We will follow what the government suggests.
—There has been a lot of talk about prices falling in Dubai Waterfront development and that it will take a lot of time for work to begin there.

—These are just rumours. In our opinion, Dubai Waterfront will be an area that will thrive because it is the last beachfront property in Dubai before the Abu Dhabi border. We have no doubt, this development will go forward. In any part of the world, re-designing and restructuring of designs happen, and Dubai Waterfront is not new in that. Currently, the infrastructure has been finished at the Waterfront and it's just a matter of sub-developers putting up their fences and building their projects. We ourselves have made a strategic decision to proceed with one of our projects – Ozean Tower.
—Does Ozean Tower have mortgage finance in place for your customers?

—No, because this particular project came at a time when banks started to shy away from mortgages and loans. As a developer, that is another concern for us, as we find it strange that some banks are offering finance for some of the less qualified developers with less deserving assets.
—So how do you expect to get buyers for Ozean Tower project?

—We already have expressions of interest in Ozean Towers from institutional and individual investors from our existing projects. We have as much of potential buyer interest in Ozean Tower as we have seen in our existing buildings.
PROFILE: Taha Mohammed, CEO of Tiger Properties

Mohammed was the company's Managing Director and was promoted as the CEO in July 2007. His responsibilities include supervision of commercial activities related to realty, including sales, leasing and facility management.
He is also a member of the Tiger Group's Board of Directors, which oversees the operations of Tiger Contracting, Tiger International General Contracting, Tiger Industries, Al Durah Contracting, Al Durah Foundation, Al Waleed Commerce, DubaiLink Tours, Dana Hotel Management, Samaya Hotels & Resorts and the recently-opened Yarmuk University in Syria.
Mohammad has been with the group for 14 years. He has taken on various projects including those in Saudi as well as directing regional business development and operations for business units in the UAE. He holds a bachelor's degree in business administration.
Follow Emirates 24|7 on Google News.
The year 2009 will be a year of correction in the real estate market, according to a Dubai-based developer.