Developers turn to Emcredit to assess client's credit health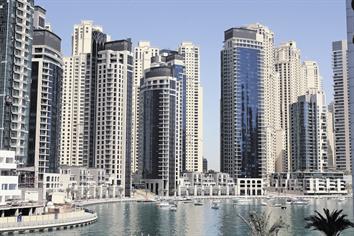 Real estate agents and developers have begun to access information on the credit worthiness of a potential tenant or buyer in the UAE through Emcredit in order to avoid cheque defaults or frauds, said a top official of the UAE's credit bureau.

Zaid Kamhawi, Chief Business Officer, Emcredit said: "The emBounce service provides in-depth insight into the cheque-honouring habits of existing and potential tenants and property buyers in the UAE.

This will allow real estate agents to assess potential tenants and property buyers and provide additional payment flexibility for tenants and buyers displaying good credit profiles, while being able to process agreements much faster, thereby enhancing and improving service levels to their customers, landlords and developers."

He said Emcredit has 30 members, of which 16 were banking and 14 non-banking customers. "A majority of the 14 non-banking customers that we have are real estate related companies who are subscribing to our emBounce and enterprise information report services," said Kamhawi.

Better Homes, which is a member of Emcredit, said: "We are using Emcredit's services on behalf of the property owners."

Liz O'Connor, Director of Residential Sales and Leasing, Better Homes, said: "The emBounce product has been helpful to property owners as they can understand the credit worthiness of a potential tenant and make an informed decision on whether to lease the property to that particular person or not." She confirmed there was a charge every time from Emcredit while accessing information on the product.

Emcredit operates under the legal framework of a decree issued by His Highness Sheikh Mohammed bin Rashid Al Maktoum, Vice-President and Prime Minister of the UAE, and Ruler of Dubai, to establish information sharing by banks as well as financial institutions.

The UAE's first credit bureau has signed data sharing pact with government departments such as Dubai Police, Dubai eGovernment and Dubai Public Prosecution.

According to Emcredit, emBounce allows businesses, including real estate professionals who are its members, to know more about a customer's cheque management history in order to avoid the risks of cheque frauds or defaults. The product enables one to view cheque defaults on a case-by-case basis.

Kamhawi said all this information would be provided based on the consent of the individual about whom an Emcredit member is seeking information. The credit bureau has laid down stipulations for the protection of information of an individual and information will be available only to members after it receives consent from the individual to pass on the financial details.

"Should any member access this information without our prior approval, we will take necessary action including disconnecting the services to the member. Only professionals with a specific focus will be able to have access to emBounce," added Kamhawi.

Earlier, in September 2008, Emirates Business had revealed that Emcredit was to establish a property profile product.

"We are currently working closely with Dubai's Lands Department to complete development of the property profile solution. This solution provides details on title deed information and property details to enhance transparency in property transactions," said Kamhawi, adding that through the new solution, "mortgage providers can verify existing and past mortgages against a property and a customer's total real estate exposure, in order to make more informed lending decisions. The solution will enable real estate brokers to authenticate the true ownership of a property and obtain details on any specific registered property".

"The property profile solution is a significant evaluation instrument, providing real-time information on title deed for all properties in Dubai, through one access point," he said.

According to Kamhawi, all the data required for this product, would be sourced from the Land Department. "The property profile product will allow sharing of information about individual real estate buyers with sellers. It would be provided to the real estate market through realty agencies, mortgage providers, conveyors, evaluators and other industry players.

Its other service, Emscope, will involve credit information reports that will show consumers' creditworthiness, including total credit exposures, payment history and identification information for customers across the UAE.

"All these products have been designed to be in line with Emcredit's strategy to reduce the lack of information with banks about the credit exposure and credit worthiness of their customers," said Kamhawi.

He also said individuals will be able to access their individual reports by verifying their identity.

Members of Emcredit subscribe to its services on a pre-paid basis. "A subscriber would pre-purchase a specific number of reports by accessing the information through our online web portal. The price per report is mainly determined by the number of pre-purchased reports. For emBounce reports, the price range from Dh90 to Dh150 per report," said Kamhawi.

According to Emcredit, some of its members are Citibank, Dubai Islamic Bank, Dubai Bank, Noor Islamic Bank, Amlak Finance, Better Homes and Real Estate Regulatory Agency.
Keep up with the latest business news from the region with the Emirates Business 24|7 daily newsletter. To subscribe to the newsletter, please click here.
Follow Emirates 24|7 on Google News.