Deyaar 2008 profit doubles to Dh1.1bn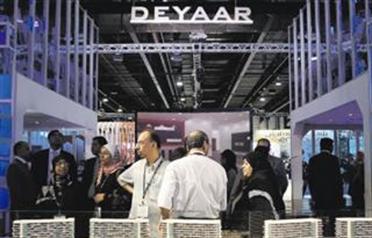 Deyaar Development, a Dubai-based developer, said yesterday its full-year net profit for 2008 more than doubled to Dh1.1 billion from Dh540 million in 2007 despite a slowdown in the global property market.

Revenues jumped 136 per cent to Dh2.973bn compared to Dh1.259bn in the previous year. Net profit for the fourth quarter rose 59 per cent to Dh343m from Dh216m, while revenues rose 10 per cent to Dh676m from Dh617m during the same period in 2007.

Deyaar shares closed high on the Dubai Financial Market, gaining 4.3 per cent at Dh0.48 ahead of the result announcement.

The firm said fourth quarter numbers include portfolio revaluation and adjustments made in line with current market conditions.

Nasser bin Hassan Al Shaikh, Director-General of the Dubai Department of Finance and Chairman of Deyaar, said: "Today's announcement reaffirms our extremely strong fundamentals and sound growth strategy. Despite challenges facing the global financial markets and the real estate sector worldwide, Deyaar has continued to demonstrate consistent growth by focusing on its core competencies and managing its resources in line with changing market requirements."

The company launched nine projects last year, that have received "an exceptional response from investors and homebuyers", the company statement said.

"We remain well positioned to consolidate its current growth and capitalise on emerging opportunities both in the region and worldwide," Al Shaikh added.

Deyaar's CEO Markus Giebel said the company managed to decrease its debt-to-equity ratio to eight per cent, enabling it to have one of the lowest debt ratios in the market.

"We continue to remain well capitalised and have carefully reviewed the market to align our resources in line with areas where we see optimum potential and maximisation of shareholder value in 2009."

Giebel told Emirates Business earlier that Deyaar had created a strategic planning division through which it is looking to acquire distressed assets.

"The new department will look at buying distressed assets across the world with India and Turkey being the likely markets. We intend to add land bank to our portfolio through this acquisition drive," he had said.

Besides, the firm has secured funds for its local projects, but may look to raise funds to finance its overseas expansion plan. "We have secured funding for all our existing local projects. But we may go in to raise funds to finance our overseas expansion strategy."

According to Giebel, the company is already working with a strategy of product diversification, focusing on underserved markets, alongside its high-end projects.

"The move to develop larger, mixed-use communities has clearly succeeded as we continue to see increasing interest from investors and end-users alike. In 2009, we will maintain our focus on building communities in line with current market needs, leasing and asset management, and fund management, while also expanding our reach to enter emerging high-growth markets in the region and beyond."

He further said the company strongly believes "there is a need for middle-income housing, and we will strive to accommodate this market need as the company moves forward with its 2009 growth strategy".

A stock analyst, on conditions of anonymity, said: "There are not much details on whether the profits went up due to a revaluation or they were just core profits. However, we think the results are good and will prop up market sentiments."

According to HSBC report, the first two weeks of January, saw sales volumes increasing by six per cent to 1,782 transactions from December 2008 after apartments and villa prices fell 20 per cent and 30 per cent, respectively, in December compared to September 2008.
Follow Emirates 24|7 on Google News.