Deyaar shelves at least 25% of projects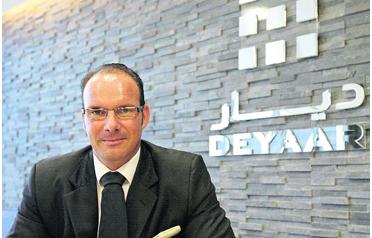 "The company will hold back the entire 25 per cent of the portfolio that is unannounced and not released for sale," Deyaar said in a statement.
The company said projects that had been launched and sold would go ahead as scheduled.
But customers who own units in developments where building had yet to begin or was in the early stages could transfer ownership to other projects that "will be completed on a fast-track basis with the rest of the projects being phased out".
It said sold projects, projects under construction and completed projects that had not yet been handed over accounted for 25 per cent of Deyaar's portfolio each.
"It is important that Deyaar focuses its immediate attention on adjusting its product portfolio and aligning resources to accommodate changing market dynamics for the long-term growth and stability of the regional real estate sector," said Markus Giebel, Chief Executive Officer of Deyaar.
Deyaar, which posted a 59 per cent increase in fourth-quarter profits due to property sales, said last month that it would put all unsold projects on hold due to global financial turmoil but did not say at the time how many such projects there were.
Giebel told reporters at the time that the company would deliver five residential and commercial projects in the former Gulf Arab boom town in 2009, and had 22 projects worth Dh20-25 billion ($5.45-$6.81 billion) under construction.
Deyaar said it would also extend homeowners and investors a new payment schedule "granting them greater flexibility in meeting their existing repayment obligations".
Several Dubai developers have offered such breaks to help investors meet payments as the real estate sector slows.
As the global crisis hit the seaside emirate late in 2008, major government-linked developers behind some of Dubai's high-profile projects have put work on hold and cut jobs.
Around $75 billion worth of projects in the UAE have been suspended or cancelled according to an HSBC report issued in January.
Follow Emirates 24|7 on Google News.
Dubai developer Deyaar said on Wednesday it would put at least a quarter of projects on hold and offer customers more flexible payment options as the financial crisis hits Gulf trade hub's property sector.