Emaar's Burj Khalifa to boost 2010 revenues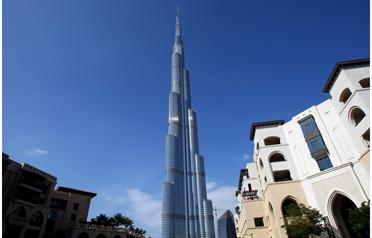 Dubai's Emaar Properties said on Thursday that revenues stemming from the sale of units at Burj Khalifa, the recently-opened, world's tallest tower, will boost the company's 2010 revenues.
Emaar, 31.2 per cent owned by the Dubai government, is the Arab world's largest listed developer. It posted third-quarter revenue of Dh1.95 billion. "As Emaar recognises revenue and profits on delivery of the project, the revenue relating to the units sold in Burj Khalifa will be recognised in 2010 on delivery," according to a statement posted on the Dubai bourse website.
 "This will positively impact the results of the company due to the large size of the project," it added.
Burj Khalifa opened to much fanfare on January 4.
Emaar executives at the opening of the tower were bullish, saying that Dubai's property prices have stabilised and than that new property completions would continue to increase over the next 18 months.
 Emaar has a joint venture with Italian luxury company Georgio Armani to develop hotels around the world, including one at the Burj Khalifa.
 "This additional revenue will also positively affect the company's performance," Emaar said.
Follow Emirates 24|7 on Google News.