EPG plans to repurchase Palm units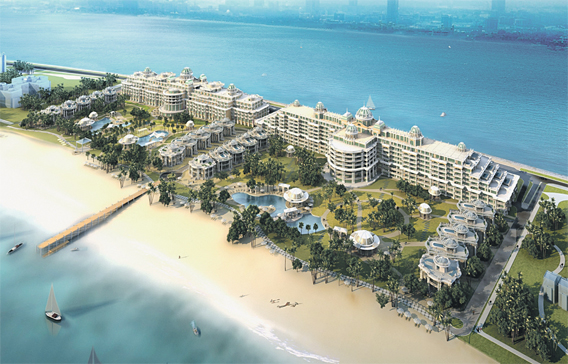 Emerald Palace Group (EPG), a residential and tourism project developer, is considering the option of repurchasing units of Kempinski Hotel Residences in Palm Jumeirah, according to a top company executive.
"There are only 20 units up for sale in the secondary market out of the 244 in our project. We have thought of the option of buying
the units and putting them on rent," James Wilson, Managing Director, Emerald Palace Group, told Emirates Business.
The project, on which work began in 2007, consists of 244 units, including a mix of high-end suites, residences, penthouses and royal villas. Yesterday EPG delivered its 100th unit to owners of the development.
Wilson said there have been "no" defaults by investors as most of them were cash buyers. Besides, the company did not target global investors, instead focused on selling the project in Russia and CIS countries.
"Through the life of the project, we have had zero defaults, a reflection of our customers' confidence in the project, in Palm Jumeirah and in the long-term potential of Dubai."
Wilson said hand over of units commenced in January and is expected to be completed by next month.
The Kempinski Palm Jumeirah Residences range in size from 165 square metres to 1,300 sq m, all including terraces or balconies. The developments consists of a mix of two-, three- and four-bedroom suites and residences, a selection of penthouses and townhouse-style royal villas with their own private pools and gardens.
According to Wilson, prices of units have more than doubled with apartments now selling at $2 million (Dh7.3m) compared to the launch price of $1m. "Even in the current short-term real estate environment, our values remain in the order of Dh3,500 to Dh5,000 per sq ft," he added.
In a press statement, Marwan Al Qamzi, Group Managing Director of Nakheel, the Palm Jumeirah master developer, said: "We are delighted to see the progress made by Emerald Palace Group, as the first foreign-owned developer to start delivering residences on Palm Jumeirah."
EPG has a strategic partnership with Kempinski Hotels. The developer has commenced work on Emerald Palace Kempinski in Palm Jumeirah."We don't have plans to launch new projects until the market recovers," added Wilson.
Follow Emirates 24|7 on Google News.