Fresh supplies to keep realty prices in check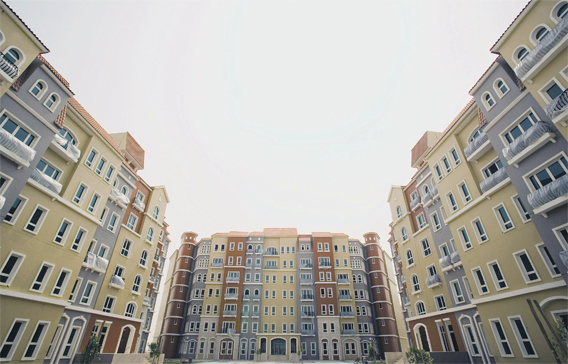 A further downward pressure on property prices in Dubai is likely to be felt as investors look to off-load their investment before taking possession to avoid paying the final instalment of their investment, a top executive of Landmark Properties told Emirates Business.
"Usually, the last instalment of payment on a property unit is around 20 per cent to 25 per cent of the property value. However, this figure varies from developer to developer. Sometimes, it could also range from 40 per cent to 80 per cent of the property value of the unit purchased," said Charles Neil, CEO, Landmark Advisory and Landmark Properties.
"Some developers were very aggressive and offering small down-payments in order to sell out the building quickly. Needless to say they will be the ones with the biggest problems today. Prices will fall on these units until they reach levels where they can be absorbed. Our estimates are that these are likely to be the last set of prices bottoming out in Dubai," said Neil.
Landmark Properties estimates around 50,000 property units are likely to enter the Dubai market by the end of this year.
What are your estimates on the new supply of properties entering Dubai?
We believe a total of 50,000 units are likely to enter Dubai alone. Majority of these will be apartments. However, a few villa projects, such as Falcon City, the Waha villas, will be delivered by the end of this year. Our estimate of supply could vary on how much exactly will be delivered depending on delays by the developer.
Do you expect further impact on prices in Dubai as a result of this supply?
We expect people to off-load their properties towards the time of handover by the developer to avoid payment of their last instalment which is usually a chunk of their investment. Prices will fall on these issues until they reach levels where they can be absorbed. That will bring down the average price of the property. These in effect would be the last set of prices bottoming out in Dubai.
Some developers were very aggressive and offering small down-payments in order to sell out the building quickly, needless to say they will be the ones with the biggest problems today.
Usually, the last instalment is about 20 per cent to 25 per cent of the property value. However, this figure varies from developer to developer. Sometimes it could also range from 40 per cent to 80 per cent of the property value of the unit purchased.
By how much do you think prices could fall in the newer properties?
Prices could fall between 10 per cent to 15 per cent. The apartments are likely to be most affected while the villas will not be affected that much. Prices are unlikely to come down a lot since the demand for them is high and after 2010 very few villas are going to come on board.
Is there still a huge disparity in the market value of a property price and the price set by valuators?
Today, valuators are being a lot more careful about their valuations. They are being a lot more sensible about what they are evaluating. There will always be a difference in the market value of a property and the value of a property done through valuation. What we have seen is that no matter what value is set by the valuations, the property will eventually sell for what the market price is.
From a valuation perspective, the most difficult thing to do is the valuation of land because it does not have an income stream. So evaluators have to then get different comparables with different plots. Further, since there has not been any sales of plots of land they can be difficult to evaluate. However, if you have an income-generating asset, it becomes a lot easier to put a value to it, then it is a multiple of these things.
What are some other challenges for a valuator while doing a proper valuation?
Usually, for a good valuation, a strong database is essential. In our case, our valuation team is able to tap into a strong database of information. Our broker agents are always getting calls from other valuators in the market for information on facts and figures.
In the past year, there has been no consistent market information available on properties in Dubai from either the real estate analysts or agents. Do you foresee any common database of information to be set up in Dubai aimed at providing accurate information on the real estate sector?
There has been actually a huge improvement in the information provided on the real estate sector in the past 18 months. In our team itself, we have raised the level of research in the market. We do believe people are getting a lot closer to coming out with an accurate picture on the property market. For example, figures on supply will always depend on various external factors such as infrastructure, connectivity to Dubai Electricity and Water Authority. All this affects the actual handover date.
In fact, what we always stress on is that although supply is coming, not all of it is going to reach the market.
A lot of residential properties are second homes – investors do not want to sell them and, probably, they want to retain them. It is very difficult to know how much of the building is occupied.
Further, even with a centralised database system, it will be very difficult to work out the exact numbers of occupancy levels of the residential properties. Information here is generally more accurate with respect to what is being completed.
Can you give us estimates on the occupancy levels of residential apartments and villas?
While supply figures are easy to estimate for residential properties, occupancy levels are not always easy to estimate. It all depends on who the end-user of the property is.
It is usually difficult to estimate the occupancy levels of residential apartments and villas as a lot of apartments could be empty because they are second homes to investors. Hence, what is available on stock and what is actually in the market are difficult to predict.
What we will, however, see is a move to quality units. People will likely take up larger spaces at affordable rates. There is a likelihood that there will be a shift from studios and one-bedrooms to two-bedrooms because they are getting a good value for money for two-bed room apartments.
Do property buyers today continue, largely, to be cash-buyers?
Yes, almost 86 per cent of our buyers are cash-buyers. Amlak and Tamweel were the major mortgage loan providers with the banks lending a much smaller proportion. Since Amlak and Tamweel stopped lending, banks have not captured the difference since they set up stricter criteria on mortgages.
Service charges in certain areas of Dubai are high, thereby eating into the rental yields of an investor. A case in point is the Discovery Gardens… why are service charges there so high?
In Discovery Gardens, there is a real problem because some developers have not built to the quality that people expected. Also, what happened within the development was that developers fitted industrial type A/Cs which are proving to keep the long-term operating costs much higher. Hence, the investor is only earning as much as a two per cent rental yield on his investment in Discovery Gardens.
How can this be rectified?
The way this can be rectified is that every apartment should have a meter fitted in to monitor the consumption of water and energy in every flat. While right now there is no incentive on saving on air-conditioning because the landlord is paying all the charges, with the meter system, however, and with the owner associations, they should be able to pass on those charges to the tenant. Going forward, we are going to see that increasingly happen.
Can you give us a few quick checks for a buyer taking possession of his newly handed over property?
For cash-buyers it is always a good idea to get their property valued and have a condition survey done. We always recommend our buyers who are taking charge of their property to let our property management people look at the property since the costs to an investor to rectify any errors in his property is usually large. For example, it takes a lot to fix things like A/C leaks etc.
Is Dubai recording a price-floor?
Areas such as Palm Jumierah, Dubai Marina, Jumeirah Beach Residence and certain building in Jumeirah Lake Tower are recording a price-floor. So are certain properties in Springs, Meadows and on Sheikh Zayed Road. For certain properties such as Falcon City, Victory Heights, the prices are going down.
With respect to Abu Dhabi, what is the overall real estate scenario there?
There are mixed views on rentals – while some say rents are expected to fall, others believe they are likely to remain the same.
What is your view on the Abu Dhabi rental market?
Deliveries are already taking place in Abu Dhabi with more likely to take place in the near term. Rents are falling although not significantly. They have come down about 10 per cent. The big difference is quality and Dubai currently has a lot of value for money units available. Falling Dubai rents are looking lucrative for Abu Dhabi tenants.
Will prices affect the newer deliveries in Abu Dhabi?
They will change in the more up-market developments such as the Sun and Sky Tower, Reem Island, Raha Beach which are all going for delivery this year.
We will have the same issue as in Dubai where we are going to see investors off-loading their properties towards the last payment instalment due from them. Further, once the distress sales are done with in the emirate, we believe prices will slightly go up as the emirate promises some good opportunities. For example, an investor's rental yields currently are high at an average of 10 to 14 per cent per annum. We don't see it going below eight per cent per annum even after calculating the service charges.
What about areas such as Bur Dubai and Karama? Is the demand in these areas going high at the moment? How important are these areas to Dubai's larger property market?
Areas such as Bur Dubai and Karama are important to Dubai. Both the residential and office spaces are fully occupied in the emirate. Demand is usually high in these areas since the service workers for the city have to live close to their work especially in Dubai where the public transport is expensive and the Metro is still not fully operational. If a company has its workers outside the city, it increases the cost to the company quite a bit.
If you look at all the big cities in the world such as London, there are these untouched areas where prices are cheaper.
They nevertheless contribute significantly to the city. Bur Dubai and Karama are such areas in Dubai.
We are always looking for space in these areas and it usually becomes difficult to find one. There has been an increased demand for retail space as well in these areas. Further, there is a strong demand in these areas coming from various business entities that are functioning such as the banks and the wholesale traders.
Although some buildings will be redone, what we are seeing currently is that demand is strong from these sectors.
Have there been any new regulations from Rera recently for the broker firms and their agents? Are your agents registered under the new four-tier colour-coded system set out by Rera?
As far as we know, there is no new regulation that has been set out by Rera recently. Our firm has the highest colour coding of blue. Further, all our agents are registered with Rera including me.
Usually, leasing agents don't have to be registered with Rera. However, we have ensured that even our leasing agents are registered with Rera.
A gulf veteran
Charles Niel is the Chief Executive Officer of Landmark Properties and Landmark Advisory. He joined Landmark in 2008 following his tenure with the Dubai International Financial Center (DIFC). While at DIFC, Neil held many executive posts including director of special projects (legal), commissioner for data protection and commissioner for anti-money laundering and counter financing of terrorism. Charles was one of the original executives recruited to found DIFC. Prior to his role with DIFC, Neil was general manager of Emirates Bank International, Dubai, heading corporate and commercial banking, retail banking and overseas operations and treasury. During his tenure, Charles and the bank received many recognitions, including Best Bank in the UAE. Prior to joining Emirates Bank, Charles was regional head for Lloyds Bank (International), responsible for commercial, private and retail banking and treasury operations.
Charles has resided in the Gulf for more than 25 years. He has also held senior management posts with Lloyds Bank in Uruguay and Argentina. Early in his career, Charles was an economist with Lloyds in their London Office. Charles obtained a BSSc (Hons) from Queens University, Belfast (Economics and Economic History).
New metering regulations
In January this year, Emirates Business reported that Dubai Municipality is set to make energy metering compulsory for all new buildings under the Dubai Green Building Regulations.
The move is aimed at reducing energy consumption and offering residents a tangible incentive to cut their usage. New regulations are being evaluated and a final decision on its implementation is expected within months. The new metering regulations will include a legal obligation to allocate costs on consumption basis, define costs and register meters.
According to the current draft of the regulations for air-conditioning metering states, for all new buildings other than villas, such as a chiller plant or district cooling – and where cooling energy is delivered individually to several consumers, meters must be fitted to measure and record chilled water supply to air conditioning units and to provide accurate records for consumptions.
The regulation also stipulate that the energy meters designed to measure the supply of chilled water must be installed for each dwelling unit, office or tenant. The measuring device must measure the water flow and supply and return temperatures to determine the temperature differential and calculate the amount of cooling energy consumed.
It has also demanded compulsory metering for buildings using a building management system or central control and monitoring system to allow real-time profiling and management of energy consumption.
Keep up with the latest business news from the region with the Emirates Business 24|7 daily newsletter. To subscribe to the newsletter, please click here.
Follow Emirates 24|7 on Google News.